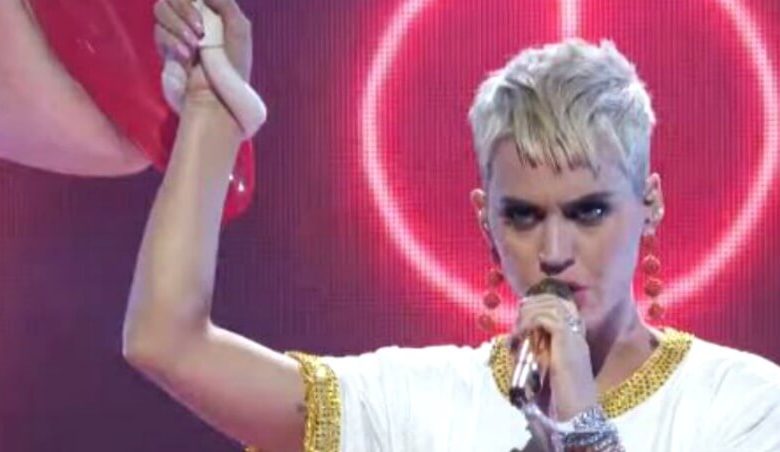 Sunday's MTV Video Music Awards could have been the most shocking in the show's colorful history.
Barely there costumes? Insult the current (Republican) Commander in Chief? Drop an expertly crafted curse at the most inopportune time? Start a celebrity feud from scratch?
No, no, no and no.
Imagine if one of the performers or presenters spoke out against the violent, freedom-crushing Antifa movement.
Shocking. Subversive. Timely.
Truthful.
Of course nothing even remotely like that happened Sunday. Instead, we got the oh, so obvious avalanche of Trump bashing and the weaponization of the Charlottesville Neo Nazi rally which left one poor soul dead.
Paris Jackson Blasts Trump and White Supremacists at 2017 MTV VMAs | Access Hollywood
Meanwhile, on the very day of the awards Antifa goons were up to their old tricks. They attacked journalists and innocents who they assumed might or could be a Nazi. These videos lit up Twitter, the same social media network many MTV-friendly stars allegedly haunt.
Amazingly every single attendee missed all of that. Or they saw it and ignored it. For all the talk of "hate" at the VMAs that brand of hate couldn't get name checked.
The VMAs are meant to stoke manufactured, media-approved narratives. It's about who can be the most woke in 2017. Social justice rules. The fact that free speech is under assault on college campuses nationwide?
Yawn.
Imagine the horror from the assembled media had a Katy Perry or Kendrick Lamar blasted the Memphis theater which yanked "Gone With the Wind."
"This is our culture, our shared history, and a motion picture beloved for generations. Let. It. Play!"
Nothing doing. Reality couldn't penetrate this self-absorbed bubble.
Is there anything less subversive than telling an awards show crowd to "resist" the current administration, as neophyte star Paris Jackson did?
It's all a pose. It always is at the VMAs. But the show's attempt to be taken seriously proved even sillier than usual. Even Variety couldn't help but notice the disparity between the social justice messages and absurd visuals.
And early in the show, a Dior-clad Paris Jackson, Michael's daughter, said "If we were to put our voices together, do you realize the impact we could make? We must show these Nazi supremacist jerks that we have zero tolerance for their violence, hatred and discrimination. We must resist!" She then said, with an impressively self-aware laugh, "And now: the nominees for Best Pop Video!"
And that's being kind.
That doesn't mean there weren't highlights above and beyond a given music set. The night's tribute to singers Chris Cornell and Linkin Park's Chester Bennington, both who committed suicide proved both appropriate and memorable.
And then rapper Cardi B begged the NFL to hire quarterback Colin Kaepernick, whose questionable skills and anti-American tactics literally dragged the entire sport's ratings down.
Talk about wasting a public platform.
Kaepernick is a cause celebre among the hard-left, though. That's all that matters to this disengaged, superficial crowd and the media outlets fawning over its every utterance.
Katy Perry must have known she'd get a sweet tweet by hoisting one of those "Handmaid's Tale" costumes aloft to virtue signal.
Watch #VMAs host @KatyPerry reference 'Handmaid's Tale' and the apocalypse https://t.co/XFkJwx1Q7X

— Hollywood Reporter (@THR) August 28, 2017
MTV no longer plays music videos 'round the clock. Now, it can't be counted on to speak truth to power. It simply echoes the far-left talking points while holding reality at arm's length.