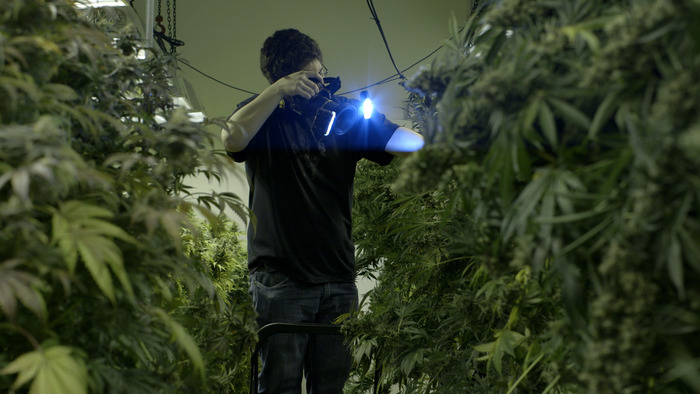 When Colorado filmmaker Mitch Dickman drives out of state people immediately ask about his state's marijuana laws.
They see those Colorado plates and can't help themselves. Some questions get right to the point.
"Are you high?" a person asked him while he visited his grandmother's retirement home in Missouri.
Dickman didn't personally sign the law that made marijuana legal in Colorado. His upcoming film on legalized pot still could impact how the country views this cultural issue.
"Rolling Papers" looks at The Cannabist, The Denver Post's editorial team dedicated to the marijuana beat. Denver is ground zero on the pot debate, a Petri dish for the nation to study.
Rolling Papers Official Trailer 1 (2015) - Documentary HD
The film struck crowdfunding gold earlier this summer on Kickstarter.com, successfully raising $50,000 to boost its production.
A Denver director capturing a paper's pot coverage might sound like a local project, but it didn't take long for Dickman to understand the bigger picture. As the Kickstarter.com site explains, "Production will be complete by November 2014, as a number of states will have legalization on the ballot."
"Interest [in marijuana nationwide] is far more than here," the Denver-based director says. "The film tries to tackle that in an entertaining but thought-provoking way."
RELATED: Why Stoner Classic 'Up in Smoke' Still Offends
The documentary's unofficial star is Ricardo Baca, a journalist charged with overseeing The Cannabist's drug coverage. Dickman says he painted himself "into a corner" by making journalists like Baca, who ask strangers questions for a living, the subject of his film.
"It's a lot harder to build that trust to give us access … and have people forget there's a camera around them," says Dickman, who confesses to second guessing his interview tactics while quizzing journalists.
"Every email I send them I proof read 10 times [for mistakes]," he says.
DID YOU KNOW: Director Mitch Dickman and director of photography Zachary Armstrong just returned from a trip to Uruguay, the first country to legalize marijuana on a federal level. There, they followed editor Ricardo Baca at work on a series of stories for The Cannabist.
Dickman says both sides can't help but consider the economic impact.
"Once you get hooked on the tax revenues, it's hard to take away," he says.
The mainstream media is certainly hooked, and understandably so. But Dickman isn't encouraged by how reporters are bringing the news to the nation.
"It still has that snicker-snicker, pointing and laughing at us quality," he says.
"Rolling Papers" will have its lighter moments, but the director vows the film takes the subject – and those who use pot legally – seriously.
"We won't get far with the audience by making fun of people," he says, adding some now take offense at the word "stoner."
Once you get hooked on pot's tax revenues, it's hard to take away,
Click To Tweet
The marijuana debate isn't simply raging across the country. It's evolving. One day news breaks that edible pot products are getting into the hands of children. The next day news readers might learn a new way pot revenue will bolster Colorado's coffers, but not as much as expected.
Dickman plans to keep the story going outside of the completed documentary in some fashion, likely via an online presence.
"Rolling Papers" may hit theaters as early as January 2015, but the story of pot legalization is far from over. In fact, while it might seem opportunistic if something major happened in the pot legalization arena, Dickman prefers his story lack a Hollywood ending.
"Some documentaries end with an exclamation point or a question. This is an ellipses," he says.