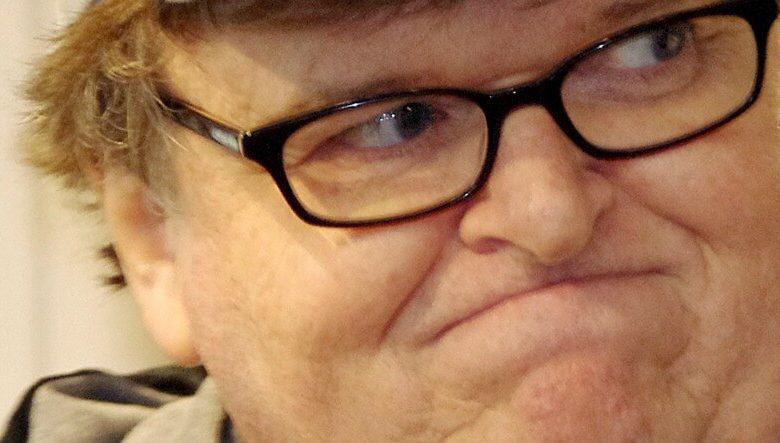 The far-left filmmaker ripped into corporations, gun rights and President George W. Bush before most Hollywood voices rose up on those issues.
He was loud and unabashedly so. Even if you disagreed with him, you knew he had his finger on the pulse of liberal America.
Now, Moore is rushing out a new film attacking Donald Trump. Could Moore be any later to the party?
October surprise? More like a Fall Shrug.
Michael Moore's warning to Democrats: Take Trump seriously
"Michael Moore in TrumpLand," based on his play, begins its theatrical run Oct. 19. Here's the official description:
Oscar-winner Michael Moore dives right into hostile territory with his daring and hilarious one-man show, deep in the heart of TrumpLand in the weeks before the 2016 election.
Daring? The only daring position to hold on Trump at this point is to say he's a savvy business man who can save America. Moore is simply sharing the same groupthink we've heard across Hollywood this election season.
RELATED: Is Michael Moore Lying About Attacks on His Life?
And Moore's box office clout belongs in the dustbin along with VHS tapes. His last film, "Where to Invade Next?" generated all of $3.8 million after a protracted absence from the movie game. That's a far cry from past hits like "Bowling for Columbine" ($21 million) and "Fahrenheit 9/11" ($119 million).
Where to Invade Next Official Trailer 1 (2016) - Michael Moore Documentary HD
Heck, "Where to Invade Next" got served at the box office by Dinesh D'Souza's "Hillary's America" ($13 million). It's hard to believe a hastily assembled movie will reverse his fortunes.
RELATED: Five Signs Michael Moore's Moment Is Over
That may be, in part, due to the information we learned about him from his recent divorce proceedings. Turns out the humble Everyman in the baseball cap who loathes capitalism has a number of homes to call his own. Nine to be exact.
That hypocrisy didn't hurt his standing among conservatives. They thought little of him in the first place. Liberals, though, likely saw that and figured out they'd been conned.
Besides, Trump's negatives have been sky high for months. What could Moore possibly say to sway Trump train commuters … or those who cannot stand the sight of the real estate mogul?
Photo credit: david_shankbone via Foter.com / CC BY