When a studio promoted Matthew McConaughey's work in the past, it usually meant sending a new, shirtless picture our way.
Today, the Oscar winner is the hottest of the A-list actors, an in-demand talent who just so happens to look good without his shirt.
Back in 2008 McConaughey gave audiences "Fool's Gold," more proof his career meant nothing more than mediocre rom-coms. He was about to hit 40, and his charismatic turn in 1996's "A Time to Kill" seemed like a false promise.
He'd fire off one more listless rom-com, "Ghosts of Girlfriends Past," before staging his own career intervention with a triple shot of films in 2011. "The Lincoln Lawyer" showed he could still commandeer a mainstream drama of consequence. "Bernie" let him dazzle in a supporting role. "Killer Joe" flashed an ugly side to his "alright, alright alright" persona.
He was ready for more.
"Mud" and "Magic Mike" followed, and suddenly we were witnessing a McRenaissance. His Oscar win for last year's "Dallas Buyers Club" seemed almost superfluous. His star was already reborn.
Now, on the heels of HBO's "True Detectives" comes "Sea of Trees," a project with enough anticipation the studio behind it released a single still to spark the promotional machinery. That's usually reserved for superhero sneak peeks.
That is the power of this erstwhile surfer dude.
"Sea of Trees," from director Gus van Sant and based on a "black list" script by Chris Sparling, stars McConaughey, Naomi Watts and Ken Watanabe.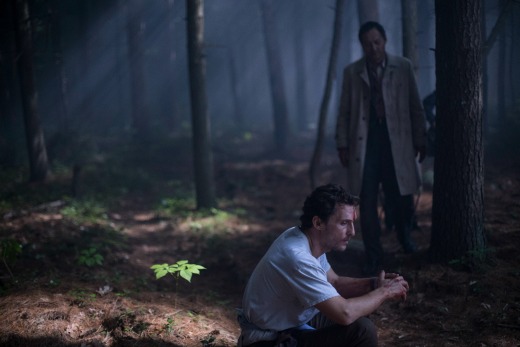 The film follows Arthur Brennan (McConaughey) trekking into Aokigahara, known as the Sea of Trees, a mysterious dense forest at the base of Japan's Mount Fuji where people go to contemplate life and death.  Having found the perfect place to die, Arthur encounters Takumi Nakamura (Watanabe), a Japanese man who has also lost his way. The two men begin a journey of reflection and survival, which affirms Arthur's will to live and reconnects him to his love with his wife (Watts).