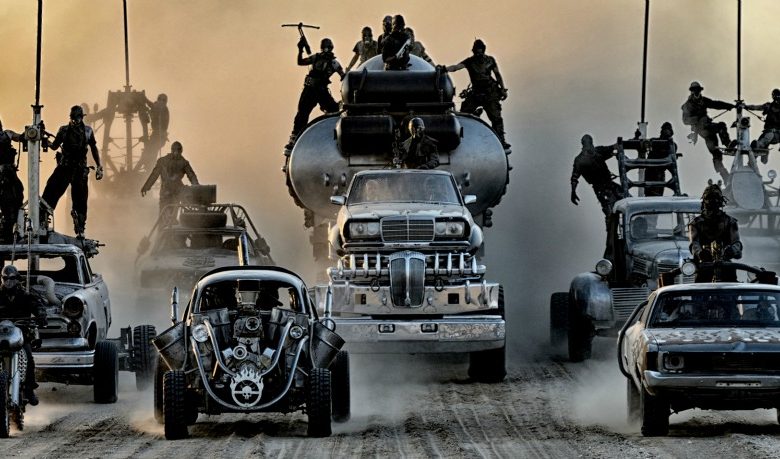 It's been decades since the underwhelming "Mad Max Beyond Thunderdome" graced theaters. The reboot got delayed, and then delayed some more, before production finally began. Could Tom Hardy, a terrific actor in the right part, capture the dystopian zeitgeist like Mel Gibson once did?
"Mad Max: Fury Road" opened to wet-kiss reviews and solid box office returns last summer. Now, it's wooed enough Denver critics to pick up some new honors.
The Denver Film Critics Society gave "Fury Road" six nominations today, including "Best Picture" and Best Director for George Miller's old-school approach to action.
Mad Max: Fury Road Official Trailer #2 (2015) - Tom Hardy, Charlize Theron Movie HD
.
The Colo.-based group also honored "Spotlight" and "The Revenant" with five nominations each. Here are the full results:
Best Picture:
* "Room"
* "Spotlight"
* "Mad Max: Fury Road"
* "Inside Out"
* "The Revenant"
Best Director:
* George Miller, "Mad Max: Fury Road"
* Tom McCarthy, "Spotlight"
* Ridley Scott, "The Martian"
* Alejandro Gonzalez Inarritu, "The Revenant"
* Lenny Abrahamson, "Room"
Best Actor:
* Matt Damon, "The Martian"
* Bryan Cranston, "Trumbo"
* Will Smith, "Concussion"
* Michael Fassbender, "Steve Jobs"
* Leonardo DiCaprio, "The Revenant"
Best Actress:
* Brie Larson, "Room"
* Cate Blanchett, "Carol"
* Charlize Theron, "Mad Max: Fury Road"
* Saoirse Ronan, "Brooklyn"
* Alicia Vikander, "The Danish Girl"
Best Supporting Actor:
* Tom Hardy, "The Revenant"
* Mark Rylance, "Bridge of Spies"
* Michael Shannon, "99 Homes"
* Idris Elba, "Beasts of No Nation"
* Sylvester Stallone, "Creed"
Best Supporting Actress:
* Alicia Vikander, "Ex Machina"
* Kate Winslet, "Steve Jobs"
* Elizabeth Banks, "Love and Mercy"
* Jennifer Jason Leigh, "The Hateful Eight"
* Rachel McAdams, "Spotlight"
Best Animated Film:
* "Inside Out"
* "Anomalisa"
* "The Peanuts Movie"
* "Shaun the Sheep Movie"
* "The Good Dinosaur"
Best Science Fiction/Horror Film:
* "Ex Machina"
* "The Martian"
* "It Follows"
* "Star Wars: The Force Awakens"
* "Mad Max: Fury Road"
Best Comedy:
* "Joy"
* "What We Do in the Shadows"
* "The Big Short"
* "Trainwreck"
* "Inside Out"
Best Original Screenplay:
* Pete Docter, Josh Cooley and Meg LeFauve, "Inside Out"
* Alex Garland, "Ex Machina"
* Tom McCarthy, Josh Singer, "Spotlight"
* Quentin Tarantino, "The Hateful Eight"
* Amy Schumer, "Trainwreck"
Best Adapted Screenplay:
* Emma Donoghue, "Room"
* Nick Hornby, "Brooklyn"
* Adam McKay, Charles Randolph, "The Big Short"
* Aaron Sorkin, "Steve Jobs"
* Drew Goddard, "The Martian"
Best Documentary:
* "Listen to Me Marlon"
* "Cartel Land"
* "Amy"
* "Going Clear: Scientology and the Prison of Belief"
* "The Look of Silence"
Best Visual Effects:
* Star Wars: The Force Awakens"
* The Walk"
* Mad Max: Fury Road"
* Ex Machina"
* The Martian"
Best Original Song:
* Wiz Khalifa, "See You Again," "Furious 7"
* Sam Smith, "Writing's on the Wall," "Spectre"
* Lady Gaga, "Til It Happens to You," "The Hunting Ground"
* Tim Wheeler, "Feels Like Summer," "Shaun the Sheep Movie"
* Sumi Jo, "Simple Song #3," "Youth"
Best Score:
* Ennio Morricone, "The Hateful Eight"
* John Williams, "Star Wars: The Force Awakens"
* "​Bryce Dessner, Carsten Nicolai and Ryuichi Sakamoto, "The Revenant"
* Howard Shore, "Spotlight"
* Tom Holkenborg AKA Junkie XL, "Mad Max: Fury Road"
Best Foreign Language Film:
* "Son of Saul"
* "The Fencer"
* "The Assassin"
* "Taxi"
* "A Girl Walks Home Alone at Night"