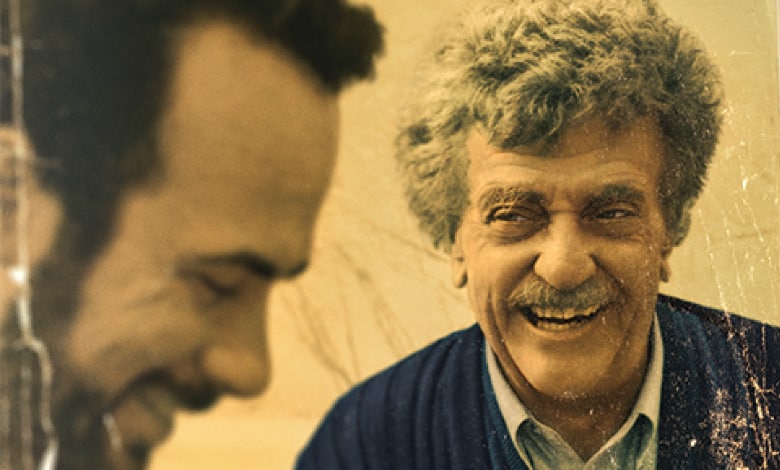 "Kurt Vonnegut- Unstuck in Time" is the spectacular new documentary about the author of "Cat's Cradle," "Slaughterhouse Five" and (my all-time favorite) "Breakfast of Champions."
Directed by Robert Weide and Don Argott, it tackles its subject from an unusual angle: Weide approached the author as a young man and offered to make a documentary about him. Their decades-long friendship is captured here, as the planned documentary becomes a never-finished project but provides the backbone of an ongoing correspondence and connection that supersedes the requirement to complete a film.
Kurt Vonnegut: Unstuck in Time | Teaser Announcement | HD | IFC Films
Bob Weide is straight forward, unpretentious and admits that he dislikes documentaries in which the director is in front of the camera. I liked him immediately.
We see Weide viewing footage he captured of Vonnegut long ago, taken at different times in his life, in which the author is deeply personable, revealing and hilarious. Vonnegut could also be terribly vulnerable, particularly in expressing (or not expressing) how war has haunted and shaped him internally.
"Kurt Vonnegut: Unstuck in Time" is essentially about the completion of a long-unfinished documentary that exists as a final tribute to Weide's dear friend, who passed away in 2007. In addition to giving longtime and new fans a generous amount of footage and insight into one of the greatest American writers (yes, the Mark Twain comparison is merited), Weide does something that anyone who loved the author can be grateful for: he brings Vonnegut back to life.
So thorough, it even references the comedy club in Barnstable that inspired Vonnegut to write "Who Am I This Time?", which inspired me greatly as a young actor and is a must-read for all community theater players.
Kurt Vonnegut: Unstuck in Time Clip - Don't Take Life Seriously
There are so many moments that will grab longtime fans, though coming into this wanting to learn about Vonnegut is also ideal, as his humor and complexities (and frustrating behavior as a parent) are explored as much as his work.
The scene where his daughter movingly recreates the way her father wrote (his posture seems downright impossible when he typed) and Weide's own recollection of his final evening with Vonnegut are so moving to hear.
Unobtrusive and skillfully done animated bits bridge certain moments – it's always fun to see Vonnegut's illustrations (which is what hooked me on "Breakfast of Champions" as a young man). I would have liked more commentary on the film adaptations of Vonnegut's work, though this wisely comments on "Back to School" and the way it connects to "Mother Night," the Vonnegut-based film Weide himself adapted.
Mother Night (1996) Official Trailer - Nick Nolte, Sheryl Lee Drama Movie HD
Fittingly, the editing zips through Vonnegut's life in the same way the author himself presented the skewered chronology of "Slaughterhouse Five." We time travel in the same way Vonnegut's protagonist does,
The development of "Slaughterhouse Five" is as fascinating a topic here are the relatives who Vonnegut reflects on (we see him revisit the handprints of his siblings, a touching visual the documentary returns to a few times).
For an author whose work could be so savagely satirical and cynical, this documentary about his life is surprisingly life affirming and a celebration of human experience. It could be argued that this makes it a greater reflection on Weide's perspective than Vonnegut's.
Perhaps, though Vonnegut likely would have adored the documentary Wiede ultimately made. Considering the 40-years it took for this to finally be completed, as well as the insight it offers on Vonnegut and how he and his art evolved over time, the end result isn't just spellbinding but essential.
Four Stars