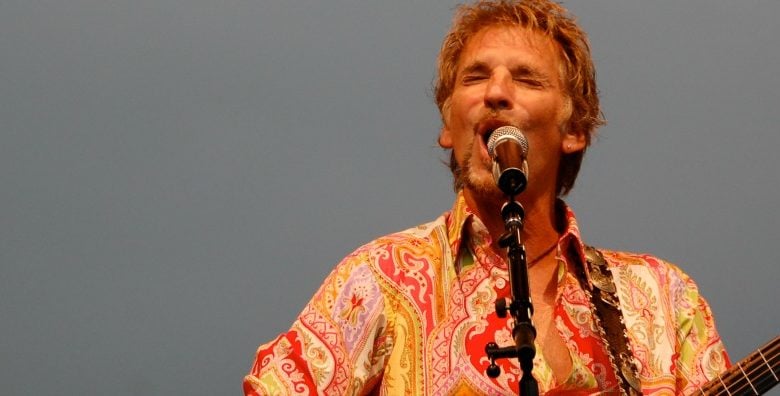 The singer-songwriter, now 68, first developed his songwriting chops while growing up in Alhambra from age 7 through college. He later moved to Hollywood where he quickly teamed up with fellow musician Jim Messina to create the immensely popular duo Loggins & Messina.
After seven years together, Loggins became a successful solo artist, both with his own hits like "Whenever I Call You Friend" and "This Is It." His career took a new pivot when his friend, movie producer Jon Peters, called him into a studio to write a theme song for the movie "Caddyshack."
The resulting tune, "I'm Alright," became a huge hit. That led to Loggins writing the title song for "Footloose," which became so well-loved he now calls it "my 'Johnny B. Goode.'"
Kenny Loggins - Footloose (Official Video)
Now, Loggins has breathed fresh life into his signature tune by writing "Footloose: Bonus CD! "Footloose" performed by Kenny Loggins
," a children's book with a new version of the now-classic track.
In it, he re-imagines the song with a new story line involving zoo animals who come out to dance whenever there's a full moon. He's currently promoting the book with a reading and signing tour.
To hear audio of the interview (warning: there's static in the background due to a poor connection, but it's definitely audible), click here.
HIT: How did you decide to reinvent "Footloose" as a children's book, and what were the key changes?
LOGGINS: It all started a couple years ago when I was doing a book with Peter Yarrow of Peter Paul and Mary and [illustrator] Wade Zahares. They had an idea to imprint the song "Frosty the Snowman" with a new version by me and a book, which all had pretty good success. I then got a call from Zahares shortly after that, asking "What do you think about doing 'Footloose' as a children's book?"
I said, "What do you mean? How would you approach it?" And he said, "All I know is it's got to have a thousand animals in it because kids love animals. "
I realized where you would find the most animals would be a zoo, and I got the idea that Jack from the original "Footloose" – from the line "Jack, get back, come on before we crack" – would be the zookeeper. And Jack and the animals have an agreement that he'll let the animals out of their cages and dance when the moon is full. As long as no humans see them, they're cool with that.
RELATED: Veterans Salute 'Top Gun' 30 Years Later
When the zoo closes, Jack lets the animals out and there's two little kids who get wind of the whole thing happening. They come in with their backpacks, binoculars and spend the night and see what the animals are up to. That's the premise of the new one. The original character Louise is rocking the chimpanzees and Milo is a tiger teaching them all to tango.
Once I got the characters in place, the rest just started falling in. I wrote the rest in a single afternoon. I've got a DJ elephant who's spinning the hits with his trunk, and llamas and rhinos, it's really become a fun thing
HIT: Why does "Footloose" have such timeless appeal?
LOGGINS: I think the movie has everything to do with it. The movie talks about personal freedom. The song has now been associated with the freedom to dance. It's almost like the national anthem, because you've got to get up to dance when it's on, and I've got no problem with that. For me in my career, it's my "Johnny B. Goode."
HIT: What's the difference in your creative process for writing for kids?
LOGGINS: Winnie the Pooh has been around forever, and all credit goes to [illustrator] E.H. Shepard and [author] A.A. Milne for creating a timeless character, and to the Disney corporation for coming in and taking over and really making a worldwide beloved character. I got lucky and wrote a song about Winnie in the early '70s, at a time when the lawyers wouldn't kill me. I recorded it with Nitty Gritty Dirt Band and Loggins and Messina, and reinvented it 22 years ago as "Return to Pooh Corner" and added a third verse from the perspective of being a dad. Forgive the pun, but it's got the warm fuzzy thing that Winnie the Pooh always conjures.
That was meant to be a universal song. I never thought of it being a kids' song. It's about growing up and moving out of the 100 Acre Wood and that part of your childhood. "Return" was about saying hello to the return of your childhood through the birth of your children.
HIT: You were known as "the soundtrack king" in the '80s and '90s. How did you take watching a movie and make a perfect song for it?
LOGGINS: I've always loved movies, always wanted to write for movies. I always thought I could enhance a scene with music if given the chance. The first movie song was "I'm Alright" for "Caddyshack," which came from being friends with Jon Peters from making of "A Star is Born" when he was co-producing with Barbra [Streisand]. On into "Footloose," that came from Dean Pitchfork, who was a buddy of mine from writing songs before he brought me the screenplay. I didn't have visuals for that one.
Kenny Loggins - Danger Zone (Official Video - Top Gun)
I got invited to sing "Danger Zone" by producer Giorgio Moroder when the act they thought they had backed out, and their misfortune was my fortune. He called me to sing it the next day, and I just happened to be in the neighborhood.
HIT: You reunited twice with Messina in the past decade. Any chance of more collaborations?
LOGGINS: You never know. Jimmy and I are friends, and I just did his two-hour special for the PBS series "Soundstage," covering 40 years of my career. The show features [producer/composer]David Foster, [Doobie Brothers singer]Michael McDonald, and the Blue Sky Rangers, my current band out of Nashville. I have a lot to be thankful for, and the special covers all that.
HIT: What keeps you driven and motivated?
LOGGINS: My primary motivation is to reconnect with this young generation through my book writing and my music for children – actually for parents and children because it crosses both. I've got five kids of my own and I really wanted to make music that parents love as much as children. I think I've done it with "Return to Pooh Corner," which has sold a couple million now. I'm making more lullaby records, and did the "Footloose" book, which was well received.
This brings another fresh air of excitement for me as a writer. At this age, I don't need to be on the road anymore. That's too exhausting, I want to just stay home, get to know my granddaughter and play in the studio.
---
Carl Kozlowski is founder and Chief Creative Officer at Radio Titans (www.radiotitans.com), and host/cohost of its shows "Grown-Ass Men," "Pajama Party," "The Koz Effect" and "Kozversations," plus Chief Guest Booker Winner of the world-famous Laugh Factory's "America's Funniest Reporter" contest.