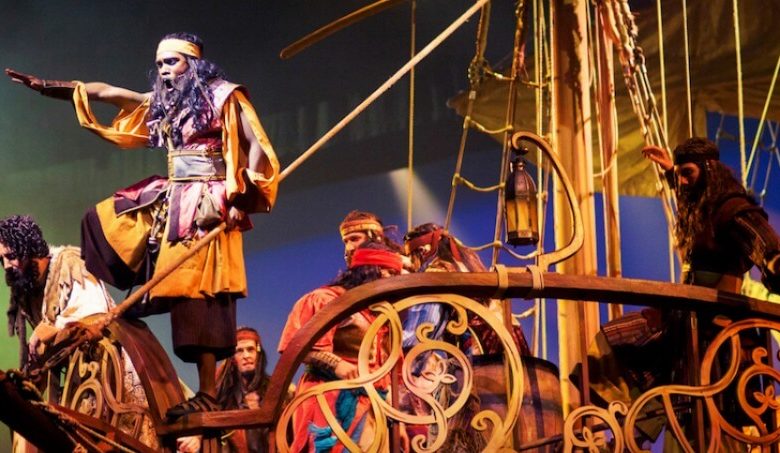 You have to see how Sight & Sound can transform a live stage into something breathtaking to believe it.
And while nothing can duplicate being there in person, the team behind Sight & Sound will offer the very next best thing this week.
Fathom Events is bringing the production company's latest show, "Jonah: On Stage!" to more than 600 theaters May 2. The show, filmed before a live audience in Lancaster, Pa., captures the decades-old company's inventive spin on the Biblical story.
The Old Testament tale recalls the prophet Jonah, a man who rejects God's mercy at his own peril. Yet he soon learns the scope of His forgiveness, but only after an epic encounter with a whale. That 40-foot creation is just one way "Jonah: On Stage!" lives up to the Sight & Sound legacy.
Expansive sets. Colorful costumes. Effects that mimic what you might see in a traditional film. The group's Bible-themed tales attract millions of patrons each year to their Lancaster and Branson, Miss. theaters.
FAST FACT: "Jonah" co-star Brandon Talley saw his first Sight & Sound production in 1996. He later joined the company and even met his wife while part of the faith-based troupe.
Live shows from Sight & Sound Theatres have been seen by more than 22 million visitors worldwide. Yet it isn't easy for most folks to make the trek to see them. Enter Fathom Events, with a track record of bringing theatrical presentations to the masses. Think its popular Met Opera screenings, which will bring 10 productions to the country during its 2016-17 season.
Sight & Sound's origins could be more humble. The company began with a Pa. couple, Glenn and Shirley Eshelman, armed with only a slide projector and record player. Today, the troupe's theaters offer 300-foot stages on three sides, live animals, massive sets and 2,000 seat auditoriums.
"Jonah" first hit the Sight & Sound Lancaster stage in 2012 but transferred to Branson for the 2014-15 season. An encore season in Pennsylvania runs through October 2017.
---
"Jonah: On Stage!" premieres 7 p.m. local time May 2 at select Fathom Events theaters. For more information visit JonahOnStageMovie.com.