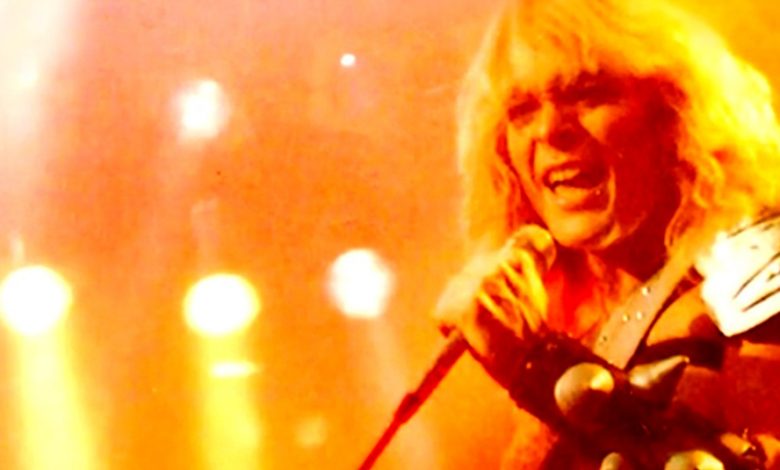 Even if you've never banged your head to Judas Priest or opened up a pit to Motörhead, Thor's story will interest anyone who enjoys exploring the unseen niches of pop culture.
The rock documentary, available now on Blu-ray and DVD, recalls Sacha Gervasi's heavy metal opus "Anvil! The Story of Anvil," minus the overt Rocky-meets-Spinal Tap narrative. Director Ryan Wise shoots a more straightforward account of Thor's life on the road after his initial '80s flame out in a burst of mismanagement, nervous breakdowns and even alleged kidnapping (a claim that is bizarrely not really elaborated upon).
.
Jon Mikl Thor started out as a Canadian kid who read bodybuilding magazines and watched The Beatles on "The Ed Sullivan Show." He lifted weights with a head full of rock n' roll dreams. After brief careers as a bodybuilder and a naked waiter, he became Thor, a Nordic alter ego singing rock n' roll while bending steel with his teeth on stage. He even popped a hot water balloon with his breath on "The Merv Griffin Show."
While the case for "I Am Thor" proclaims that Thor is "1,000% metal," his debut album, "Keep the Dogs Away," has more in common with British glam than British Steel. Thor struts around in the video for "Sleeping Giant" like a Ziggy Stardust that grew up reading Robert E. Howard stories and watching Steve Reeves movies while chugging protein shakes.
Subsequent albums such as "Only the Strong" would bring out the sound that put Thor squarely in the Frazetta-worshipping genre of power metal.
Yet despite the comic book visual concept and solid tunes (there ain't a bad cut on "Keep the Dogs Away") which made Thor seem destined to join the ranks of visual rockers like KISS and Alice Cooper, Thor's career couldn't seem to get started.
The documentary is a bit evasive as to why. That leads me to suspect there was something more going on with Thor than the documentary was willing to admit.
FAST FACT: Jon Mikl Thor won a number of bodybuilding titles in his career, including Mr. USA and Mr. Canada.
After nearly a decade of retirement, letting his body go and disappearing into a quiet life, Thor scuttles his marriage, resurrects his old alter ego, and returns to recording and touring. What Thor now lacks in muscle tone, he makes up for with a trunk of crazy props and costumes. He becomes a dollar-store Gwar with a volatile band, willing to play for audiences ranging anywhere from six to 600 fans.
.
It's when Thor begins slugging it out on the road on his own that the documentary gets interesting. After being burned by crooked managers and bad business deals in his initial run, Thor takes a DIY approach to his act. He manages himself and carries the entire weight of his ambitious yet low-budget show.
This gives Thor's performances, which seem silly at first glance, a punk rock edge that makes his concept endearing (speaking of Thor and punk, a friend of mine claims he saw Thor live almost ten years ago, and former Dead Kennedys frontman Jello Biafra was among the enthusiastic attendees).
DID YOU KNOW: As a boy growing up in Vancouver, Jon Mikl Thor wore a Superman costume to class.
The reason the aging Thor's stage show comes off as so endearing in "I Am Thor" is because the filmmakers are as enthusiastic about Thor as the rabid fans you see in the film. And if those concert goes weren't fans going in, they seem to be after the show.
I personally have never had the pleasure of catching Thor live, however I have anecdotal evidence that his shows have this effect on the uninitiated. This documentary will likely have the same impact on viewers,
"I Am Thor" is a must see, and not just for rock doc junkies.
*   *   *
Hunter Duesing is the co-host of the Midnight Movie Cowboys podcast.