Industry News
Opinion
Woke Jimmy Kimmel Attacked for 'White Privilege' Emmy Gag
He dressed in blackface (repeatedly) but this could be his Cancel Culture moment?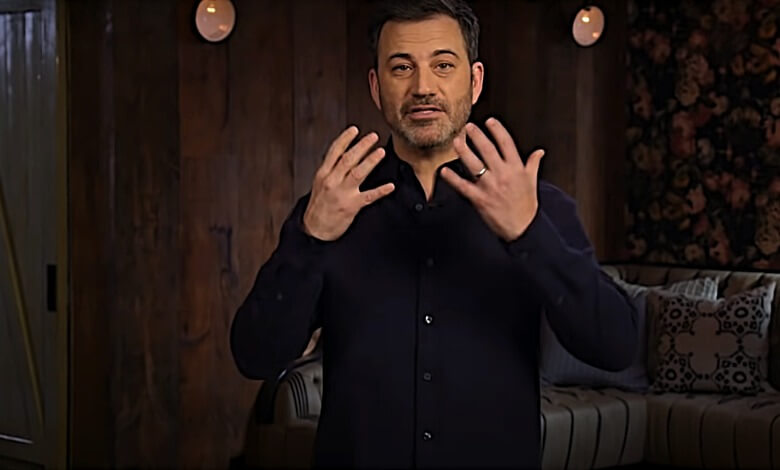 Turns out slapping a presenter isn't the only way to enrage an awards show crowd.
You can simply lay down, motionless, to do the trick.
Woke comic Jimmy Kimmel learned that lesson the hard way Monday at the annual Emmys telecast. The far-Left host of "Jimmy Kimmel Live" presented the award for Best Writing in a Comedy Series along with Will Arnett of "Arrested Development" fame.
Jimmy Kimmel, get out of the way! #Emmys2022 pic.twitter.com/UgFLdxJ9yJ

— BuzzFeed (@BuzzFeed) September 13, 2022
Kimmel pretended to be smashed on "skinny margaritas" after his show lost to HBO's "Last Week Tonight" for best late night series.
The former "Man Show" host stuck to the bit, lying still on the stage as if he had blacked out. Arnett announced "Abbott Elementary" star/creator Quinta Brunson won the Emmy for Best Writing, and she gave her acceptance speech near a prone Kimmel.
Social media subsequently lit up with viewers who felt the shtick demeaned Brunson's moment. The New York Post, among many outlets, weighed in over the outrage.
It's "white privilege," they cried.
The irony couldn't be richer.
RELATED: WHY HASN'T JIMMY KIMMEL BEEN CANCELED?
Kimmel is part of late night's woke palace guard. He defends Democrats and progressives, rarely (If ever) torching liberal pieties like Cancel Culture and the woke revolution. That posture protected him from his comedic "sins."
He previously donned blackface multiple times to impersonate NBA great Karl Malone and Oprah Winfrey. His "Man Show" featured scantily clad girls jumping on trampolines for the so-called "male gaze."
None of that came back to haunt him. Why? He proved a fierce progressive warrior, and the woke mob preferred not to cancel one of their own.
He did eventually apologize for the blackface moments, but in a canned statement filled with acrimony against his critics.
You can never be too woke, though, or too perfect in the eyes of the Left.
Quinta Brunson deserved better than giving her acceptance over Jimmy Kimmel's "dead" body. #Emmys #AbbottElementary pic.twitter.com/ofP5mkXpvy

— Garin Pirnia (@gpirnia) September 13, 2022
The Hollywood Reporter weighed in, too, pounding Kimmel for his inelegant bit.
"[Kimmel] felt that remaining on-stage and continuing a weak "I got drunk when I lost!" bit was more important than giving a young, Black woman her breakthrough moment."
Brunson appeared to be a good sport about the gag. She praised Kimmel as a comedy godfather but left enough wiggle room in her post-award comments to become upset at the stunt.
She reserved the right to "punch him" at a later date, she said in a joking manner.
Victimhood status is tempting, and she may realize she can gain more attention, and industry clout, by suddenly realizing Kimmel dimmed her Emmy moment.
Brunson is slated to appear on "Jimmy Kimmel Live" later this week. Here's betting he'll serve up a groveling apology on his personal platform.
He may not have a choice by then.