Interviews
How James Badge Dale Brings a Real Hero to Life (Again)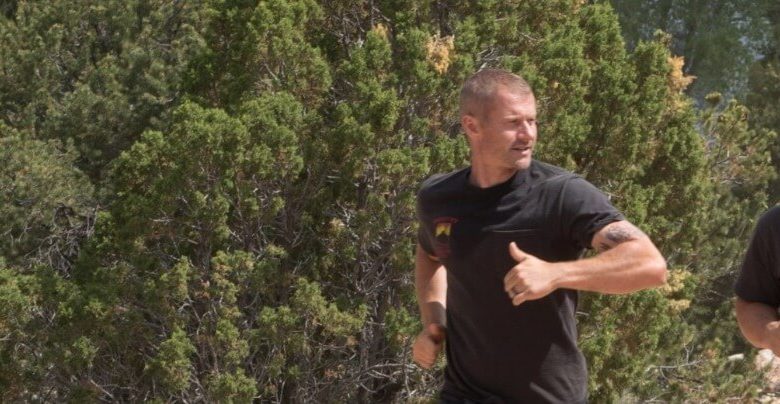 James Badge Dale learned about the Yarnell Hill blaze while riding on the New York City subway.
He was reading The New York Times' account of the 2013 blaze which took the lives of 19 Granite Mountain hotshots.
He couldn't put the piece down.
"You're standing there, and a 40-foot wall of flames is coming at you with 3,000 degrees. I was struck by that story, sitting there on the subway," Dale says. "It deserves to be told."
Dale, who starred in last year's powerful Benghazi film "13 Hours," plays firefighter Jesse Steed in "Only the Brave." He's second in command to Josh Brolin's supervisor, Eric Marsh. They're all members of the Granite Mountain Hotshots, an elite group drawing a hard line between forest fires and civilization.
'Only the Brave' Official Trailer (2017) | Josh Brolin, Miles Teller
"This job was special from the beginning. We've all tried to treat it as such," Dale says of the project. It also proved overwhelming at times thanks to the boot camp training to prepare Dale and cast mates to life as a Hotshot.
"There wasn't a day when someone didn't say, 'holy s*** this is hard,'" he recalls.
FAST FACT: James Badge Dale played Marine Robert Leckie in the HBO 2010 miniseries "The Pacific."
Yet the group's humor and heart never falter. It's an essential ingredient in "Only the Brave," one shaped by real firefighters.
"We had five former Granite Mountain hotshots [on set]. They trained us physically, technically," Dale says. "At every moment on that set there was someone there for you, supporting you and also telling you you're doing it completely wrong."
It wasn't all back-breaking labor, though. The firefighters insisted the cast let loose, too.
"We have a lot of fun with it. We want you guys to have the same attitude," they told Dale.


That's partly how an off-screen moment made it into the movie. One of the hotshots opened up a bottle of beer with a chainsaw. Slack-jawed "Brave" co-star Taylor Kitsch captured it on his phone and showed it to director Joe Kosinsky.
You'll see that trick in the movie.
Those training moments, and the tension-cutting laughs, forged a palpable screen chemistry. It also transformed the actors into a credible firefighting unit – on paper.
"By the end of it we're the number one actor firefighting crew around. No one will ever call us to put out anything," he says, smiling.
FAST FACT: James Badge Dale got a huge break for a child actor when he was cast as Simon in 1990's "Lord of the Flies" adaptation. He gave up acting temporarily for hockey following the film's release.
"Only the Brave" is a very different film than Dale's "13 Hours" project. Yet the connection between the two true stories wasn't lost on him.
"I've been lucky and fortunate to play a number of men who aren't here anymore to tell their stories," he says. Dale played Tyrone "Rone" Woods, one of four men who died when Islamic militants attacked two American compounds in Libya, in "13 Hours."
"I didn't know Jesse Steed or Tyrone Woods, but they taught me something. I wanna be a better person because of that," he says.
In the case of Steed it was more than his Granite Mountain heroism.
"This guy would go work 16 hours a day cutting line. Spike out for two weeks. Then he'd come home and be present with his family. He had that ability and he didn't struggle with that," he says.
RELATED: Josh Brolin Salutes Firefighters in 'Brave' Drama 
Badge is bulky in person, an affable presence with an entertainer's knack for storytelling. His parents were in show business, too. He tried a career in hockey but an injury forced him into acting.
"I thought that was the easiest thing to study," he says. "It's funny where you end up."
He credits his parents for a blue collar work ethic that serves him well in today's Hollywood. Only they weren't thrilled when he ditched his hockey gear for acting.
"They hated it! Go be a doctor, get a real job," he says. His father is still alive and the two now share stories about Dale's acting gigs. Between high profile projects like "Brave," "The Walk" and "World War Z," that second career turned out better than average.
"We have a close relationship," the actor says. "We have something we share. We talk about it all the time."