Interviews
How Courtney Hoffman Made 'Eight' Look Great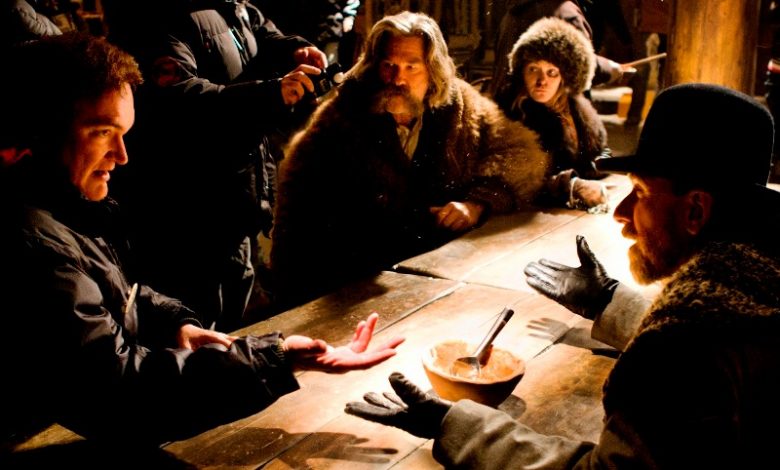 She helps them find their characters with every square of fabric.
HollywoodInToto.com reached out to the costume designer behind "Alex of Venice," "The Boy Next Door" and now "The Hateful Eight." Hoffman shared tales from the set, working with Quentin Tarantino's legendary cast and how she helped (most) of the stars stay warm during the brutally cold shoot.
HiT: Which of the actors asked you the most questions during the costume design process? What was paramount in his or her mind during that collaboration?
Courtney Hoffman: Working with actors and directors is always an extremely collaborative process. The actors all had concerns about working in the extreme environments, and we talked a lot about our strategies to keep them comfortable. As far as design goes, the actors were all very willing to hear my ideas and try them. Quentin is in the fittings with us, so it's a very communicative and collaborative time. We discover the character together. Sometimes we dressed the actors in the other room, and they came out in costume reciting their dialogue for Quentin. We all knew in those moments whether we had found the character!
HiT: Many of the characters in the film are rotten to the core … can you talk about how you used size, shape and textures to help reflect those traits?
CH: Kurt Russel's character, John Ruth the Hangman, was a bully. He takes turns with each of the cast berating them and strong arming them one way or another, i wanted a costume that physically manifested that. The Buffalo coat is menacing and takes up space. Other characters like Bob the Mexican (Demian Bichir) are hiding under their costume, so getting him bundled up and impenetrable helped to that end.
HiT: Where do you normally shop or search for costume material, and where was the most unexpected place you found resources for your "Hateful Eight" designs?
CH: I looked at some Japanese fashion magazines for Walton Goggins' Chris Mannix's costume. He was supposed to be the fashion plate. He cared more about his appearance than his warmth, a decision that would later haunt him while stuck in the snow without a horse. I also found a saddle blanket he wears during the first part of the film from Maison Margiela, so it's an unexpected pop of high fashion among the grit. I look for inspiration all over the West, antique stores in New Mexico, furriers in Washington. We even had pieces knit in Portland, Buckskin hand carved in Colorado. This movie had pieces from all over the world. Daisy's fur hat came from China and we had Henley's manufactured in London.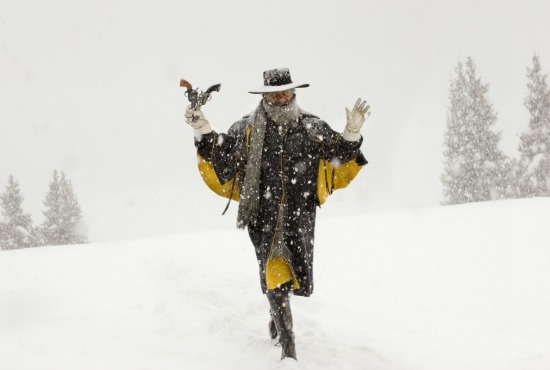 HiT: Did you need to alter your methods given the film was shot in 70 mm?
CH: Once we started watching the first week's Dailies it became clear that the film stock actually cleaned up the costumes. The aging was not as clear as it was in person or it would be in digital. Both me and Yohei Taneda, the production designer, had to go in and age pieces further for the film. Also keeping in mind that everything from their gloves to the bottoms of shoes was going to be projected in huge 70mm which meant keeping those details looking perfect. It's a wonderful opportunity to work with these cameras that are legacies in film history on their own.
​HiT: Quentin Tarantino famously finds inspiration from the films he adored growing up. Did you look to any classic westerns for visual inspiration, or did you seek a new template with your work on the film?
CH: I turned to so many westerns it's hard to keep track of them all. I especially love 'The Great Silence,' 'Day of the Outlaw,' 'Once Upon a Time in the West,' 'The Good, the Bad and the Ugly,' the 'Dollars' Trilogy, 'The Tall T' and 'Sartana' for Samuel L. Jackson's costumes. I am incredibly inspired by Carlo Simi who designed sets and costumes for many iconic spaghetti westerns. I love the genre, so came into this with a pretty large library on references in my head as well!