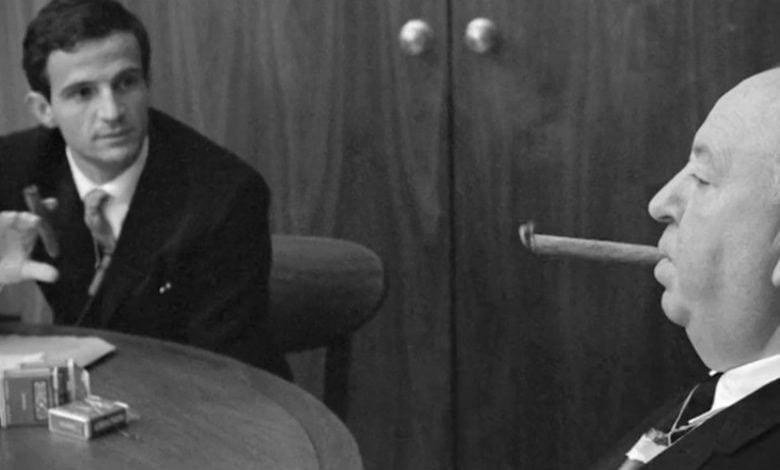 While "Behind the Scenes" articles, electronic press kits and fan reporting give modern films a transparent quality on their making, Truffaut's book of chats with Alfred Hitchcock was a rare, accessible and valuable read for film buffs.
The documentary of the same name is both a visual representation and an extension of Truffaut's book. Some of the illustrations and published still frames come up, and we hear delightful audio clips of Truffaut, Hitchcock and their translator, both in deep discussion and being verbally playful. Using Truffaut's book as a jumping off point and not a rigid guide both reiterates and transcends the source material.
Hitchcock/Truffaut Official Trailer 1 (2015) - Wes Anderson, Olivier Assayas Movie HD
Director Kent Jones has fashioned memorable, valuable
documentaries
on film artists and craftsmanship before, as his previous works focused on Elia Kazan, Val Lewton and (acting as a writer on Martin Scorsese's "My Voyage to Italy") Italian Cinema.
"Hitchcock/Truffaut" isn't merely entertaining and enlightening, but an essential work, one of the definitive documentaries on filmmaking.
The assembled talking heads are most impressive. Who better to discuss great filmmaking than the likes of Martin Scorsese, David Fincher, Wes Anderson and Peter Bogdanovich?
"Hitchcock/Truffaut" is a gift for movie lovers, the kind of documentary that will enhance any film class but is appealing enough for those who don't know what mise-en-scene is. Jones' lively, thorough and expertly produced documentary celebrates two extremely different cinematic artists, hones in one their respective approaches to filmmaking, and provides illustrations on why their means of storytelling still matters.
Vertigo (8/11) Movie CLIP - The Bell Tower (1958) HD
My only qualm: the overly attentive dissection of "Vertigo," though doting on that film has become a trend among cinema lovers. I love "Vertigo" almost as much as any Hitchcock fan, but it's become an overrated title in a career full of worthier works. While "Vertigo," even with its weirdly miscast James Stewart and oddball ending, has become the current pop example of definitive Hitch. Many other, far worthier films wait for their day atop the AFI Best Films of All Time List.
Nevertheless, the expected coddling of "Vertigo" finally ends, and the focus shifts to "Psycho," "Marnie" and "The Birds." Other classic are referenced and briefly appraised, giving even casual or non-fans of either director a sense of what these men could accomplish.
ALSO CHECK OUT: Why 'Being Human' Captured Robin Williams' Humanity
To nitpick, "Shadow of a Doubt," "North By Northwest," "Notorious," "Lifeboat" and the terminally underrated "Family Plot" deserve more avid consideration, here and elsewhere. Yet Jones brings them all into focus (though briefly), in order to underline the obsessions and versatility of themes springing from their maker.
A stronger emphasis on Truffaut's films would have been nice, though the documentary's structure reflects the creation of his book: Truffaut established the project to reach out to Hitchcock, not the other way around. Jones is standing in for Truffaut by probing The Master and exploring the themes, visuals and considerable examples of what made them such genius exercises in suspense.
In total fairness, had Jones given both Truffaut and Hitchcock equal attention, with extensive looks at "The 400 Blows" and "The Story of Adele H." as well as "Frenzy and "Topaz," this would have been twice as long and not as carefully, tightly constructed. At a packed but brisk, utterly reasonable running time of 79 minutes (!), Jones is to be commended for making such a short documentary with a full offering of information and entertainment value.
This is a definitive documentary on two masters of their craft.
DID YOU KNOW: The working title for 'Family Plot,' Alfred Hitchock's 53rd and final film, was 'Deceit' until the final week of filming.