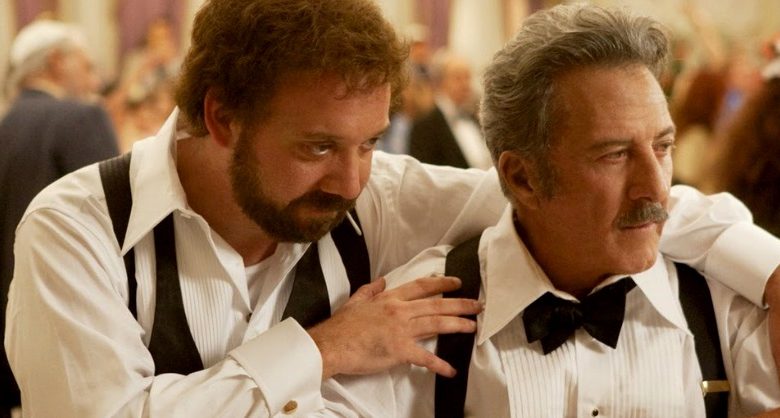 Paul Giamatti can, and does, in the irresistible dramedy "Barney's Version."
The film, based on the novel by Mordecai Richler, gives the "Sideways" standout his least likable character since Pig Virus in "Private Parts." Golden Globe awards may be worth less than the material they're forged from these days, but Giamatti earned his sphere with his marvelously nuanced performance.
Barney's Version Official Trailer #1 - (2010) HD
Barney Panofsky (Giamatti) is loyal to his friends but less than open with the women in his life. Barney's story begins in Montreal, where the shaggy-haired Barney hangs with longtime pal Boogie (Scott Speedman, oozing casual charm) and a coterie of pals including his future bride, Clara (Rachelle Lefevre).
That marriage ends tragically, and soon Barney finds himself working in television and married to a more traditional woman (Minnie Driver). But it's during Barney's second marriage ceremony where he meets the girl of his dreams. Miriam (Rosamund Pike, the "Gone Girl") initially shuns Barney's advances, but the man simply refuses to let her go.
"Barney's Version" is more than just a platform reaffirming Giamatti's copious screen gifts. The film offers the full saga of a very flawed man, one whose passions are both his undoing and salvation. It's hard to take Barney seriously even if he proves faithful to his long-term pals, but it's how he treats Miriam that grounds the character and the film itself.
Dustin Hoffman shines as Barney's dad, a workaday ex-cop who loves his son unconditionally. It's a sharply tuned comic turn, the kind Hoffman deserves in his golden years. And who wouldn't fall madly in love with Miriam? She may seem perfect, but Pike ensures her vulnerability to Barney's advances renders her human.
"Barney's Version" struggles in the final reel, the colorful story losing some of its glorious hues. And the murder mystery that dogs Barney for decades isn't as compelling as the film intends it to be. But the story remains a triumph, a vivid character study of a complicated, and wholly charming, cad.