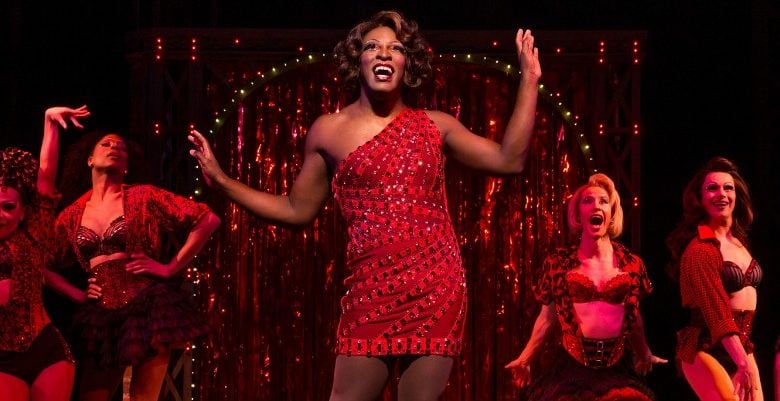 The 2013 Tony winner for Best Musical is in Denver as part of its current national tour, playing at The Buell Theatre through Nov. 9.
The production, based on a true story which also inspired the 2005 film of the same name, shows a dying shoe manufacturer finding a fabulous new demographic. Our hero rolls up his sleeves, doubles his efforts, and puts his faith in the marketplace.
Of course, "Kinky Boots" isn't aimed solely at Ayn Rand enthusiasts. The story asks people to accept each other for who they are, no matter the size of their heels. Too often similar cries result in bullying those who don't instantly fall in line.
"Kinky Boots" refuses to pile on its less enlightened characters. That makes the show both irresistible and consistent, a powerful one-two kick.
Young Charlie (Steven Booth) longs to leave his family shoe business behind, but when his father dies he's forced to take over the operation. That might not be for long. The company is bleeding customers, and Charlie may have to send his loyal staffers packing.
A fateful encounter with a drag queen name Lola (Kyle Taylor Parker) inspires Charlie. What if his company stopped selling drab men's shoes and started making boots strong enough for a drag queen to rock?
To say Parker owns these "Kinky Boots" is to applaud the obvious. The production demands a live wire who can sing, strut and tear a sizable chunk out from our hearts. Parker does it all without so much as a stumble. He's so good he overshadows Booth whenever they share the stage.
It's not Booth's fault entirely. Who could dazzle as brightly as Lola, even when the character drops the diva wardrobe for a sensible shirt, pants and vest?
What's heartening about the show is how it embraces people, not just feel-good archetypes. The buffoonish Don (Joe Coots) doesn't know what to make of Lola, but he, too, is given a measure of dignity before the joyous finale. And the cast features performers of all shapes and sizes, not simply athletic stars who glide across the stage.
The songs, crafted by Cyndi Lauper, careen from '80s rock anthems to tunes reminiscent of a 1970s production. One comic standout is "The History of Wrong Guys," which lets Lindsay Nicole Chambers delight in a role you wish were bigger.
"Kinky Boots" doesn't give Chambers enough to do, and her character's bond with Charlie lacks the necessary sparks.'
The "Kinky" set is a wonder of efficiency, often working as a dual stage with an upstairs/downstairs style design. You can practically smell the shoe leather off the assembly line. And when the dancers, including a buoyant drag ensemble, work the conveyor belt like a runway it's dazzle atop dazzle.
"Kinky Boots" arrives at a time when the voices of tolerance are on the rise. When set to jubilant music and a soulful story, those cries climb even higher.
DID YOU KNOW: Kyle Taylor Parker says he'd love to play the role of Don, the brutish shoe store employee, if given the chance to swap roles within the show.