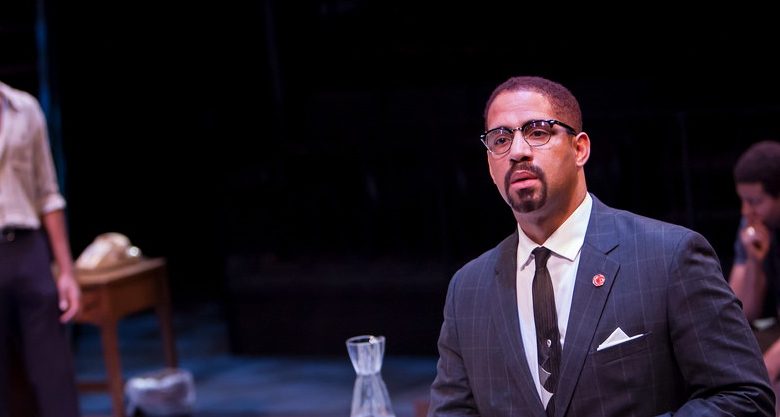 Lean too heavily on fiction, and you're bound to upset purists while opening oneself up to charges of wishful thinking. Tell a mostly true tale, and audiences may walk away wishing for some creative tinkering.
"One Night in Miami…," playing through April 19 at The Denver Center for the Performing Arts' Space Theatre, walks that dramatic tightrope better than any play of its ilk might.
The production, which had its world premiere in 2013, imagines what happened when Cassius Clay, Sam Cooke, Jim Brown and Malcolm X gathered one night to celebrate Clay's stunning victory over heavyweight champion Sonny Liston.
The four represented key figures in black culture, each with a distinct approach to handling the era's racial discrimination. And the foursome did, indeed, convene on that fateful night in 1964.
So what did they say after Clay become the undisputed heavyweight champion? And how would they react to the champ's other big news, one that rocked the sports world and the culture at large?
Bringing four icons to the stage in 'One Night in Miami'
Yes, "One Night in Miami" is full of speeches. Could Malcolm X, at that point in his life, settle for small talk? But playwright Kemp Powers transforms those moments into tiny character reflections, dialogue connecting to the times and famous figures.
It's amazing how both the play and its performers avoid caricaturing the quartet. They emerge as funny, flawed and achingly real. Yet each is instantly identifiable even when the actors aren't embodying their infamous tics.
Colby Lewis' Clay is ever the preening peacock, but he's also a tortured soul unsure of his next step. Morocco Amari's Brown is the least emotive, a hulking figure whose mass speaks for him. He's also the most comfortable in his own skin, understanding his place in pop culture as well as how it can best benefit him.
Nik Walker can't sing quite like Cooke … who could? Still, he captures the singer's angst over singing silly love songs when other troubadours were chronicling the decade seedy underbelly.
And then there's Jason Delane's Malcolm X, perhaps the toughest character to embody. He would be dead in a year (so would Cooke), and his ties to the Nation of Islam were frayed at best. Did he want to latch on to Clay, Brown or Cooke, or did he see himself as a mentor no matter his personal issues?
"Miami" cruises along, an efficient 90-minute production with nary a wasted moment. The four leads are equally charismatic in their own way, and they handle the humorous moments like a seasoned improv troupe.
It's also a fascinating document for younger audience members unaware of the turbulent 1960s and the racial arguments from the era. Pundits weren't tabulating micro-aggressions or code words. Racism was more palpable then, an open wound that left black leaders wondering the best paths to follow.
Of course, no one elected Clay, Cooke, Brown or Malcolm X. Still, their ruminations on race remain provocative, particularly as an example of how far the culture has come since that iconic night in boxing history.
DID YOU KNOW: One fact showcased in both "One Night in Miami…" and the historical record is that vanilla ice cream was consumed during the historical meetup between Malcolm X, Sam Cooke, Cassius Clay and Jim Brown.