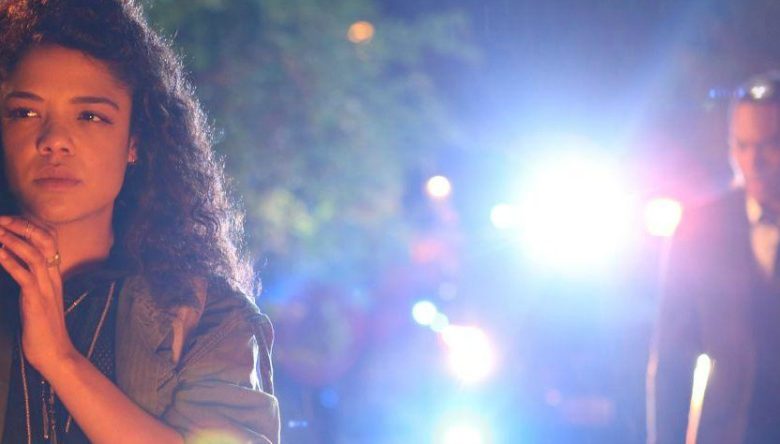 The racial satire still leaves a mark – several, in fact –  but some of its outrage feels musty in 2014. Racism lives on, but the cultural counter-balances against it are more potent than ever. Just ask Michael Richards and celebrity chef Paula Deen, stars whose careers capsized after uttering the "n-word."
Where the movie scores is in nailing the Age of Obama, a time when identity politics roared back into vogue.
First-time director Justin Simien shows a comedic vision stronger than most auteurs with twice his experience. Now, if he'll hold a little back to let his hard-charging characters breathe.
Dear White People | Official Trailer (HD) | In Theaters Oct. 17
We're deposited on the verdant campus of Winchester University, a predominantly white college humming with racial tension.
Campus radio personality Samantha White (Tessa Thompson) sends her acid-tongued "Dear White People" monologues to the masses. To Samantha, white people now need more than two black friends to avoid appearing racist. At a time when Republicans are branded as racist for simply disagreeing with the current president's policies, that gag fails to amuse.
Elsewhere on campus, a thuggish group of white pals is plotting a blackface party, a geeky journalist (Tyler James Williams) gets wooed by the school newspaper and the dean announces racism is only a problem now for Mexicans.
"Dear White People" is just getting warmed up. Teyonah Parris plays a black woman eager to escape her ghetto background. A campus battle for black students to congregate in the same hall finds Samantha winning a university election and getting a taste of real power.
Meanwhile, she's sleeping with a white student but refuses to even consider him as boyfriend material even though he's handsome, gentle and wise.
"Dear White People" smites Tyler Perry films for promoting a limited look at the black experience without acknowledging projects like "Ride Along," "Think Like a Man" and "The Best Man." Even "The Cosby Show" gets hit with a smart bomb the director apparently waited nearly 30 years to drop.
The Coz gets off easy compared to what Simien thinks of reality television's attitude toward stereotypical black participants.
Simien simply has too much items on his cultural "to do" list, as if he fears he'll never get another chance behind the camera.
That shouldn't be an issue.
His cast is consistently strong, a testament to Simien's ability to draw the very best of the performers. It's hard to pick a standout, but Williams, Tessa Thompson and Brandon P. Bell as a black student trying to break into white society give Simien's aloof script the humanity it craves.
Simien understands the problem, witness an obvious subplot where Samantha is distracted by her sick father's condition.
More often than not, "Dear White People" is so eager to punch the next cultural hot button it forgets to get to know its own characters
Much like "Do the Right Thing," the film suggests violence as a means to address societal ills in its waning moments. That, along with nearly every other element in "Dear White People," will spark sharp debate. What movie goers won't discuss are the personalities setting these issues in motion.
DID YOU KNOW: Justin Simien created a "concept trailer" based on what would become "Dear White People." That video earned more than 25,000 fans and helped him raise $40,000 in production costs. He was well on his way.