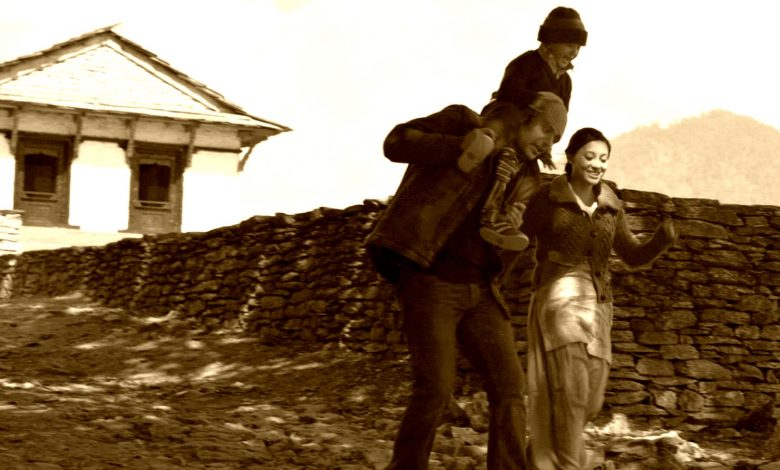 At first glance, the film seems to center on each character's struggle to adapt to their new surroundings … and each other.
But I hope that in its simple beauty, you will find something more.
I began wanting to tell a story about myself, a metaphor for the things that were important to me: growing up, forming an identity, experiencing new places, the death of loved ones, learning how to give and how to love and the mishaps that come with that. Many of the things said and portrayed in the characters are representational of my own experiences. But in the end they are hidden behind Nepal and the story she has to tell.
"Highway to Dhampus" - US Premiere at the 2014 Heartland Film Festival
The film was shot almost entirely in Nepal; the country is not only a place but a character in the film. The people, the scenery, the intricacies of the culture, all of Nepal were such a perfect fit. My crew and I spent the better part of two months filming in Nepal, and I still think about it every day.
I wanted to capture the sense of tradition, beauty and stillness that is present there but juxtaposed against one element of life experienced so uniquely yet so universally among all people.
Life Lessons
There is a moment in the film where Ajit, the Nepali mountain pilot, expresses his thoughts on the purpose of life. "We believe that the best thing in life is to change. When you live well, when you are kind, when you give, when you love, when the river changes into the ocean, when the smoke changes into the sky, we are all brought here to change."
Throughout the plot we arrive at moments of love, sadness and redemption, but the film is more about the path that led to those moments. This is why I titled it "Highway to Dhampus." It's the not the most romantic or elegant name, but I couldn't let go of it.
Whenever you travel from Pokhara to Ghandruk, the village where this story is set, you take what is known as the highway to Dhampus. This journey is represented in the name, not the destination. The film is not about the change itself, but how we get there.
Politics Left on Cutting Room Floor
This year's theme for the Heartland Film Festival is "Shift Your Perspective." "Highway to Dhampus" won't change your life. There are no hidden agendas. No politics. It won't drag you through tense, suspenseful moments. It is subtle, for the careful viewer. In that way it's like a poem. You could read it, turn the page and think nothing of it. But you could also dive in and have a feast. When it's through, you might think a little differently. You might not. It's is a quiet film. But it is speaking to you, and you might find you are eager to listen.
"Highway to Dhampus" makes its U.S. premiere at 5:15 p.m. Oct. 18 at Castleton 11 at the Heartland Film Festival. The film also will be screened at 2:45 p.m. Oct. 21 at Traders Point 10, 12:15 p.m. at Castleton 11 on Oct. 23 and at 8 p.m. Oct. 25 at Castleton 11. Visit the Heartland Film Festival site for ticket information.
*   *   *
Rick McFarland is a 20-year veteran of the film industry. He is the Owner and Director of Fiftyfilms, where he directs work for clients such as Intel, Verizon, BAE, Purina, and Microsoft among others. Rick produced and edited 'My Girlfriend's Boyfriend' starring Alyssa Milano, Christopher Gorham, and Michael Landes in 2009. 'Highway to Dhampus' is the first feature film that he has both written and directed.
Follow news about "Highway to Dhampus" on Facebook, Twitter and Instagram.