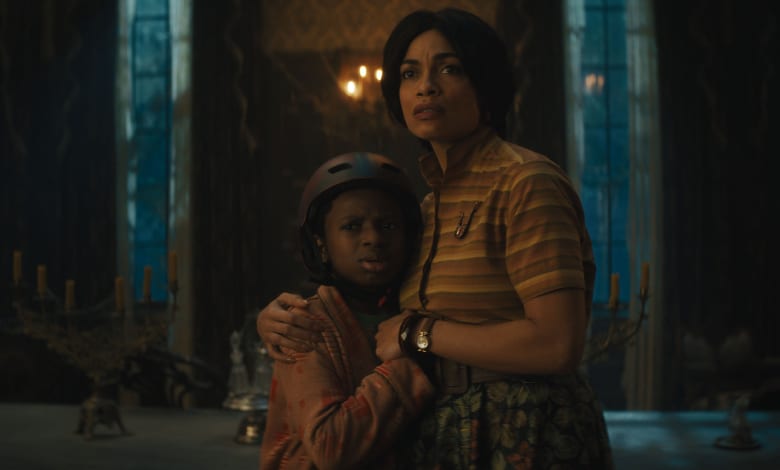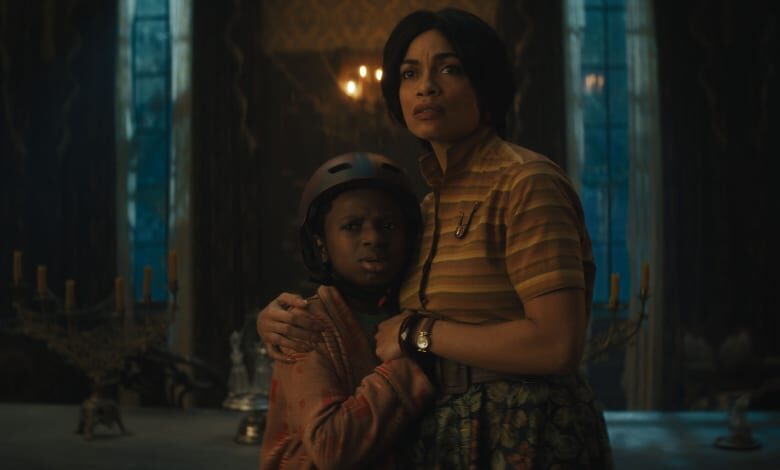 Kids need a gateway into the wonderful world of horror, a story teasing the shocks they'll chase in their teen years (and beyond).
"Haunted Mansion" could be just the ticket, given its terrific cast and blood-free boos. If only Team Disney knew when to quit.
The bloated affair sneaks past the two-hour mark, an unforgivable decision given today's short attention spans. Adults will be bored by the non-stop assault of ghosts and ill-conceived punch lines that even the cast can't rescue.
It's a Disney theme park attraction, all right, but you don't have to wait in line and you'll be happy for it to end.
Disney's Haunted Mansion | New Trailer
LaKeith Stanfield stars as Ben, an astrophysicist who enjoys a meet-cute moment with Alyssa (Charity Jordan) at a New Year's Eve party. Their love blooms in an effective prologue, one steeped in New Orleans culture.
Wait? Is this a Disney film with a distinct personality? What does director Justin Simien ("Dear White People") have up his sleeve?
Not so fast. The rest of the film is a paint-by-numbers affair with little local culture in play.
We're then introduced to Gabbie and Travis (Rosario Dawson and Chase W. Dillon), who in the grand horror tradition of nonsensical plots choose a creaky mansion as their new home. What single parent doesn't need a house with more rooms than a Trump Hotel to clean?
This mansion's uninvited guests greet the new homeowners, who swiftly seek out a priest (Owen Wilson) and Ben to … what, exactly? Officially prove the house is haunted? Chase the ghouls away? Attempt an exorcism?
How about, "move this clunky story forward without giving it much thought?"
Again, that's fine. It's a Disney summer movie, and we won't sweat the details if they can't.
View this post on Instagram
Gabbie also recruits a daffy psychic (Tiffany Haddish, whose string of weak comedy roles continues) and a local professor (Danny DeVito) who may hold clues to the mansion's back story.
Kudos to "Haunted Mansion" for attracting such appealing stars. Stanfield not only anchors the film but fleshes out his character's somber backstory. Screenwriter Katie Dippold (2016's "Ghostbusters") packs not one but two sentimental subplots into the mix, but they're overshadowed by the story's frenetic ghosts.
Wilson fares the best here on the laugh front, making the most of "meh" lines through sheer force of will. None of the ghosts offer enough personality to mention them in the same breath at Slimer, the "Ghostbuster" franchise's star attraction.
It's a Disney film, so we get some gentle lessons about believing in oneself in times of duress. It's obvious but welcome, never intruding on the story's essential mayhem. It's also a woke-free affair, with one of the funnier lines taking us outside the film's cobweb-covered halls.
Ben asks one of his comrades to call the police if he's not back in two hours, then mutters, "Never thought I'd say that," alluding to a black person's reticence regarding the cops.
We'll take that woke self-awareness any day.
HiT or Miss: Children are the best audience for the low-expectation comedy "Haunted Mansion," but the film's running time might scare them silly.