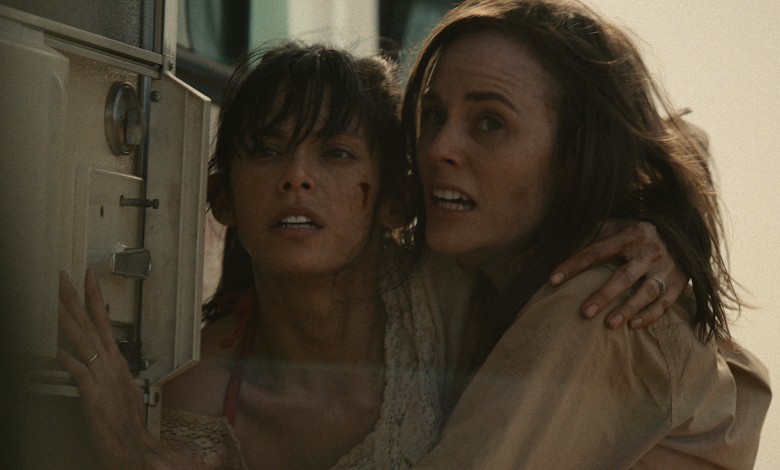 Stop us if you're heard this before.
A zombie outbreak takes root in heartland USA, but the undead aren't nearly as cruel as the human survivors.
Nada?
What about factions fighting over dwindling supplies?
Still nothing? Try scenes where people argue over killing infected humans lest they turn into flesh-chomping zombies?
If none of this rings a bell, then "Herd" might be a welcome choice this Halloween. Most genre fans know these zombie beats by heart, which makes the mediocre "Herd" all too familiar.
Jamie and Alex (Ellen Adair, Mitzi Akaha, both solid) attempt a canoeing vacation to work on their marriage. Things are going poorly, and that's before Alex impetuously tips the canoe over during an argument.
Alex breaks her leg scrambling to get back on the boat. Badly.
So they put aside their bickering to find Alex medical attention, only to learn a zombie outbreak hit their small town while they were off the grid.
They're welcomed into an unofficial flock led by Big John (Jeremy Holm), an avuncular type with ties to Jamie's bigoted pappy (Corbin Bernsen). Seems her Pa wasn't happy to learn his little girl liked other girls, and the two haven't spoken for years.
Big John's crew is at war with Sterling (Timothy V. Murphy, menacing and under-used), whose followers crave whatever resources Big John and co. salvaged.
Who will win this deadly rivalry?
Will Big John's bigoted flock learn Jamie and Alex are a same-sex couple and brain them like so many zombies?
Will the story's social commentary spill over into a screed?
Better yet, doesn't director/co-writer Steven Pierce realize we've seen dozens of zombie TV shows and movies prior to "Herd?"
His shocker studied at the George A. Romero School of Misanthropy. It's not the zombies we should fear, it's the uninfected humans. We've seen variations on that theme for so long it's insulting to bring it back without a sizable twist.
Direct from @FrightFest, @ellen_adair, @HolmJeremy & @TimVMurphy star in the zombie shocker HERD, coming Friday, October 13th, from @darkskyfilms! pic.twitter.com/yEJljMZ2L3

— Dark Sky Films (@darkskyfilms) October 2, 2023
Other key plot points leave us confused.
The full-blown zombie apocalypse JUST happened. It's a week old, at best. How did these various tribes form so quickly, down to establishing new rules and traditions? Why would humanity run low on supplies this fast?
Even worse?
The film's pacing feels too leisurely, like a "Walking Dead" episode dubbed "filler" by impatient fans.
Pierce deserves credit for building characters in a genre setting and granting a measure of humanity to some troubled souls. Jamie's dad seems like a monster, but his kindness toward Big John reveals a softer side.
Big John displays considerable grace to Jamie and Alex, an unexpected turn that gives the movie emotional depth. Holm's performance is less showy than his co-stars, but it anchors the story's quieter exchanges.
Plus, "Herd's" camera work feels brisk and unnerving, a smart combination for a horror entry.
Only in the film's waning moments does "Herd" veer into cultural stereotypes. We're led to believe the human tribes are Red State types who don't believe the government's "lies."
Yet the movie arrives following three-plus years of government misinformation about the pandemic and the vaccines, not to mention Dr. Anthony Fauci's orchestrated attacks on those who thinks the virus came from the Wuhan Lab.
What are the odds? Pretty high, actually.
The film's timing couldn't be any worse, but the narrative disagrees.
"Herd's" biggest undead twist, beyond giving the zombies unsightly boils? The ending's tone is like nothing we've seen before. Too bad its jarring and unconvincing.
HiT or Miss: "Herd" offers solid performances and slick cinematography, but the social commentary and tension both fall flat.