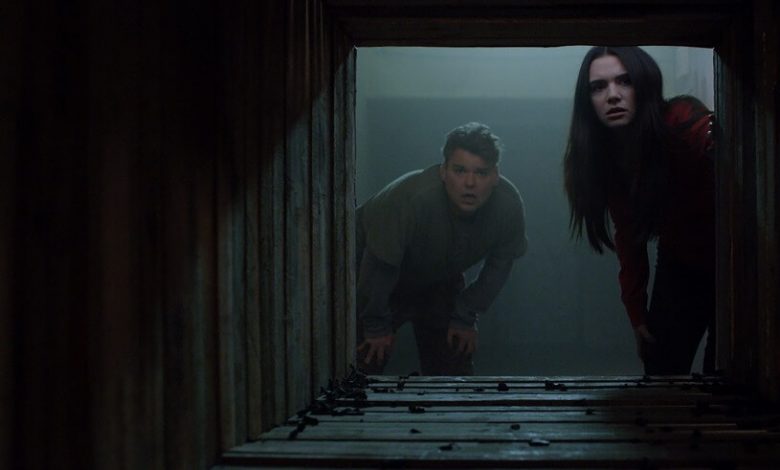 The premise behind "Haunt," from the writers of "A Quiet Place," won't quicken anyone's pulse.
It might have the opposite effect.
A group of college-age kids stumble across a haunted house they may not get out of alive. So far, so pedestrian. Cabin in the woods type fare, at best.
It's what Scott Beck and Bryan Woods do with the premise that makes this shocker so rewarding. "Haunt" confirms the pair didn't just catch lighting in a sound proof bottle with "A Quiet Place."
They're the real deal.
Katie Stevens stars as Harper, a young woman camouflaging an eye bruise as the story opens. Her boyfriend is an abusive drunk, all the more reason for her to cling to her friends on Halloween.
That, along with the beer, the dancing and the scares.
RELATED: The 16 Best Horror Movies on Tubi
They set out to paint the town black and orange, but before long she's making an impression on the affable Nathan (Will Brittain). Harper's group leaves the bar for a local haunted house exhibit. They spot a sign for another haunted house en route, one promising a grittier, more "extreme" experience.
How could they say no?
When you spot your crush at the bar. 👀#HAUNTmovie – In Theaters & On Demand September 13. pic.twitter.com/cOBC5wWmA4

— Momentum Pictures (@Momentum_Pics) August 25, 2019
You know what happens next long before the main characters wise up to reality. This house's exhibits will draw real blood.
"Haunt" maximizes its ordinary set up to keep us off balance. Note how how the youthful characters are distinctly drawn tropes who make an impression all the same. Some may die, but you won't necessarily cheer it on.
We're treated to some of their background stories, too, the kind many shockers leave out. Will they play into the main narrative? They just might, but likely in ways you won't see coming.
And that's where "Haunt" excels.
You think you know where each haunted house tunnel will lead? Try again. Heroes and villains are less than obvious, and characters don't suddenly shift personality gears to fit the narrative.
Plus, "Haunt" knows what scares us. Awkward social interactions. Masks that hide something not easily ignored. Figures who stand stock still, without a sound, until you can barely take it.
FAST FACT: "A Quiet Place" earned $50 million during its opening weekend en route to a $188 million domestic tally.
"Haunt" plays off our genre expectations, feeding us reassuring morsels but holding back on the main course. We're left perpetually off balance.
Beck and Woods, making just their second directorial tag team, hold back on the gore until it makes sense to turn the spigot on, hard. Even that element, a horror staple, feels rejuvenated by the duo's approach.
It's easy to see "Haunt" spawning a sequel, if not an entire franchise. Hollywood can't help itself. For now, let's enjoy an original shocker wrapped in plain brown wrapper.
HiT or Miss: "Haunt" couldn't sound more ordinary, but don't let that fool you. It's easily one of the smartest horror films of the year.