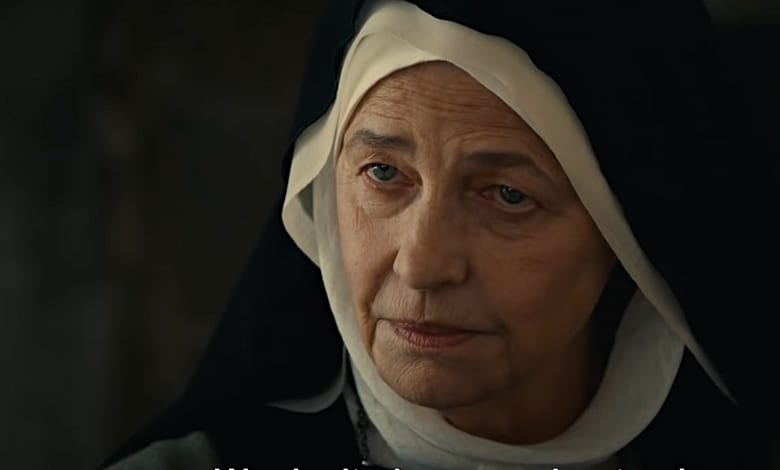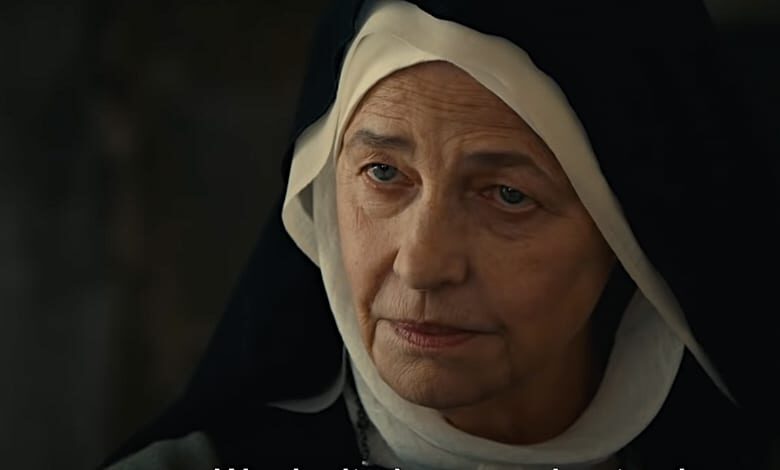 Paul Verhoeven's outrageous new film, "Benedetta," finds the Dutch provocateur in a carefree, all stops out mode.
In the opening scene, a bird defecates on a soldier, a touch that only sets the tone and signals just how far over the top Verhoeven is willing to go.
Is Verhoeven simply putting us on? Perhaps.
Yet, every time I was ready to dismiss this as a camp classic, the story tightens its grip and the performances kept me riveted.
Benedetta - Official Trailer | HD | IFC Films
It stars Virginie Efira as Benedetta Carlini, a nun under the care of a skeptical and powerful Abbess (Charlotte Rampling) and overseen by a vile Nuncio (Lambert Wilson). Benedetta's visions and actions inspire the other nuns in the abbey, but they also cause division.
Some suspect Benedetta's so-called miracles are just a smoke screen to eclipse her passionate affair with another nun, Sister Bartolomea (Daphne Patakea).
Benedetta Carlini was a real person, who lived to the age of 71 (she died in 1661). Her life inspired Judith C. Brown's 1986 book titled "Immodest Acts: The Life of a Lesbian Nun in Renaissance Italy." Leave it to the director of "Black Book" (2006) and "Starship Troopers" (1997) to make a film that lives up to the intrigue and scandal of the book's title.
"Benedetta" is serious-minded in its examination of faith, but also full of imagery no less than Ken Russell would have adored and envied. Perhaps Frank Perry's "Monsignor" (1982) is the last film to explore the Catholic faith in such a nutty manner, though Verhoeven's command as a filmmaker, and his ability to draw bravura turns from his cast, remains strong as ever.
View this post on Instagram
Efira gives a fearless, layered turn, Lambert is palpably loathsome and Rampling is superb as the the Abbess who lacks faith but knows how to remain politically intact. The performances here are fearless but stop short of camp.
How much of this one tolerates depends on these factors:
A willingness to engage with the idea that faith is unprovable, intimate and subjective
No hesitation to watch a film that is "Unrated" but would otherwise merit an NC-17
Hang in there as the film alternates between being thought provoking and crassly sensational.
Some will understandably deem this blasphemous, though that's the conversation Verhoeven clearly wants you to have with his film. "Benedetta" asks valid, uncomfortable questions, not of religion overall but of one's own defense and justification for believing in what cannot be proven.
Efira's performance doesn't make it easy, either, as I wasn't always certain if her stigmatic outbursts and proclamations of the miracles were performance art or the real thing. The final scenes are wild and satisfying, though no less provocative than what came before.
RELATED: Why 'Platoon' Is So Different from Other Vietnam War Films
There are graphic sex scenes, a grueling torture sequence, edgy appearances by a Christ figure, lots of bowel movements and copious amounts of casual, '70s era nudity. Verhoeven is unfiltered here (even more so than his recent "Elle") but his skewering of religious oppression and exploration of lust in a forbidden environment are compelling.
Has Verhoeven gone too far?
It reminds me of when I once asked Troma founder and "The Toxic Avenger" director Lloyd Kaufman this question, of whether he felt his own work was unreasonably unhinged. His answer: "What's too far? You mean, for you?"
An excellent answer.
True provocateurs never compromise or hold back in their art and, more importantly, great works exude strong reactions and merit in spite of the challenging content. I'm not defending "Benedetta" as something akin to Jean-Luc Godard's "Hail Mary" (1985) or Martin Scorsese's "The Last Temptation of Christ" (1988), as Verhoeven's film is far more progressive than the former but less elegant and smaller in scale and ambition than the latter.
The Hollywood Masters: Willem Dafoe on The Last Temptation of Christ
Yet, these three films are all confrontational in their depictions of religious beliefs and are challenges to the audience to not lose their cool and engage with the ideas being presented. It will be a lot for some to commit to with "Benedetta."
It's hard to think of a Verhoeven film that hasn't presented some form of controversy, as his most well-known American Films, "Basic Instinct" (1992) and "RoboCop" (1987), were impactful button pushers and, like most of his output, wildly entertaining.
At times, "Benedetta" plays like Verhoeven's "Showgirls" (1995), with its look-at-me raunchiness and willingness to make a spectacle of itself. However, like his "Elle" (2016), "The Fourth Man" (1983) and even "Total Recall" (1990), his latest is a worthwhile exploration of belief, how one's strongly held view may be considered madness or socially unacceptable by someone else.
Make no mistake: whether this critique has made you curious or simply inspired you to stay away forever, "Benedetta" is a crazy film.
Three Stars