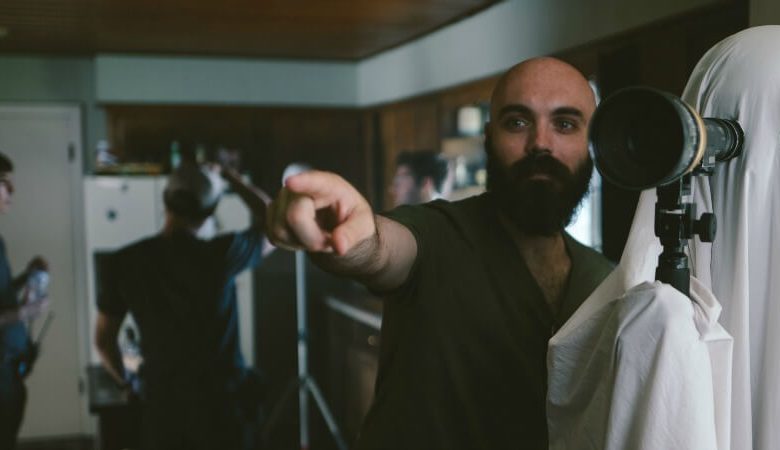 Director David Lowery's "A Ghost Story" has a secret weapon to battle "Wonder Woman," "Spider-Man: Homecoming" and "Despicable Me 3."
An adult wearing the worst ghost costume in film history.
"A Ghost Story" follows a man (Casey Affleck) who dies unexpectedly but lingers in the home of his wife (Rooney Mara). Dressed in a white sheet, Affleck's character hovers near her, trying to reconnect in some way while she mourns his absence.
A Ghost Story | Official Trailer HD | A24
No CGI fakery here. It's an actor wearing a billowing white sheet. Really. And that was the plan all along. Now, that stark image is drawing a crowd.
"There's a built-in curiosity factor," Lowery says of the film's quaint marketing hook.
Indie film buzz is doing its share of the heavy lifting, too. Affleck is fresh from his Oscar-winning turn in "Manchester By the Sea." "A Ghost Story" drew strong reviews at the Sundance Film Festival earlier this year. And if there's any summer movie a fraction as original as this film, we've yet to see it.
Lowery, who also wrote the film, took on the project after finishing last year's charming "Pete's Dragon" remake. He planned the lo-fi feature as a personal story following that big-budget effort. What he expected to be a refreshing detour turned into a challenge he never expected.
For starters, he had to tell his leading man to let someone else to don the sheet at times. Affleck's natural talent wasn't a perfect fit for the ghostly visage. That creative choice was what the movie needed, and Lowery's professional ties to Affleck made it easier.
The two teamed on the director's breakthrough film, 2013's "Ain't Them Bodies Saints." "Story" is their second collaboration, although they just wrapped a third project – 2018's "Old Man and a Gun."
"We trust each other. It's the reason why I keep casting him," Lowery says.
FAST FACT: David Lowery enjoyed a rather busy 2013 Sundance Film Festival. Not only did his breakthrough feature "Ain't Them Bodies Saints" play at the festival, his work was featured in two other films ("Upstream Color," co-editor) and ("Pit Stop," co-writer).
The pair's current project might have failed without the right ghostly costume. The crude FX proved as analog as possible. More serious thought went into its creation than one might suspect. More specifically, those somber eye slots.
"Getting the eyes right was a big deal," he says. "When you look at a child wearing a costume the eyes don't hold the form every well. They droop down." So he worked with the film's costume designer, Annell Brodeur, analyzing different pieces of black felt to nail the proper shape. The costume also required "infrastructure" to keep them fixed in place.
The film's signature "effect" isn't the only way "A Ghost Story" rebels against industry norms. Several sequences demand more from audiences than summer films require.
"I knew and everyone else knew those shots would last an uncomfortably long period of time," says Lowery, who consistently takes a beat before answering each question from this interviewer. "I wanted time to play a role in the movie … for the audience to be acutely aware of it."
"It's very contrary to most modern modes of thought. You're expecting to see another cut from another angle," he adds.
Those are the kinds of movie experiences he relishes.
"I, as a movie goer, appreciate being pushed out of my comfort zone," he says. That's particularly what he attempts during a scene where Mara's character wolfs down a tin full of pie.
"It's a very private moment we shouldn't be seeing, neither should Casey's character. We're complicit in the voyeurism," he says.
If all of that weren't enough, "A Ghost Story" was shot in a far tighter aspect ratio (1:33:1) than conventional features. The screen looks almost like a square, not the rectangular shape audiences have come to expect.
"I always wanted to make a movie in it. I just like it. It's a really pleasing image to me, and it felt like it was the right time to use it," he says. The movie is about "a character stuck in a box."
"We trust each other. It's the reason why I keep casting him," Lowery says of Casey Affleck.
Click To Tweet
"A Ghost Story" suggests spiritual themes without making any big, bold statements. It's hardly a faith-based film in the modern mold. Suggesting a completely rational approach makes little sense, though.
That aspect reflects the film's creator.
"I'm open to all possibilities. I'm comforted by the idea of there being an afterlife … the idea of our consciousness outlasting our physical form," he says. "I allow myself to hope that might be possible but I don't expect it to be possible."
Images from the film, from the critical final moments to early settlers deep in prayer, hint at a more sophisticated spiritual nature in play. The self-described atheist says his upbringing may be to blame.
"The fact that I was raised Catholic and, to a certain extent I'm still Catholic, I can never set that aside entirely," he says. "My dad was a theology professor and I was raised in a deeply religious family. Faith and theology played a big part in our everyday life. That aspect is there in the movie."