Uncategorized
'Full Frontal' Mocks My Pillow CEO … for Making Life-Saving Masks
Far-left Samantha Bee's show joins journalists in attacking a patriot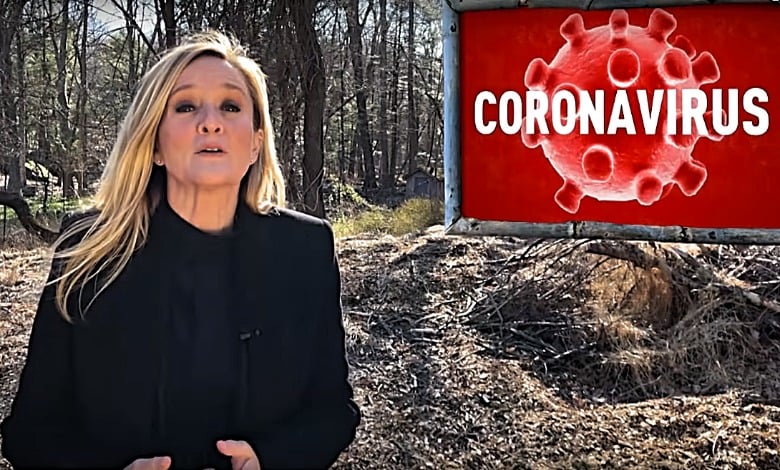 The Left is on the attack against … press conferences.
Major media outlets insist reporters should ignore President Donald Trump's daily pressers about the current pandemic.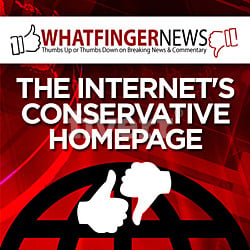 Too many lies, they cry, ignoring all the vital information shared by both President Trump and his medical advisers. Major outlets like The Washington Post, CNN, MSNBC and others worried that Trump's pressers could be harming, not helping, the country.
Meanwhile some of those very outlets crank out lie after lie after lie themselves.
Here's just one of more recent, glaring examples:
How many more tweets will we see where media outlets BLATANTLY LIE using this misleading headline? THEY TOOK FISH TANK PARASITE CHEMICALS https://t.co/gtchTDaynr

— ♡ (@NicoleTheVol) March 24, 2020
Now, journalists are in a high dudgeon over My Pillow CEO Mike Lindell. The entrepreneur just announced during a Trump presser he's converting most of his factory space – 75 percent – to helping the nation's fight against CO-VID 19. Team My Pillow will be creating face masks to keep health care workers safe while they tend to sick and dying Americans.
In a normal media landscape, that news would be shared without comment or, perhaps, an "atta boy" framing.
Not here.
Why? Lindell is pro-life, pro Trump and he helped fund the anti-abortion movie "Unplanned." All of the above makes his patriotism unacceptable to journalists, apparently.
Consider:
Trump just called the "My Pillow" guy up to the podium in the Rose Garden. You cannot make this stuff up.

— Ali Velshi (@AliVelshi) March 30, 2020
CNN cuts away from the White House coronavirus briefing when Trump invites the My Pillow guy up to the podium to talk.

— Oliver Darcy (@oliverdarcy) March 30, 2020
Are you f cking kidding me, HE HAS THE MY PILLOW GUY ON TO SELL HIS GARBAGE PRODUCT DURING A PANDEMIC BRIEFING???!!!

— Jamie O'Grady ⚡ (@JamieOGrady) March 30, 2020
Other Blue Check Mark Types weighed in, too:
Well, imagine my relief that the My Pillow guy is on the job

— Tom Nichols (@RadioFreeTom) March 30, 2020
Here's how Politico reported the story:
"Boy, do you sell those pillows," Trump said, asking him to step up to the mic and tell Americans how his company was helping them deal with the outbreak. Lindell then launched into a short infomercial for his company, going on to describe how the firm was manufacturing cotton face masks and effusively praising the president for his pandemic stewardship.
Not to be outdone, the far-left "Full Frontal with Samantha Bee" Twitter account joined the fray.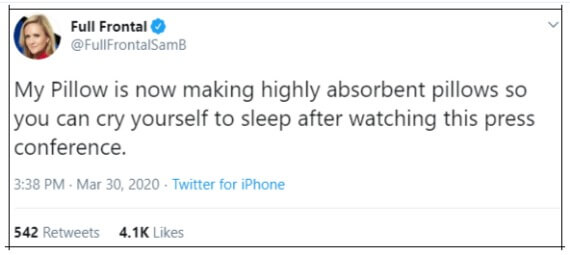 Sadly, some of the account's followers cheered on her attack. Others, though, let Team Bee have it:
Actually My Pillow is making masks. What did you donate?

— Carmine Sabia (@CarmineSabia) March 30, 2020
Honestly — do you really have a problem with this guy? He converted his factory so it could make masks and he's producing tens of thousands of them a day. He's a hero.

— Dan Andros (@DanAndros) March 30, 2020
Director Duncan Jones, son of David Bowie, also saw fit to mock Lindell's patriotism.
You can tell he's jealous that Pillow guy gets to hawk a product.
Give it a few days, he's gonna be selling Trump steaks at these pressers. https://t.co/UZNi1I3LyJ

— Duncan Jones (@ManMadeMoon) March 30, 2020
Far left comic Chelsea Handler indirectly attacked patriots like Lindell via Twitter.
Trump just said that the response from the private sector has been incredible. Yes, because our president is incompetent and is not prepared after being told repeatedly to be prepared. My dog isnt as dumb as this asshole, and my dog is dumb. Sorry, Bert.

— Chelsea Handler (@chelseahandler) March 30, 2020