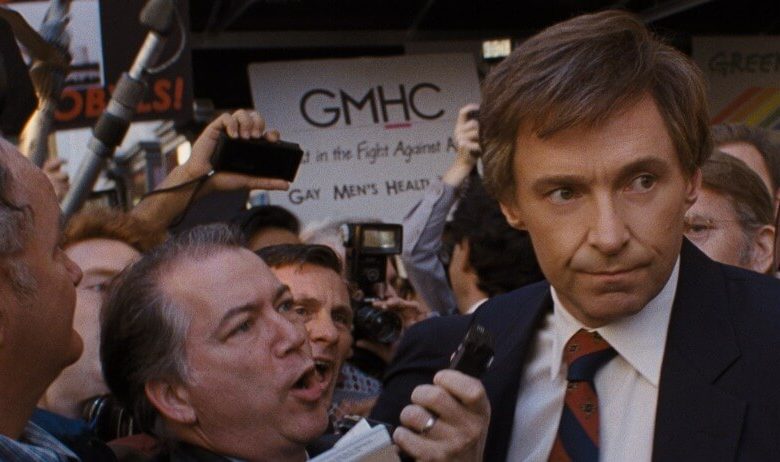 "The Front Runner" makes its closing argument early and spends the rest of the movie embellishing it.
Journalists shouldn't dig through a politician's trash to uncover the worst elements of his or her private life.
Naturally, that argument's poster boy is Gary Hart. The Colorado Democrat stood poised to lead his party to the White House in the late 1980s. Some "Monkey Business" intervened, alas. So did a media landscape which went from covering up marital indiscretions (think "Camelot") to stalking candidates as if they were accused of smuggling drugs.
Director Jason Reitman couldn't throw a monkey wrench into Hart's downfall. The tragedy is too compelling on nearly every level that matters. Reitman and co. can't just let audiences decide for themselves what lessons to tease from Hart's historic collapse.
THE FRONT RUNNER - Official Trailer (HD)
Hugh Jackman plays Hart, a gifted politician who emerges from a bruising 1984 presidential campaign with enough credibility to try again. This time, he could go … all … the … way, to quote ESPN's legendary Chris Berman.
He's shrewd, charismatic and offers the kind of platitudes that appeal to left-of-center voters. And he believes his own hype. Why else would he utter the line that ruined him?
"Put a tail on me, and you'll be bored," Hart told one journalist. We know what happened next.
FAST FACT: Born Gary Warren Hartpence, Hart planned on joining the ministry until John F. Kennedy's political career inspired him to follow in this footsteps.
Jackman's Hart is mostly lionized throughout "The Front Runner." He's a truth teller and a wonk, a guy who refuses to do the usual campaign shtick but doesn't mind showing his knack with an axe.
Still, he's handsome, verbally light on his feet and his temper rages only when others don't acknowledge all of the above.
His ego and flaws remain, and kudos to Reitman for leaving them all in. He might have been justly outraged to be called out for having affairs while his predecessors got a gargantuan Hall Pass. A sturdy politician can read the cultural moment and assess the best path forward.
Hart stood clueless as the cultural winds whipped all around him. No wonder reporters ate him alive. Jackman conveys that pose in a way that reflects not just back on Hart but other politicians too self-absorbed to realize they stood in a pile of quicksand.
The star's innate charisma turns on and off like a spigot at precisely the right intervals.
"The Front Runner's" shame is not showing more about the Harts as a couple. Vera Farmiga is the perfect choice to play the spurned Lee Hart. In just a few economical scenes she captures both the rationale for standing by her man and the unchecked rage that comes along with it.
We need more. Much more. And not just the why's and how's. "The Front Runner" too often settles for pat character studies when the moments call for something more profound.
Instead, we're given four to five "speeches" where the film's big issues are hashed out as if on a debate team's rehearsal script. The story should reveal itself without those clunky asides.
The screenplay, based on the nonfiction book by Matt Bai, offers a few tidbits about media bias then … and now. One journo brings up Gov. Michael Dukakis and his consonant heavy surname:
"Add a 'K' and he could win the South."
You could imagine James O'Keefe recording that sentiment right now from any establishment reporter.
The film's attacks on media methods are crystalized with a young black reporter (Mamoudou Athie) who goes from wide-eyed neophyte to "go for the jugular" type. In a way, Athie's character is the epicenter of the story, not Hart.
It's also fascinating to see Ted Koppel, via archival footage, dress down reporters for their clumsy Hart hit. Would Koppel act so bold on behalf of a rising GOP star?
Hugh Jackman's Gary Hart Is Ambushed on the Eve of a Political Sex Scandal in The Front Runner https://t.co/Tit4NNHqYV

— People (@people) November 12, 2018
The film offers a few "tells" that suggest a partisan play afoot. We hear an audio snippet out of nowhere from the Iran-Contra hearings. We also see disgraced televangelist Tammy Faye Bakker a time or two via vintage clips.
Those are the true villains, we're led to believe.
The character who emerges unscathed in "The Front Runner?" Donna Rice (Sara Paxton), the woman who helped bring down a potential president. It's a narrative decision that feels precious, given the character corners cut elsewhere.
"The Front Runner" also attacks journalistic hubris, the use of anonymous sources and the groupthink that permeates the industry. It's so hard on journalists you expect CNN to sue it on shaky grounds.
The film's other takeaway is impossible to deny given the current media war against President Trump. Today's reporters wouldn't go near this scandal if the stakes were sky high and the candidate had a "D" before his or her name.
HiT or Miss: Reitman's "The Front Runner" tells a fascinating tale brimming with modern implications. Too bad the screenplay keeps interrupting to let us now how to process it all.