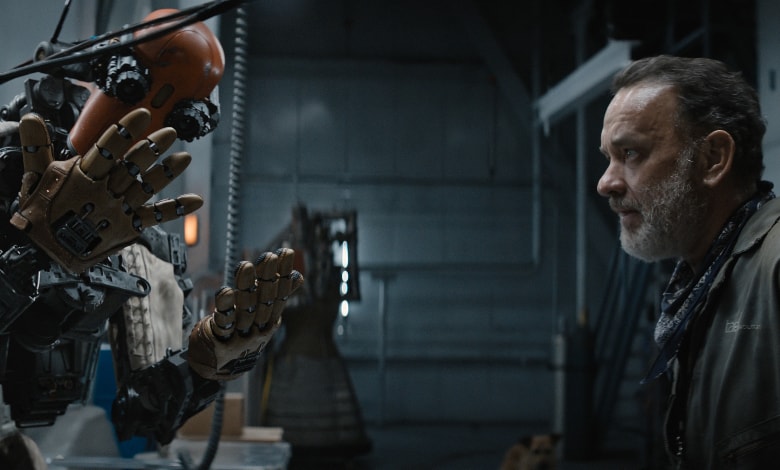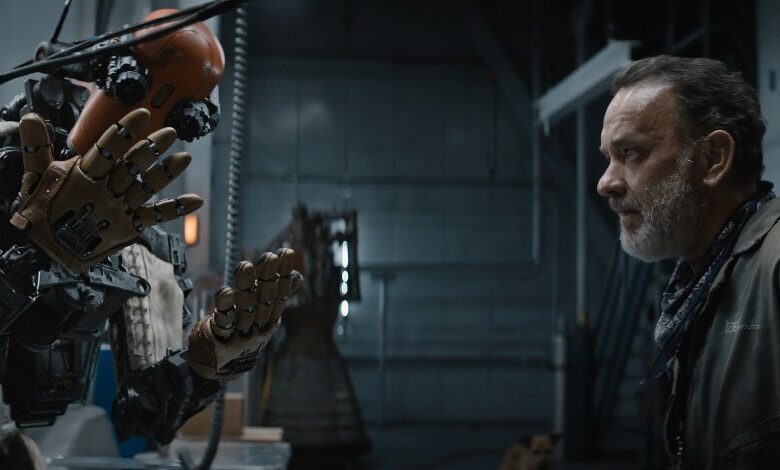 Tom Hanks brings a bit of Mr. Rogers to the bleak yet whimsical "Finch."
Hanks' take on the kiddie superstar in "A Beautiful Day in the Neighborhood" can be seen in his character's cadence and how he greets the end of the world.
The real Fred Rogers, though, would struggle to find something grand to say about this post-apocalyptic mess. He'd rather kill you with kindness than share some ugly truths, like how "Finch" feels both recycled and beneath its Oscar-winning star.
Finch — Official Trailer | Apple TV+
Hanks stars as Finch, a robotics engineer living alone a decade after a solar flare wiped out much of humanity. Well, he's not completely alone. He has Goodyear, his lovable dog, and a new robot he created for a very special purpose.
That's Jeff (voiced with great care by Caleb Landry Jones), a grab bag of springs, nuts and gears that looks barely humanoid in shape.
Just wait.
The more Jeff apes Finch's mannerisms, the more human-like he becomes. And it is … adorable! You almost want the end of the world to strike so you can have a pal like Jeff.
Some snark aside, the film's barely-there plot eventually kicks in. Finch wants to teach Jeff how to care for Goodyear when he's gone. It appears the UV radiation now blanketing the earth has gotten the best of our inventor/hero, and he knows his days are numbered.
So off the trio go (along with another, less charismatic 'bot) to San Francisco where they hope to settle down and avoid a massive storm heading their way.
Related: Tom Hanks' 'Greyhoud' Can't Meet Our Lofty Expectations
"Finch" isn't a comedy, but by the end of the first act we've already maxed out on cute "reaction shots" from Goodyear. There's gentle humor across the film's early scenes, from Jeff's attempts at being "human" to Finch's wry demeanor.
Just who is Finch, anyway? Flashbacks are few, as is character development. He's Tom Hanks, for heaven's sake, and by his measured approach to Armageddon we know all we need to cheer him on.
That leaves us with a slow-moving story, few supporting characters to engage us and a coming of age tale for a robot. That's hardly dramatic cat nip, but "Finch" doesn't care. It wants us invested in Jeff's journey, with Finch serving as our avuncular host.
View this post on Instagram
Hanks is no stranger to carrying a movie on his own, witness his bravura turn in 2000's "Cast Away." Audiences cared about "Wilson," his beach ball buddy from that film because of the situation facing Hanks' character. It helped that Hanks miraculously forged a bound with an inanimate object.
Yet as adorable as Goodyear is we see little of these two together, the moments that any dog lover recognize as irreplaceable. Instead, we're left to marvel at Finch's ingenuity, the blistered landscape and the wondrous F/X that bring Jeff to life.
They are incredible, along with sound design that makes his presence feel thoroughly real.
RELATED: How Tom Hanks Gently Shamed Jennifer Lawrence
Hanks can make any vehicle worth our time, and he enlivens the smaller details ladled out in "Finch." A crucial reference to Finch's father is the kind of depth we crave but rarely receive. And while the film's eco-warnings are impossible to miss, Team "Finch" spares us the overt lectures.
A quick glimpse at "An Inconvenient Truth," the book version, gets just enough screen time to send the film's message.
Patient movie goers will absorb the tiny life lessons and brief action beats, but the tepid third act strains any remaining good will. When a film insists we care about a game of fetch, you know the stakes are shockingly low.
It's easy to pick "Finch" apart for its plot holes and syrupy moments. It's still a portrait of a survivor who hasn't lost his humanity. What's missing? The gradations of a life well lived, or the sense that humanity matters as much as an A.I. creation, if not a wee bit more.
HiT or Miss: "Finch" features dazzling F/X, an actor who can do no wrong and a story that wants us to care about robots as much as people. Maybe more.