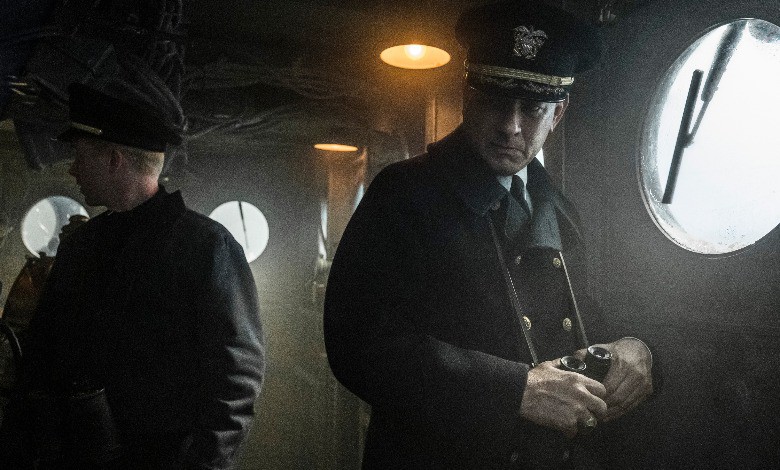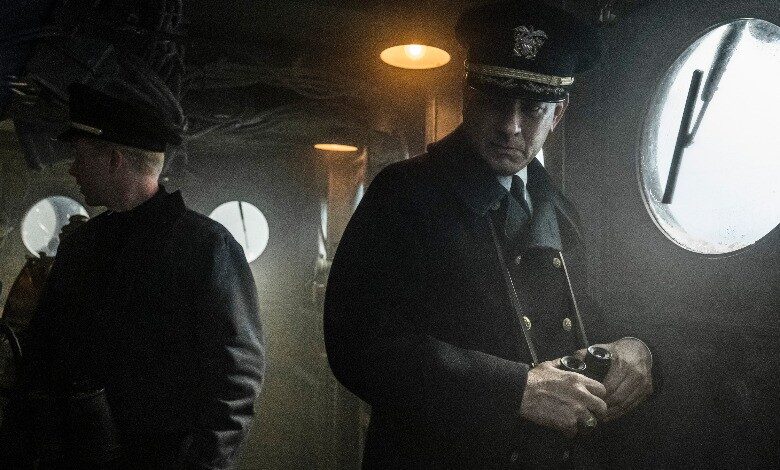 The review for "Greyhound" should write itself.
Tom Hanks, Mr. "Saving Private Ryan," plays a Navy Captain protecting U.S. troops as they cross an Atlantic Ocean crawling with U-boats. The production captures the danger, the uncertainty, of this war-time effort, even if it's based on a fictional yarn.
Add modern F/X, a quietly patriotic hue and even a dash of faith – what could go wrong?
Did we mention "Sully" is at the helm?
"Greyhound," bound for Apple TV due to the pandemic, isn't the experience you imagined. It's confusing when it should be eagle-eyed, scattered when the focus must be razor sharp. But then there's Hanks, steering a wobbly vessel into battle like few other modern actors can do.
GREYHOUND - Official Trailer (HD) | Apple TV+
Hanks stars as Capt. Ernie Krause, leading his first wartime mission despite his advanced age. And it's a doozy, protecting a fleet of American ships 37 strong heading to England.
Allied air cover awaits them, but they must travel five long days before those planes rally to their side. Meanwhile, German U-boats infest the waters, eager to sink as many England-bound ships as possible. They did just that, according to the historical record, but the fates may be different here.
Captain Hanks is on board.
The battle lines are drawn, but the naval warfare proves incredibly dense for an action movie. That may be intentional. Director Aaron Schneider ("Get Low") ensures those fights are neither clean nor predictable.
War is hell. It's also messy and unwilling to fit into a tidy Hollywood box. We're still watching a feature film, though, and the lack of cohesive storytelling begins to wear on us despite the film's tight running time – 91 minutes.
Hanks, doing double duty as star and screenwriter, clearly needed more time to flesh out his story. The film opens with Ernie connecting with his lady love (Elisabeth Shue), and while the sequence stirs it's an isolated moment.
DID YOU KNOW: The term U-boat is short for Unterseeboot, which means "undersea boat" in German.
Hanks' star power is always welcome, but here he towers over every other character. We see faces swirling around him, shouting readings or huzzahs without making an impact. That's also true of the boat's "help." Several black characters, including one played by "Stranger Things" co-star Rob Morgan, feed and fetch coffee for Ernie.
Their existence is a wry commentary on the racial divide that existed during the war, but Hanks' screenplay still does little with their presence. The same holds true for Ernie's fellow, unseen captains, connecting to him to bark warnings or simply wish him God speed.
What "Greyhound" delivers is atmosphere and detail, from the grease pencils used to track the oncoming U-boats to the grime and grit of the boat's interior. The CGI making the battle scenes pop are less than state-of-the-art, but the interior production design is as good as you hope. The whole film feels bathed in gun metal gray, as if the fog of war won't let any other colors into the frame.
Save the reds and yellows of fire, of course.
Based on the novel "The Good Shepherd" by C.S. Forester, "Greyhound" isn't long but often feels like it. Without clear-eyed battles to savor we wait for Hanks to bring something special to Ernie's tale. He often does, saying a quiet prayer at his bedside or mourning the loss of his fellow soldiers.
It's enough to marginally recommend "Greyhound," but a Hanks vehicle set during World War II suggests something far greater and more profound.
HiT or Miss: "Greyhound" offers impeccable production design and the very best actor for the task at hand but little else.