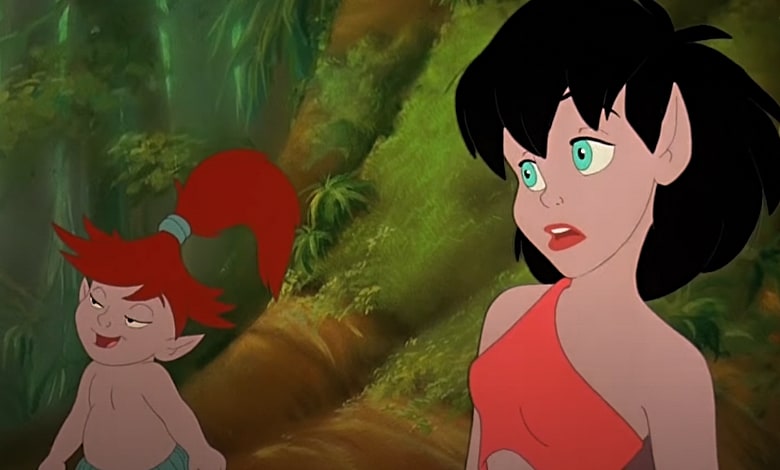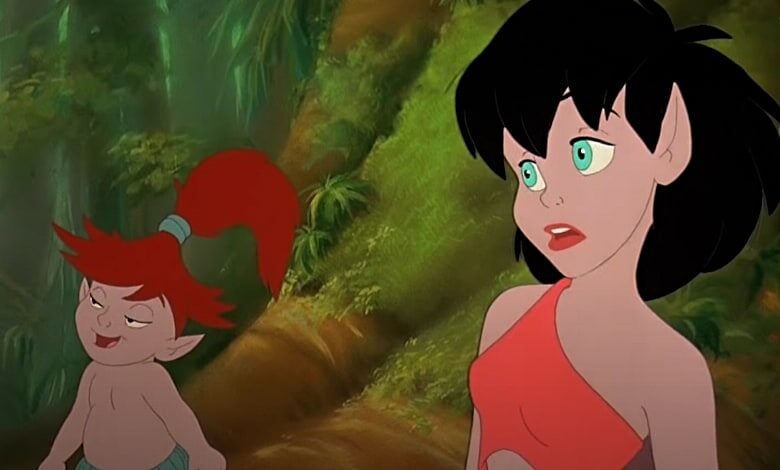 The idea of "Ferngully: The Last Rainforest" (1992) was that you could make an environmentally conscious animated film for children and, perhaps just as importantly, you didn't need The Walt Disney Company to do it.
Based on Diana Young's "Ferngully" stories, here is anomaly: an animated musical/comedy/fantasy that aims to make children aware of environmental issues. Needless to say, it has a cult following.
Ferngully: The Last Rainforest Trailer 1992
Directed by Bill Kroyer and released to coincide with Earth Day, "Ferngully: The Last Rainforest" begins with chalk drawings, telling us the origin of the tree creatures. We meet a flurry of them, with Crysta, our main protagonist, a tiny fairy voiced by Samantha Mathis.
Crysta engages with Zac, a human who magically becomes the same size as her. She also encourages the forest creatures to battle an invasive, polluting monster, hidden within a giant machine called The Leveler, which is tasked with tearing down the rainforest.
The Leveler workers are lazy idiots, motivated by overtime, greed and little else. Humankind, as depicted here, is basically a collection of morons (Zac only solidifies this interpretation).
The villainous Hexxus (note how close the name is to EXXON) is voiced by a lip-smacking Tim Curry. Who better to play talking sludge? I mean that as a compliment, as Curry has proven throughout his career that there are no unplayable roles.
As he did in the HBO TV movie, "The Worst Witch," Curry can take a nothing song and turn it into a showstopper – here, the absurd "Toxic Love" is better than it has any right to be, because Curry positively sells it.
Curry can sell a line like "a fairy fornication" into carnal pleasure for the ear buds.
The whole thing gets very '90s real fast, as Zac air surfs on a leaf, while a guitar on the soundtrack thrashes with "extremeness." Then, the score briskly changes to hip hop, as a lizard voiced by Tone Loc tries to eat Zac.
Later on, someone is referred to as a "bodacious babe" (I was a teen during the '90s but never used those two words to describe anyone I my life).
Later, Zac pushes PLAY on his Walkman cassette player, starts a generic cover of "Land of 1,000 Dances" and, to the film's credit, the fairies are as annoyed as we are…until they start dancing along.
RELATED: 'Final Fantasy' Tried, and Failed, to Change Movies
Christian Slater is on hand to voice Mathis' best friend, Pips; Slater should have been the lead, as his distinctive vocals would have been better utilized for Zac, the human who becomes fairy-sized and becomes the audience surrogate. Jonathan Ward's vocal performance is all right, but Slater would have been a much better pick.
Crysta, like Ariel the Little Mermaid, goes too far up to view the human world, despite being warned to "never go above the canopy." Crysta even gets a magical mentor figure, "Magi," who functions in this film the same way the fathers of Ariel and Moana did in those movies.
It all feels very Don Bluth, with characters and offbeat designs reminiscent of his work. It also doesn't play it safe, unlike other animated films of the time (such as "Jetsons: The Movie" from two years earlier). There are nice original cuts on the soundtrack by Sheena Easton, Elton John and Raffi, though composed Alan Silvestri's score is, disappointingly, just-okay.
FERNGULLY: THE LAST RAINFOREST Clip - "Hexxus Dies" (1992)
"Ferngully: The Last Rainforest" is on the higher end of eco-friendly kid flicks, a subgenre that includes the likes of "Born Free" (1966), "Free Willy" (1993) and "Happy Feet" (2006).As a heart-on-its-sleeve, painfully earnest Save the Planet entertainment, it is, thankfully, so much better than the dreadful, hall-of-fame bad all-star "The Earth Day Special" (1990).
At one point, Crysta asks, "How can you live without trees?" She puts her hand on a tree and asks, "Can't you feel its pain?"
If that sounds cornball, it's still far preferable to the time Bette Midler played a hospitalized Mother Earth in the aforementioned Earth Day Special (I'm calling it: "The Earth Day Special" is much worse and far more painful to endure than "The Star Wars Holiday Special").
You could also do worse in terms of animation – remember, the animated TV series "Captain Planet and the Planeteers" (1990-1992) was also around during this era.
Captain Planet and the Planeteers - Clip #5
Despite some missteps, the film has a secret weapon: whenever it gets too chatty and didactic, Batty Koda literally swoops down to save it. The character is voiced by Robin Williams and it feels like a tryout for his iconic Genie in "Aladdin," which was released at the end of the same year.
Williams' "Batty Rap" is insane – I recommend watching that part with the subtitles on, as Williams' riffing within the piece takes what could have been a banal throwaway (as well as a potentially embarrassing 90's artifact) and turns it into a surreal tour de force. There are nuggets of Williams' cracked comic genius scattered throughout the film.
There's lovely animation and detail, though perhaps "Ferngully: The Last Rainforest" is most famous for its eventual comparison to the biggest hit every released by 20th Century Fox.
The plot comparisons to James Cameron's "Avatar" (2009) are impossible to overlook. Considering that Cameron also made films at 20th Century Fox (which distributed "Ferngully: The Last Rainforest"), there's no way he didn't see this or wasn't aware of it.
RELATED: 5 Reasons the Animated Batman World Matters
The two films are both love stories, in which the couple in question involves an indigenous forest creature and a human whose size has been altered. Meanwhile, human forces are oppressing the indigenous creatures and there's a standoff in which the forest creatures try to halt the attempts at progress by the humans.
Forget "Dances With Wolves" (1990)- if Cameron cribbed from anything, it's this movie. Does that mean "Ferngully: The Last Rainforest" is also a metaphor for colonialism and land abuse? Perhaps, though the film is too light and silly for its weightier messages to stick.
Yet, the third act scenes of the forest aglow and engaging in a faceoff with the Hexxus is the strongest and most serious portion. Nevertheless, the climactic sequence of halting the efforts of The Leveler has none of the sustained suspense and excitement of the Mrs. Brisby stopping a tractor from killing her family in Don Bluth's animated masterpiece, "The Secret of NIMH" (1982).
The way The Leveler is finally defeated is pretty cool, if overly obvious.
It closes on Zac's casual suggestion that, "Guys, things have gotta change." Still, this isn't propaganda, only because the mainstream qualities overwhelm much of the serious intentions in the screenplay.
Though the end credits do inform us that "Proceeds went to help the environment," this is less a heavy-handed message movie than a well-made children's film with some good things on its mind.