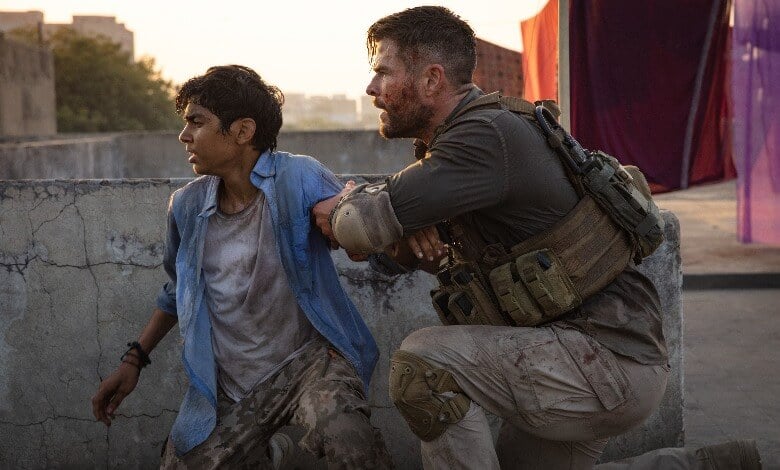 There's zero difference now between made-for-Netflix films and those you see in theaters.
"Extraction" proves why that's both a blessing and a curse. The action romp features a burly leading man (Chris Hemsworth) and action as gritty as any "John Wick" sequel.
It's also soulless and repetitive despite some impressive handiwork by first-time director Sam Hargrave.
Extraction | Official Trailer | Screenplay by JOE RUSSO Directed by SAM HARGRAVE | Netflix
Hemsworth stars as Tyler Rake, a killing machine for hire. Yes, that's the start and end of his character development save one forthcoming wrinkle.
He's got a soft spot for pre-teens with huge bounties on their heads.
Tyler takes on a Rambo-level mission – rescue the son of an international crime lord. Before you can croak, "It wasn't my warrrr," Tyler finds himself in gun fights, fist fights, double crosses and a growing sense that his mission might have a humanitarian bent to it.
Young Ovi (Rudhraksh Jaiswal) is pretty decent kid for the offspring of a monster.
To keep the lad safe, though, Tyler will have to kill a whole lot of people. Dozens? Hundreds? You'll lose count after long, and that's a problem. A sense of repetition soon sets in, and it never really goes away.
RELATED:
Netflix star David Harbour drops by mid-film for some back story and an added layer of amorality. His work here doesn't matter beyond giving us a respite from the gun play.
We'll take it.
Hargrave, graduating from stunt coordinator to director, flashes all the necessary action movie chops.
The gorgeous overhead shots
The rapid-fire kills
Fight choreography that doesn't leave you woozy (take that, Michael Bay)
But who is Tyler Rake, besides a mountain of a man who can kill and kill again? Hemsworth tries to give him some inner life, but he's got a multi-million dollar movie production working against him.
Even the bond between Tyler and Ovi isn't as rich as if might have been. And that leaves us with the action, which is intermittently glorious.
View this post on Instagram
The film's India backdrop offers a slight wrinkle to the action movie formula, as does a quasi villain (Randeep Hooda) given a whiff of a back story. Heck, at times he feels like the real star of the film.
Still, it's hard to get worked up for all the sacrifices made on behalf of the film's plot. It doesn't help that "Extraction" offers a cheap gimmick designed to explain Tyler's unusual reason to protect Ovi at all costs.
It's tacky.
What about that action, though? It's stupendous at times, gloriously staged and with a visceral pop as powerful as any big-budget movie of its ilk. By the third act, though, it grows tiresome. How many nameless extras can walk into Tyler's gun sights?
The short answer? Plenty.
Joe Russo of "Avengers: Endgame" fame penned the script here, one that allows for a heroic cypher and a secondary "hero," played by Golshifteh Farahani, who exists primarily to embody the film's cheap ending.
HiT or Miss: "Extraction" is exactly the kind of big, dumb, expensive action movie Hollywood makes better than anyone else. You've been warned.