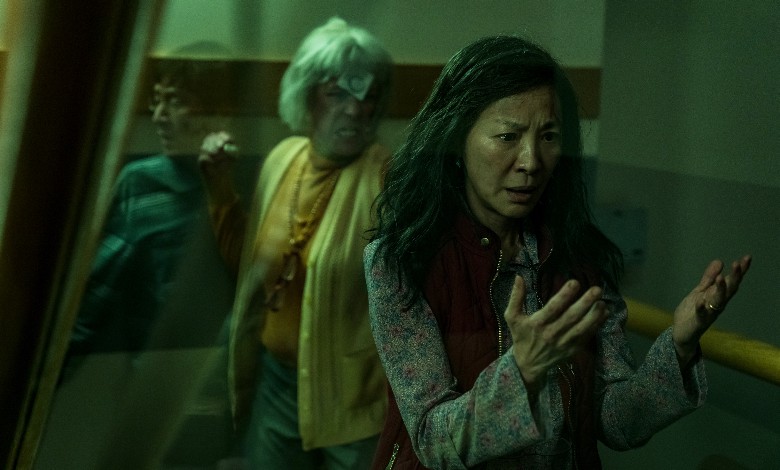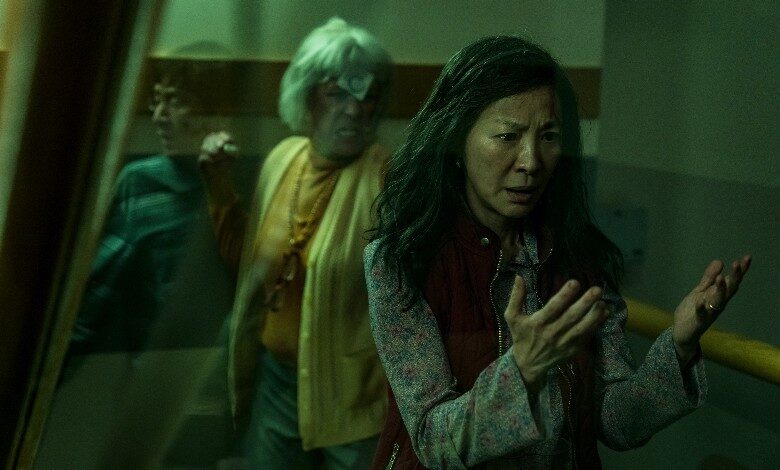 "Everything Everywhere All At Once" is incredible, the kind of film that will definitely inspire an affectionate cult following down the road, but don't wait for that to transpire.
See this now, immediately. Here is a film so special, sporting filmmaking, performances, screenwriting and editing of such a high caliber, it feels like a once-in-a-lifetime experience.
Everything Everywhere All At Once | Official Trailer HD | A24
Michelle Yeoh stars as Evelyn, an unhappy and business-minded owner of a laundromat. Evelyn and her husband, Waymond (Ke Huy Quan) are summoned to a meeting with an IRS inspector, played by Jamie Lee Curtis. What I've just described is the most "normal" portion of the movie, as everything that follows is a brisk trip down a rabbit hole.
Written and directed by Dan Kwan and Daniel Scheinert, this is somehow a personal, deeply felt depiction of the pains within a family dynamic. It's also a head spinning sci-fi tale that must have been as difficult to write as it was to explain to the cast and crew.
The trailer makes the film look strange, and that word doesn't even begin to describe this, one of the craziest works to ever get a wide release. The film is so bizarre, it will prove challenging to some. There are numerous scenes that seem to dip into camp or knowing kitsch, but the filmmakers haven't made a dopey work of style over substance.
In fact, while there are lots of juvenile gags, the screenplay will frequently circle back to them and invest them with poignance that wasn't there initially.
View this post on Instagram
Perhaps the one-sentence pitch to describe this is, "What if Charlie Kaufman wrote The Matrix?"
Nevertheless, that fails to describe the energy and (probably the most miraculous aspect of it) the tone, which astonishes by being so flexible yet consistent. As a comedy, it embraces brazen wackiness, madness and surrealism. When it turns dramatic, it remains potent and never turns mawkish.
Truly, the editing is jaw dropping and must have been a grinding, all-hands-on-deck experience, akin to the cutting of Oliver Stone's "JFK." There's so much footage here, so many different story threads happening concurrently, and complex scenes that could have become a blur of chaos in the initial assemblage of footage.
Not only is this coherent, but easily some of the most exhilarating cinema in ages; this is true even when there are no action sequences.
The humor is at the level of the intellectual goals, getting the basic joys and agonies of existence (we're told "nothing matters," which has more than one meaning). Here is a film that is impossible to get ahead of. You cannot predict where it's going, even as the character dynamics are established in the first scene.
Michelle Yeoh & The Daniels Break Down 'Everything Everywhere All at Once' Fight Scene | Vanity Fair
Yeoh gives one of the best performances of the year, investing real feeling and emotional authenticity, even when the story gets wacky and challenges her with demanding physical requirements.
Matching her beat for beat is Quan, best known for his supporting turns in "The Goonies" and "Indiana Jones and the Temple of Doom." What Quan achieves here is difficult, as he's not just playing dual roles but investing both heart and vulnerability into the film's most enduring figure.
Playing Evelyn's daughter is Stephanie Hsu who, like Quan, is doing remarkable work but making it look so natural. Curtis excels in a rare character turn and is put through the ringer, playing a layered figure every bit as hard to pull off as the roles assigned her co-stars.
This clip of Michelle Yeoh tearing up describing her emotions when she read the script for EVERYTHING EVERYWHERE ALL AT ONCE is a perfect encapsulation of why the movie works so well. The passion of it shines through. (clip starts at 17:20) https://t.co/uWzEbkIqao

— Noam Blum (@neontaster) May 7, 2022
This is a fearless work, disinterested in holding our hand and merely entertaining us. Instead, on a scene-to-scene basis, we're frequently ripped from our comfort zone and presented with something so unorthodox and risky, it reminded me of the first time I saw "The Matrix," "Donnie Darko" and "Being John Malkovich."
However, the ample spectacle never drowns out the moving center, as this is a film of family, hard-won love between couples and finding calm in the midst of existential dread. Two sequences, one involving a couple of rocks, as well as an extended gag with a raccoon, are remarkable in the way they initially get big laughs, but develop into surprisingly touching reflections on human connection.
Describing "Everything Everywhere All At Once" is to use adjectives that could apply to 10 different movies, but here goes: the film is shocking, hilarious and exciting. It made me laugh like a hyena, but it also made me cry just as hard, too.
I cried a lot during the third act, mostly because of the humanity Quan finds in his character, which, at one point, Evelyn (and the film) takes a dismissive attitude towards, before once again circling back around and finding another angle to consider. This movie loves its characters and I love movies that do that.
I doubt I'll see a better film this year but if I do, then 2022 will turn out to be a great year for cinema.
Five Stars