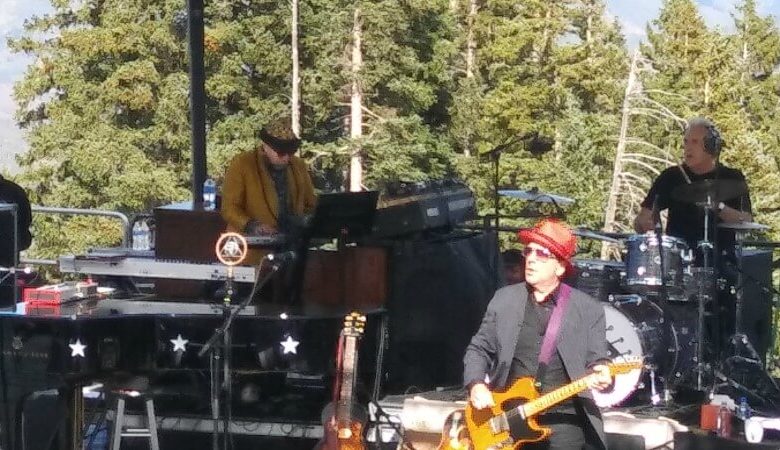 Give Elvis Costello some credit. He waited until the encore at the premiere Hike to the Mic before lacing into President Donald Trump.
And Costello did so without uttering a single epithet. Yes, the cultural bar is set low these days.
The veteran rocker christened the Beaver Creek, Colo. event Sept. 16 with a blast of his (not quite) hits. That's no slight on Costello, just an acknowledgement that critical kudos rarely translate to chart-toppers for the former Declan McManus.
A gathering of fit Coloradans endured a cardio-heavy hike to reach Beaver Creek's Centennial Express Chairlift. Watching a music icon at 10,000 feet proved a singular pleasure before Elvis Costello & the Imposters hit a single note.
The glorious venue might have explained why Costello couldn't catch up with his own band for the first few songs. Was the altitude to blame?
The singer fell behind again and again with both "Accidents Will Happen" and "(The Angels Wanna Wear My) Red Shoes," a red flag flicking over the sun-dappled event.
Elvis Costello & The Attractions - Accidents Will Happen
The underrated "Clubland" offered evidence Costello might acclimate to the venue. Muscular and deep, the live version showed a friskier side of the singer-songwriter. In short, he's grown into a ham of sorts. The transition suits him, even if he pulled off one guitar solo too many.
Costello just turned 63, but he shakes off the years with the best of his musical peer group. Maybe better.
RELATED: HiT Review: Showtime's Costello Doc 'Mystery Dance'
The show began with the emcee explaining the event would laser focus on "Imperial Bedroom," arguably Costello's best album. Expect new arrangements of beloved songs, the speaker urged the crowd, making the concert an even bigger event.
And while Costello and crew delivered an almost Gospel-themed "Tears Before Bedtime" and straight forward "Beyond Belief," that was more or less the "Imperial" coverage, The band brushed past the latter's whispery notes, jolting the song like a cackling Dr. Frankenstein.
It lived, indeed.
Instead, the singer dug deep into his songbook for a refreshing crush of favorites and less heralded fare. "Green Shirt" took on an electronic flavor, a fitting update for our 21st century. Playing a kiddie bullhorn before "Watching the Detectives," complete with wailing siren, seemed beneath the Grammy winner, though.
Elvis Costello - Watching The Detectives
The concert's extended encore felt more like a second half. Costello returned along with two backing singers to croon "Alison," a beautiful touch for a timeless ballad.
Then Costello teased two "new" songs, each apparently in the works for some time. He performed them late last year at the Beacon Theater, where he wasn't as polite with his political banter.
"Maybe I could run for office. Maybe I could be president," he said in a character's voice. "But he gets good ratings, and we know where that ends…"
Who could be on his mind?
FAST FACT: Elvis Costello won a Grammy in 1999 (Best Pop Collaboration with Vocals) for "I Still Have That Other Girl" recorded with Burt Bacharach.
The halting piano ballad featured some lines that genuinely spoke to the modern U.S. electorate, like "you think you've been duped" and "You feel put upon. I'll be your champion."
"Because you're angry, and I feel that too," he went on, getting closer to the Trump phenomena than most liberal singers. "Take my hand, I'll take your side."
Next, he dedicated a similarly sprawling number, "Blood and Hot Sauce," to his American born sons who he teased will run for President and Vice President in 20 years.
"Put your hand on the Bible, your finger on the trigger," he sang. Neither new song matched his best efforts, although each could grow given the proper context. They're part of a musical retelling of the 1957 Andy Griffith movie, "A Face in the Crowd."
The film recalls a fraudulent drunk who rises to power on the back of the media.
Costello's rage of late targets the TV machine that built Trump as much as the man himself. He might consider why the electorate was so angry after eight years of magical "Hope and Change."
Opening act Elephant Revival made rhetorical love with the great outdoors with its hippie banter. In between, the Nederland, Colo. ensemble trotted out a Pink Floyd cover and a gorgeous melange of bluegrass, blues and folk.