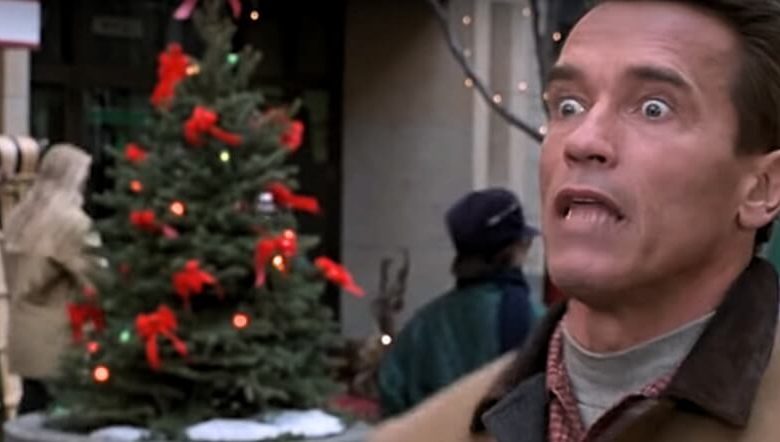 The commercialization of the holidays is a common theme in movies.
A less common theme? Inadvertently celebrating that commercialization. "Jingle All the Way," starring Arnold Schwarzenegger and Sinbad, tried to spoof of the toy crazes the country experienced in the pre-Amazon days.
What we were delivered was a film as soulless and drab as those quickly discarded gifts.
Jingle All the Way (1996) Trailer #1 | Movieclips Classic Trailers
Schwarzenegger plays an average American Dad … who is of freakish stature with an Austrian accent. He needs to buy the hottest toy of the year on Christmas Eve. The barely there storyline is padded out with antics, tomfoolery, slapstick and broad characterizations. Let's pull this lifeless form with dead batteries from under the tree, and put it under the knife to see what went wrong.
0:00:40 DRAMATIC ENTRANCE WOUND
A young boy named Jaime watches TV (Jake Lloyd, before he drew ire from the 'Star Wars' fans). The show is called "Turbo Man," intended to mirror those "Power Rangers." This establishes the plot of chasing down a superficial plastic toy by giving us a superficial plastic program.
0:02:23 RUPTURED OPTICS
I'm not sure what is the more distancing aspect of this kid's show — that Turbo Man's sidekick Booster is a hunch-back neon pink saber-toothed creature, or Harvey Korman is the President?
0:03:14 SCEPTIC INTRODUCTION
We cut to an office Christmas party in a mattress company. Upstairs we meet Arnold Schwarzenegger, who we are supposed to believe is named Howard Langston. We are also supposed to believe the man who speaks like he has a mouth full of Novocaine is a great salesman on the phone. We ALSO are supposed to believe he is too busy to party because people buy 200 mattresses two days before Christmas.
0:03:40 CONTINUITY FAILURE
We get a peek at "Howard's" sales spreadsheet. His new sale will put him over 4,000 mattresses sold in a week. He would have to be working from the Certa factory to move those units, while annually cornering the market of the hotel/dormitory/military bases in the country. Additionally, the report is dated two weeks earlier. Hey now! "Howard" is cooking the books in order to hit his performance quota Christmas bonus!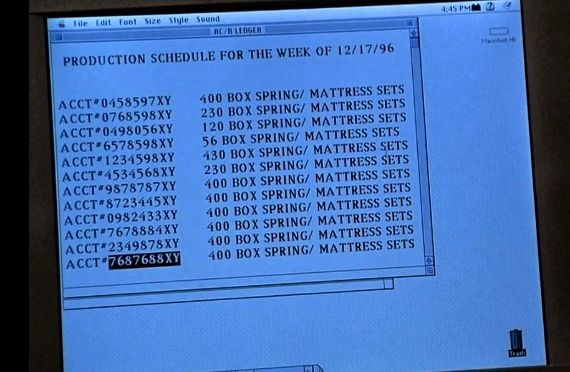 0:04:05 WEAKENED IMPULSE
During a flurry of sales (Dec 23 is HUGE for mattress sales!) "Howard" takes a call from his wife Liz (Rita Wilson), who reminds him of Jaime's karate performance. As he wraps up he absently says to her the same line he used on every call, "You're my number one customer!" Sincerity seems to be a challenge for our hero.
0:04:57 ARTIFICIAL NARRATIVE STIMULANT
In a gym they are staging a…uh, Christmas karate recital…I guess?? Seated with Liz is Ted (a rather great Phil Hartman, in his full Lionel Hutz mode) watching their sons. Ted, a single father, is seemingly the only eligible male in the tri-county area. During the performance various women hand him cookies or implore him for repairs at their home, in comely approaches. I guess in Minnesota beta-males in Brooks Brothers fashions are considered irresistible.
0:08:24 ELEVATED FORESHADOW LEVELS
A harried "Howard" rushes to the recital (which everyone keeps calling "karate practice") but gets pulled over by motorcycle cop Robert Conrad. This causes him to miss it entirely. As he pulls up to the house Ted is on the roof, having just strung up lights for them. This angers Howard. I'm feeling most people in this film will not be acting like real humans.
0:09:58 VISUAL ADRENAL INFUSION
Jaime is mad at Howard and stomps up to his room. Attempting to win back his son Howard slinks in, and we see the kid who is completely obsessed with Turbo Man has a massive mural on his wall — of genuine super hero, Captain America.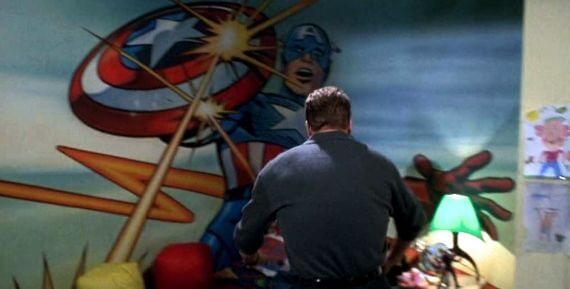 0:11:56 CLICHE MALIGNANCY
Desperate to get his kid back on his side "Howard" asks what he can do for Christmas to make things right. In a fashion exactly like Ralphie from "A Christmas Story," he spits out a rapid-fire litany of the Turbo Man doll's attributes.
0:12:43 TYMPANIC TRAUMA
In their bedroom "Howard" is raving to Liz how he bonded with his son, after buying back his love with the promise of a toy. It becomes the first time we hear Arnold butcher the name of the film's focus, calling it "That "Terlbuh Man" doll.
0:13:44 DEPLETED CHARACTER CONCENTRATION
Liz verifies that he purchased one of the Turbo Man dolls, as she instructed him to do two months ago. Clearly having forgotten, he tells Liz one is sitting in his desk at work. After raving to his customers, and over-promising to his son, let's say it plainly: "Howard" is just a lying bastard.
0:14:48 IATROGENIC DIRECTION
First thing next morning "Howard" needs to rush out to buy a Turbo Man doll. Jaime pleads with him to go to the "Holiday Wintertainment Parade" that afternoon. "Howard" usually misses going — mattresses will not sell themselves in bulk, after all. But this year Terlbuh — I mean, TURBO Man will be there!
Okay – characters introduced, Macguffin established, and countdown plot device in place. Let's get this reindeer game started!
Jingle All the Way (1/5) Movie CLIP - Looking for Turbo Man (1996) HD
0:15:24 INVASIVE PATHOS
As "Howard" is leaving, Ted comes over with a reindeer in tow. It's a surprise for his son, because 10 year old boys are thrilled at having livestock? Anyway, the reindeer doesn't like "Howard".
0:17:13 DEPLETED CHARACTER CONCENTRATION
While waiting in line for the toy store to open "Howard" encounters a mailman named Myron (Sinbad). The comedian is permitted to ad-lib lengthy monologues about how horrid the holidays are for him. With his unfunny patter he conveys that feeling to the audience, culminating in his choking a woman in line.
0:19:15 CRANIAL ATROPHY
Desperate for a Turbo Man doll "Howard" and Myron, during a melee, ask an employee (Chris Parnell) where they are. He explains with laborious histrionics they have been sold out. This store must get tax breaks for hiring mentally challenged employees.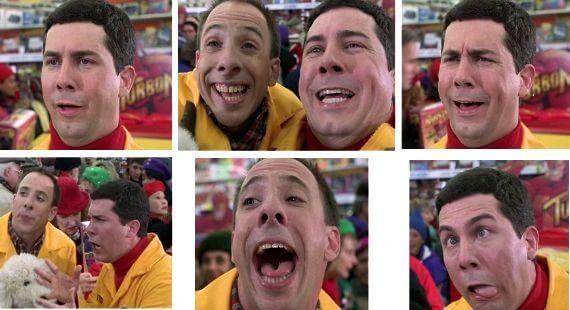 0:21:22 CLICHE MALIGNANCY
Denied at that stop we see "Howard" visiting numerous stores using the trope of superimposed neon signs traveling through the frame. Every single one is generically named "TOYS" somehow.
0:22:29 COMEDIC ARREST
At the end of this particular montage a dismayed "Howard" becomes unhinged in one store and attacks a cardboard Turbo Man display stand. Nobody seems too bothered by this behavior.
Jingle All the Way (3/5) Movie CLIP - Harmless Package (1996) HD
0:24:30 BLUNT FORCE DIALOGUE
"Howard" calls in to Liz but the flirtatious Ted is at the home and answers. During the strained talk Ted keeps making orgasmic sounds from eating her sugar cookies, leading to Arnold's exasperated "Put That Cookie DOWN!!!"
0:25:58 ARTIFICIAL NARRATIVE STIMULANT
In a dose of coincidence Myron is at one of the other phone booths. He begins monologuing (painfully) to convince "Howard" they should team up. Then, for absolutely no reason, a man races by and shouts a store in the area received a late shipment of toys. Well, THAT should move things along nicely.
0:26:34 COMEDIC ARREST
In a rush to get to the store "Howard" backs into, and damages, a police motorcycle. In a dose of coincidence it's the same cop who pulled him over last night.
0:27:24 INVASIVE PATHOS
At the toy store a very angry manager announces they will give out numbered rubber balls for a lottery. The attempt at bringing order is dashed when the employees toss the buckets in the air and create pandemonium. During the scrum Myron sprays mace in "Howard's" face. He quickly recovers and races throughout the Mall Of The Americas. It is a chase scene…with a super-bounce rubber ball.
0:32:06 STUNT CAST
Thwarted anew, a mall Santa overhears the issue and offers "Howard" the chance to buy a Turbo Man. This is Jim Belushi, reuniting with Arnold to reform the team that made "Red Heat" a memorable classic. (I know, nobody remembers that one…) His elf shows evidence they have one, with a Polaroid proof-of-life photo.
0:35:57 EXPLORATORY STORY INCISION
"Howard" rides with Santa and his elf to a remote warehouse for contraband toys. Inside all the workers are dressed as Santa, handling toys that are carnival-prize quality; pink and blue teddy bears, green soccer balls, and… crayons??? Anyway, "Howard" pays $300 for his Turbo Man, only to learn it speaks Spanish. This leads to a confrontation with the entire warehouse of Santas.
Jingle All the Way (2/5) Movie CLIP - Santa Smackdown (1996) HD
0:36:45 IRREGULAR PLOTBEAT
Candy cane nunchucks.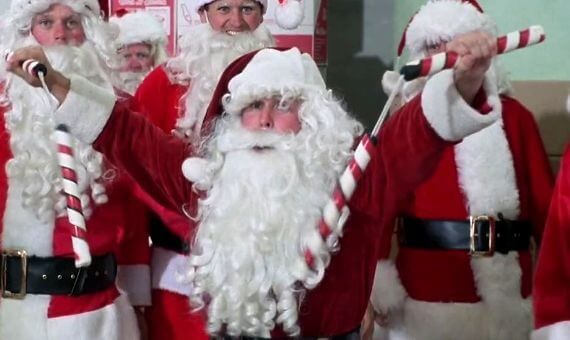 0:37:20 BLUNT FORCE DIALOGUE
After felling a lineup of Santas "Howard" is approached by a towering Kringle in suspenders (pro wrestler The Big Show). "I'm going to deck your halls, Bub!" Moments later Verne Troyer, as a tiny Santa, is choking our star who ducks, causing Mini-Elf to be punched clear across the warehouse.
0:38:00 TYMPANIC TRAUMA
After getting tazered "Howard" has Santas jump him, and Jim Belushi yells "Dog PIIIIIILLLLLLEEEE!!" in exactly the same intonation as his late brother's famous "Food Fight" in "Animal House".
0:38:43 CAUTERIZED PLOT CAVITY
The police raid the warehouse and confronted "Howard" evades arrest by nabbing a plastic badge from a toy bin (because THOSE are a hot Christmas item) and he poses as an undercover cop. The captain is not at all suspicious of a Minnesota detective saying, "Uye huff been verking dis case for the pest shree yeahs!"
0:42:41 ADVERSE CEREBRAL ACTIVITY
After running out of gas "Howard" calls home from a diner, but Jaime answers and is upset he'll miss the parade. So, in a supposed hurry, he sits to have a coffee. In a dose of coincidence Myron is in that same diner! During a talk "Howard" pictures Jaime as a mailman slugging whiskey, and he is renewed to get the action figure, because toys repair a spiraling future.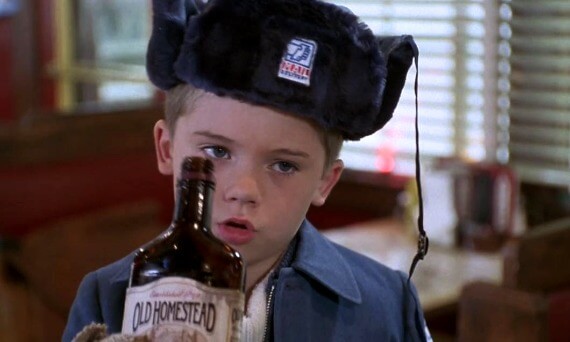 0:48:17 CHRONICLE SEIZURE
They overhear on the radio the local station is giving away a Turbo Man, to anyone who could name Santa's reindeer. The pair decides running two blocks to the station is most efficient, and they manage to get there before a successful call. "Howard" answers, but is awarded a gift certificate. Next Myron says he has a mail bomb. Not surprisingly, the sociopath is proven to have lied.
0:50:51 PLOT OBSTRUCTION
The police arrive and as the pair tries to escape. Cops flood off the elevators to stop Myron. "Howard" goes for the fire escape but is detained, because in a dose of coincidence officer Robert Conrad is in the stairwell.
0:52:20 COMEDIC ARREST
Surrounded, Myron uses the bomb ploy once again. This allows the two to escape, but as officer Robert Conrad handles the package we hear an explosion. We see him standing like a cartoon character all covered in soot. (No other cops were affected by this "blast".)
0:54:29 WEAKENED IMPULSE
A tow truck brings "Howard" home and he sees Ted inside, placing the star on his tree. This inspires "Howard" to go to Ted's house and steal the Turbo Man he had bragged about. I need to remind everyone, "Howard" is positioned as the hero of this film.
0:55:52 BLUNT FORCE DIALOGUE
Out the back door "Howard" has second thoughts about what he is doing, and he encounters Ted's reindeer. As it squares off with him "Howard" says, "Nice doggie!"
0:57:06 INVASIVE PATHOS
The reindeer chases him throughout Ted's house. A statue falls into the hearth, and as a fire breaks out "Howard" kicks the flaming head through a window for all to see. We have fully entered the realm of farce by this stage.
0:58:29 VISUAL ADRENAL INFUSION
Rushing inside Liz is angry with her husband. She expresses her disdain, and declares she is going to the parade without him. Liz asks Ted to drive and he says, "Of course". This means he will leave his still smoldering house, with "Howard" still inside. Next, the reindeer breaks through a door and charges. A fed up "Howard" stands his ground and cold cocks the reindeer, which on the ground says, "Owwwww." This actually happened.
0:59:06 DEPLETED CHARACTER CONCENTRATION
A demoralized "Howard" is now in the backyard, drinking a 12-pack of beer — with his new buddy, the reindeer.
1:03:48 COMEDIC ARREST
"Howard" goes to the parade and sees Ted hitting on Liz. Running towards them, in a dose of coincidence, he knocks down officer Robert Conrad, who gets burned by spilled coffee. You know, I'm about to believe that Myron will probably be encountered soon!
1:05:25 SCRIPT GRAFT
Fleeing the cop "Howard" darts into a building. While hiding he gets pulled aside and a fast-talking worker delivers instructions while others strip him down and begin suiting him up. All of this takes place because at no point is "Howard" capable of stating he is a different guy.
1:05:58 IATROGENIC DIRECTION
From this moment we only get a camera from "Howard's" point of view (for the sake of the surprise, for what is a foregone conclusion). He encounters actor Curtis Johnson, smoking on a landing, adorned in a neon pink fur costume. Remember, we are supposed to be surprised at this point.
1:08:22 VISUAL ADRENAL INFUSION
On the Turbo Man parade float "Howard" rises from below and he is surprised to see himself in the costume. (Just go with it.) He will be tasked with handing out a special edition Turbo Man doll to a "lucky" child in the crowd. Everything comes together for the man who has exhibited no redeeming behavior in the whole film.
1:11:08 EXPLORATORY STORY INCISION
Jaime goes onto the float to collect the doll, but then Turbo Man's nemesis, Dementor, slings onto the float demanding the toy. Hey look! It's actually Myron, who tied up the original actor and donned the costume to — continue in his sociopathic escapades.
1:12:31 INVASIVE PATHOS
The three of them tussle a bit, and the crowd and TV announcers all figure this is part of the choreographed show. This, even after he punched Booster off of the float — but it does aid in Jaime escaping.
1:13:10 BLUNT FORCE DIALOGUE
While chasing down Jaime through the parade Myron encounters a person outfitted as a Christmas present. He slams them to the ground, saying, "Get outta my way, Box!"
1:14:39 RUPTURED OPTICS
Jaime runs through the crowd, and up a building's ladder to the roof, with Myron still in pursuit. Once "Howard" sees him scaling a Christmas display he operates the costume's fully operational jet pack functions. Along with the weapons he shot previously, it is clear this suit was not designed by special effects crews, but the military industrial complex.
1:18:30 CRANIAL ATROPHY
Myron falls off with the doll onto a float and is arrested. As Jaime next falls "Turbo Man" flies up and catches him, returning him to his mother. At this point both Liz and Jaime have no idea it's actually "Howard" in the costume. This, despite having only a clear yellow visor partially covering his face, and still sounding like the same garbled Austrian chunk-muscle who cannot pronounce "turbo".
1:19:21 COLLAPSED CLIMAX
"Turbo Man" takes off his helmet to "reveal" that he is actually "Howard." Now that his son has the beloved toy he is a super father again. And, while dressed as a toy, Liz reacts in a mildly aroused fashion, clearly tipping off that she is a cosplay fetishist.
1:20:51 CELLULOID TOE TAG
After Myron was detained, in a dose of coincidence, officer Robert Conrad comes to return the Turbo Man doll. Jaime goes over to give the doll to Myron for his son, since he has the real Turbo Man at home. Touching — except the charges Myron is sure to face will mean he will be in stir for Christmas and won't be seeing his boy.
1:21:00 CONTINUITY FAILURE
As they try to sell us the majesty of this selflessness, the script has forgotten that "Howard" still has the certificate for a Turbo Man doll.
1:28:46 GENETIC SEQUEL MUTATION
Seven minutes later in a post-credit sequence they attempt to justify a follow up film. Liz asks her husband, "What did you get me?" We are then treated to Arnold's primary acting method employed throughout this affair: his bulging-eyed "shocked" expression.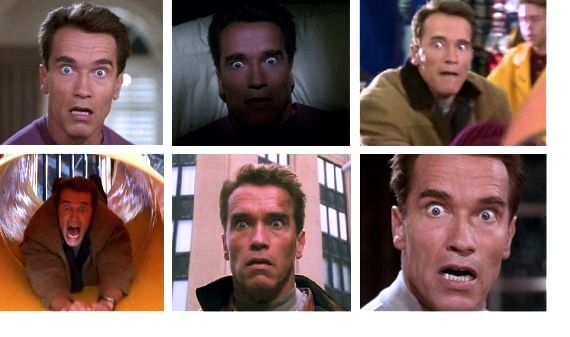 POST MORTEM
While supposedly a commentary on our consumerism, "Jingle All the Way" manages to glorify it. From the artless kids program, to Arnold's sales acumen, to the perfect neighbor who purchases every detail for the holidays, all we are treated to is a pro-commerce message while everyone fetishizes a plastic action figure.
"JATW" sputtered in theaters, a likely money-loser. It speaks to the quality that as the movie was released the country was going through the craze surrounding Tickle Me Elmo toys. That it could not capitalize on that serendipity in the news proves the film should have gone through a product recall.