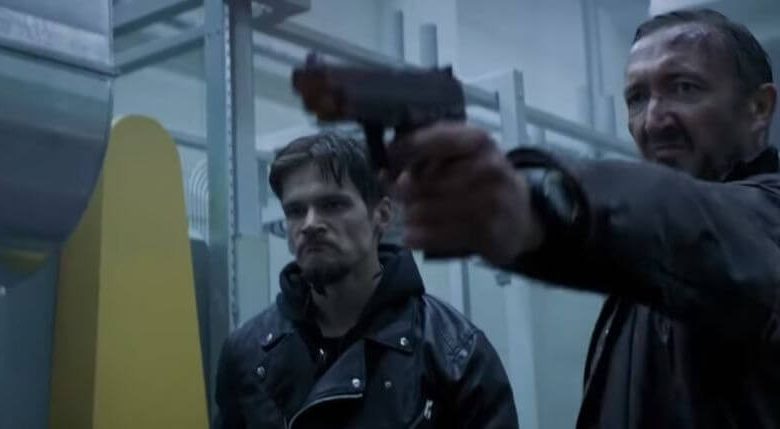 Action movies demand a certain level of forgiveness.
Sometimes you can overlook violations of physical law or engineering anomalies as long as they service the story. But what to do when the story itself defies those laws — and common sense? How to approach a film that by all appearances doesn't even try to approach the basics?
Meet "The Hurricane Heist."
THE HURRICANE HEIST Official Trailer (2018) Maggie Grace, Action Movie HD
Directed by Rob Cohen, who hails from the logic-defying "Fast & Furious" series, we don't have to look far for problems with this enterprise. The tagline for the film was "$600 million stolen at 600 miles per hour!"
Given that speed level doesn't actually appear in nature should tell you science was not a focal point. More issues arrive in that the movie poster essentially gave away the climatic scene, which speaks even more to the production. So let's wheel this meteorological flotsam into the lab and see if we can find the problems.
0:00:30 SCEPTIC INTRODUCTION
We are treated to numerous title cards from all the production companies — 10 in total. This is due to the movie beginning merely as a concept. The idea, and poster, were brought to a film market. The distribution rights were sold to numerous territories, and the money collected went to the budget. Only then was a script created.
0:01:19 ELEVATED FORESHADOW LEVELS
In a back story scene a tow truck is driving through Hurricane Andrew, piloted by a father with two young bickering brothers. Dad has the boys take out a notebook to go over football plays — during their flight from a monstrous tempest?
0:01:25 DEPLETED CHARACTER CONCENTRATION
At this time I need to alert you that in this hurricane-based film one of the brothers is named "Breeze".
0:03:36 VISUAL ADRENAL INFUSION
The boys take shelter in an abandoned home and watch their father get killed by a rolling silo. Then the wooden house rotates in the wind, quickly reduced to toothpicks. In the destruction the younger brother, Will, looks up and sees a nefarious image formed in the clouds.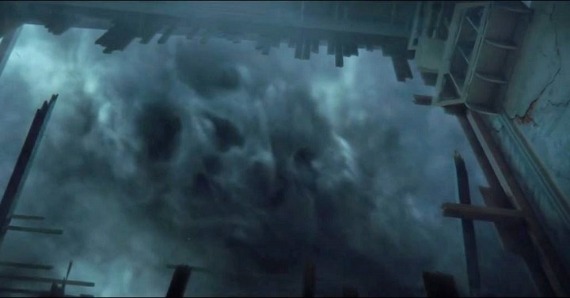 0:05:31 EXPLORATORY STORY INCISION
Flash forward to present day. A hurricane is brewing in the Gulf of Mexico and the National Weather Service is monitoring. A director conferences out to the field to an adult Will (Toby Kebbell, whom I have yet to forgive for Dr. Doom in the last "Fantastic Four") driving a hurricane chase vehicle built like a tank. No explanation given, nor needed, how he survived the storm of his youth.
0:05:53 TYMPANIC TRAUMA
No explanation either how we'll survive Toby Kebbell affecting a painful "Cajun" accent.
0:06:41 LOCALE ANESTHESIA
An evacuation is taking place in Gulf Port, Miss. Having never been I'll assume what we're shown is coastal America and not Sofia, Bulgaria where this was filmed at a discount.
0:07:01 WEAKENED IMPULSE
During the evacuation a massive traffic jam develops due to one car breaking down, and a convoy of semis trying to get into town. Also because the majority of the town is escaping on a one-lane access road through farmland. Driving one truck is Casey (Maggie Grace of "Lost" fame) and her partner Connor (Ralph Ineson) who talks of retiring to Ireland. (Oh now, that's a tell!)
0:10:54 ELEVATED FORESHADOW LEVELS
The meteorological director tells Will to stay in the area since it will be only a Cat-2 hurricane, and he works in a tank. Will tells him no way, despite all the high-measuring systems at The Center he can smell that this will be a Cat-5 storm. He rushes to collect his drunkard brother who works in town. I'm siding with Will's instincts on this one! (More due to the film's marketing than his displayed skill set.)
0:13:05 DEPLETED CHARACTER CONCENTRATION
After the trucks roll into the Mississippi location of The Department of Treasury Casey questions why there are so many pallets of cash in the facility. She is told the shredding machine has been down and…the Treasury Department has only one shredder, understand. However help has been called in, because the government also does not have their own maintenance teams (???). Additionally, nobody seems at all curious that this duo arrives, dressed like nightclub urchins, to fix the machine.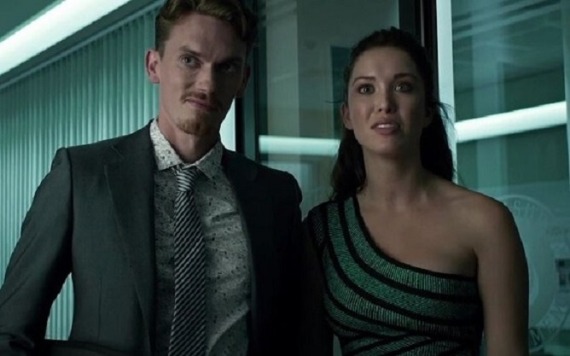 0:14:47 EDITING ARRHYTHMIA
Seemingly important details have been clipped in the editing bay. Casey video-conferences someone (we never learn who), and seemingly for backstory he brings up a past mission that went bad (we never learn what). "Hey, I went to bat for you after Utah!". Casey gets sad so he tries to console her, telling her not to beat herself up over the issue — which he just brought up.
0:16:41 CHRONICLE SEIZURE
Next as Casey talks with her boss the power at the facility goes out, the backup generator manages to falter, the phones go out, and there are no cell phone signals to be had. Will's brother is the only repairman to do that job (ahem), and Casey has to retrieve him. This all happens in roughly 23 seconds.
0:18:42 COMMERCIAL TOXICITY
A word to companies hoping for product placement: It's a good idea to peer at the script ahead of your screen time. I doubt this conversation took place:
BUFFALO TRACE EXECUTIVE – "We want to be featured in your movie."
PRODUCER: "Great! We'll have our most slovenly character mix your hooch with coffee when he wakes up in his clothes!"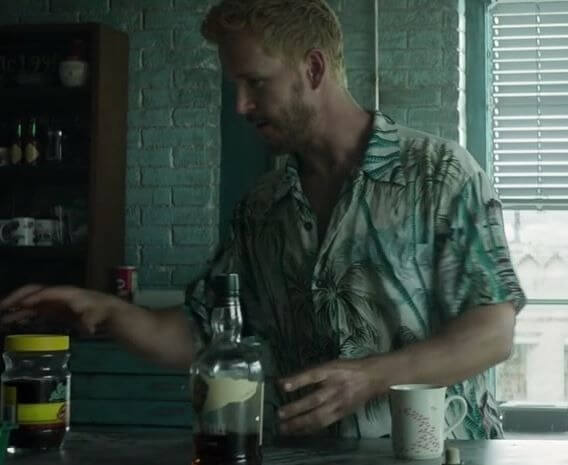 0:21:45 WEAKENED IMPULSE
A van with telephone repair men attempts to enter the Treasury, because the government has no maintenance teams of its own! The drivers end up in a shootout with the gate guards. The soldiers are subdued as everyone gets shot with tranquilizer darts and not bullets, like this is an episode of the G.I. Joe cartoon series.
0:24:17 BLUNT FORCE DIALOGUE
After Casey's partner is shown to be a turncoat in this affair he gets into the boss' office. The boss turns to the two hackers and says, "I should have known there was something hinkey about you two!" Oh, you mean the Eurotrash-looking duo who conveniently showed up at your facility? Yeah, you should have known, genius.
0:26:16 CRANIAL ATROPHY
While boarding up his business Casey rolls up to collect Breeze to go repair the generator. Since the Treasury has been letting just about anyone inside today why not the town drunk as well?
0:31:12 CRANIAL ATROPHY
At the now abandoned gate Casey gets out to investigate and snipers get the drop on her. But as she surrenders Breeze drives up and slides to a stop so she can get in, and drive off — all without the gunmen taking a shot.
0:32:32 IATROGENIC DIRECTION
After crashing into rising bollards Casey flees on foot into town, gunmen in chase. For no reason Will is nearby in his storm/tank/car and spies the gunfight. For the second time in just over a minute a car slides up to rescue Casey.
0:35:48 DEPLETED CHARACTER CONCENTRATION
Will and Casey go to the sheriff for help, only to learn he's also in on the plan, hence his evacuation order. The reasoning? He seems mad that every day he watches semis roll into town filled with cash to be destroyed.
0:39:01 PHYSICS DISORDER
After fleeing from the sheriff they get into a rainy car chase. Will rounds a corner and stops, planting his anchors. The chase car slams into them and is sent flipping into carnival tents. This was less gripping than a "Fast & Furious" set piece.
0:43:59 EXPLORATORY STORY INCISION
While driving Casey asks Will, if he's so scared of these storms, how did he end up as a weatherman? It's a touching sentiment from her, although at no point have they had a conversation about his past.
0:44:31 SCRIPT GRAFT
Given this is a weather-related yarn, time to get a global warming lecture. Will decrees that ocean temperatures will rise so much the Saffir-Simpson scale will be recalibrated to have Category-6, and Cat-7 storms very soon.
0:47:03 CONTINUITY LEAKAGE
In order to pull down a satellite tower that the hackers are using (seriously, don't ask) Will goes out in the storm to attach his wench to bring it down with his tank. As he is out in winds strong enough to flip cars we see the plastic letters on a movie marquee are somehow still in place.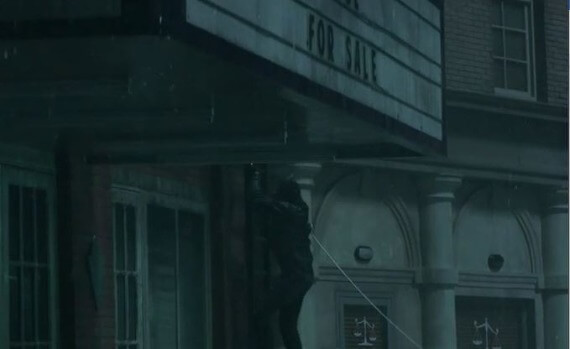 0:53:01 IATROGENIC DIRECTION
With the tower down two trucks pull up and engage the heroes in a gunfight. Will takes out one shooter by finding a net filled with hubcaps. He starts tossing them into the wind, and one embeds into a shooter's chest.
0:55:02 CRANIAL ATROPHY
After repairing the generator Breeze finds the guards who were unable to escape a chain link cage. He becomes shocked when the bad guys see him and electrify the fence. This would have been avoided if he had not insisted on slowly cutting a hole in the fence and instead used the bolt cutters to snip the chain.
0:56:09 LOCALE ANESTHESIA
During a heartfelt argument, while they both were urinating, Will gets mad at Casey and you can see his breath, although hurricane season takes place during the hottest summer months.
0:58:20 BLUNT FORCE DIALOGUE
Back at the facility the remaining gang reconvenes and the sheriff and deputies square off with Connor. The sheriff is monologuing in order to give us backstory, and I give some props to the film for mocking itself
SHERIFF: "I was in a bar, bitching about my lot in life, and right next to me was another man doing the same thing."
CONNOR: "What are you telling me this for? I was there, you idiot!"
1:05:36 INVASIVE PATHOS
On a stolen radio Casey agrees to surrender in exchange for two hostages, and upon arrival the remaining hostages will be released (into a Cat-5 hurricane, I assume?) The exchange takes place at a mall. Will and Casey wear mountain climbing gear. The plan is to shoot out a skylight and when everybody is sucked into the storm they are tethered and get back inside safely. This plan actually works.
1:10:04 WEAKENED IMPULSE
Casey hatches a scheme to use Will's vehicle as a car bomb to prevent the trucks from leaving the treasury. While raiding a home goods store for fertilizer and ammonia they were spotted by some of the gang — who were just driving around town during a car-flipping Cat-5 hurricane.
1:11:54 ADVERSE CEREBRAL ACTIVITY
During the standoff in the store the storm surge arrives and blasts through the entire garden department. As he drifts down a street Will encounters his tank. Breeze, who had been missing has somehow found a boat, and he finds his brother. This is because Will was curled up on the roof, rather than taking shelter INSIDE his storm proof rig. The hell?
1:22:14 COLLAPSED CLIMAX
As Casey is found by Connor she is brought in to open the safe. Will and Breeze make it back to his shop to gear up, as the crooks plan to move the money during the eye of the storm. This means their escape route is not mapped, or even dependent on roads, since they have to follow the path of the storm. Also we learn the nightclub hackers also know how to drive a semi hauler.
1:26:07 IRREGULAR PLOTBEAT
The plan here involves Breeze and Will driving up to the last semi and both jumping on. They hijack the first, then Will hops onto the back of the next truck, where Casey is being held. Of course this all works out mostly according to plan.
1:30:42 PHYSICS DISORDER
The brothers surround Conner's truck and then get in front of him, forcing him to slow down as the hurricane eye wall approaches. The storm pulls the rig free from his cab, and as Connor curses the storm it tosses the trailer onto his rig, exploding it and the Irishman.
1:31:54 PHYSICS DISORDER
Trying to speed off from the storm the truck Breeze is driving starts breaking down, so Will slows down for him to jump to their rig. As they attempt to save the nightclubbing hackers next their truck is pulled up into the hurricane. But not the truck with our heroes, even though it was driving directly alongside as it went airborne.
1:33:51 CELLULOID TOE TAG
Our trio starts joking and Will points ahead at the blazing red sky, as they heroically drive off into the sunset. Somehow the hurricane which had been mere feet away from them is now seemingly gone.
POST MORTEM
There is little surprise this action set piece fizzled like a roman candle during a tropical depression. In order to have a climatic chase we needed to have a hairbrained plot (one hood even said they had to hope a hurricane would happen) faulty execution of governmental standards (a flood of unknown civilians marching into a treasury) and complete disregard for weather science (people can walk freely as cars are toppling down a street.)
Some of it could be excused if we cared about anybody. We don't. This is entirely inexcusable. But the stupidity is as fun as a bounce house full of clowns in a cyclone!