In 1999 a bloated action piece of shark frenzy was released on our shores.
Despite a number of factors stacked against it (high-concept premise, tired genre, Renny Harlin directing) "Deep Blue Sea" went on to become regarded as one of the better shark films.
The film had a modicum of success, and after some time and a scuttled attempt at a sequel some ten years ago, "Deep Blue Sea 2" arrives. Suffering from a low budget and an anonymous cast, this tepid follow-up fails to generate either thrills or tension. With blood already in the water, lets cut into this corpse and filet the body.
DEEP BLUE SEA 2 Official Trailer (2018) Shark Movie HD
0:00:50 SCEPTIC INTRODUCTION
A pair of fishermen are on a miniscule fishing boat, with a cabin that looks like it couldn't house them together. They are shark fishing, cutting the fins off their catches in barbaric fashion. Opening your film on a scuzzy fishing trawler just like "Sharknado" is probably not the wisest choice.
0:02:58 DEPLETED CHARACTER CONCENTRATION
A call goes out on the radio that all boaters need to leave the waters and return to shore for their safety. One fisherman disregards it, as they are currently on a hot streak. This is sound business; maybe they can earn enough for a trawler longer than 20 feet.
0:05:26 INVASIVE PATHOS
A group of sharks circle their boat and then swim off and form a fighter jet formation. On reapproach the sharks hit the boat, sending the anglers overboard. It takes them time to swim back to their vessel, eventually becoming attacked because: Why? Both seem to struggle with the basic mechanics of swimming and they somehow landed at least 40 feet away from the boat.
0:07:04 TECHNOLOGICAL THROMBOSIS
Another boater arrives in an inflatable outboard watercraft. After searching briefly he sees the sharks approaching his position. Just prior to impact he presses a button on a device and the sharks scatter. Next he is piloting back with the five sharks swimming in formation again. My cinematic experience tells me this guy is in on it!
0:07:43 VISUAL ADRENAL INFUSION
During the opening credits we get languid, slow motion shots of a bikini diver. Based on these curvaceous visual cues I assume the credits I ignored were not important.
0:09:26 ADVERSE CEREBRAL ACTIVITY
We meet Dr. Misty Calhoun (Danielle Savre) addressing a college classroom. The last shot of the sequence is her holding the fin of a swimming shark on screen for the class. So, her underwater cheesecake snaps were shown for these students? A little full of yourself, aren't we Doctor Misty?
0:10:43 ELEVATED FORESHADOW LEVELS
When asked about her reckless shark riding Dr. Misty announces one species she would never engage is the bull shark. I'll wager a six pack of Landshark Lager the lab-fish in this enterprise turn out to be those very creatures.
0:11:20 RATIONED FILMCARE
The boater escorting the sharks is Trent (Rob Mayes), who works at an underwater research laboratory, not unlike the first film. Uh, check that — the slim budget here means this is rather unlike the sprawling lab in the original.
0:12:31 CLICHE MALIGNANCY
Meanwhile, back at the school…
Dr. Misty is approached by a stiff named Craig Burns (Darron Meyer). He has a job offer from a pharmaceutical billionaire. Craig refuses to give details, but does give a fat check, with the promise to fully fund her research for 5 years. This cements the wholesale ripoff of "Jurassic Park 3".
0:15:34 ARTIFICIAL NARRATIVE STIMULANT
Inside the underwater lab Trent goes to Aaron (Nathan Lynn), running computer logistics, to figure out how the sharks escaped. After hearing the sharks avoid the electrified fences "like the plague" they discover a tunnel was dug underneath one section, inches below those same fences…they cannot tolerate?
0:21:44 INVASIVE PATHOS
The next day Dr. Misty arrives at the facility, along with Leslie (Kim Syster) and Daniel (Jeremy Boado) — two newlywed neuro scientists who were also bought off. She meets the man behind it all, Carl Durant (Michael Beach) but acts rude towards the man who forked over half a decade's worth of research. She's angered to learn he is running tests on bull sharks.
Pay up! Where's my six pack?
0:23:21 PHYSICS DISORDER
Durant invites everyone topside to display his control of the sharks. He surprisingly pushes Aaron into the holding pen and Dr. Misty jumps in to help, but just disaster strikes Trent presses his button and the sharks scatter. Once again, while tossed off the dock, Aaron was shown to be 50 feet out in the water.
0:25:50 VISUAL ADRENAL INFUSION
We spend some plot-crucial moments in the cabin of Dr. Misty as she slips out of her wet things.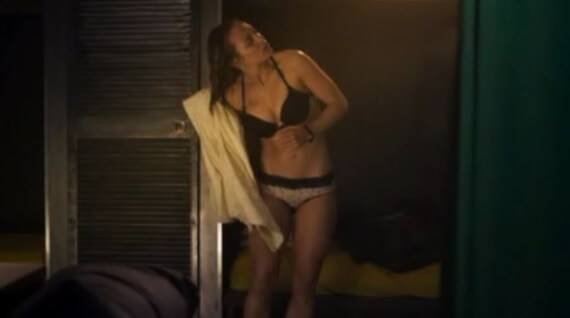 0:28:09 WEAKENED IMPULSE
In his cabin Durant grabs a hollowed out book storing vials. He takes a dramatically long time to consume the 1 oz serum. Almost instantly he begins having visuals of a computer graphics interface, like a Steve Jobs hallucination.
0:30:07 RUPTURED OPTICS
Craig visits Durant to discuss today's escape. The excitable billionaire is happy they're getting smarter, then explains the sharks have tracking embedded in them and will be exterminated when his experiment is complete. The scene cuts to his porthole where we see this visual. Yes — one of the sharks was eavesdropping…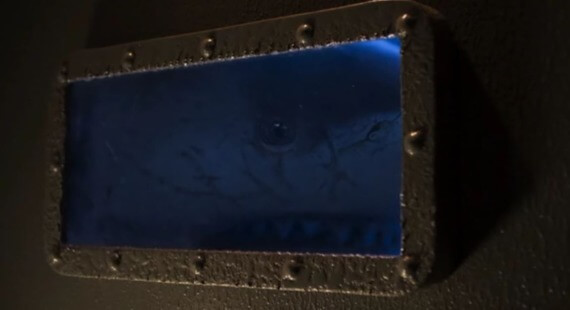 0:30:08 IRREGULAR PLOTBEAT
This also means the sharks understand English!
0:37:53 BLUNT FORCE DIALOGUE
In the original film they experimented on sharks to try to come up with a cure for Alzheimer's. In a lengthy bout of exposition we learn Durant's goal. He explains the rise in artificial intelligence means computers will be able to teach themselves, and they will destroy humans. So his serum will unleash the full power of human brains, in order to defeat Skynet.
0:40:47 SCRIPT GRAPH
One shark is exhibiting curious behavior, so they ask Dr. Misty, who declares she is pregnant. They say it's impossible, since they do blood draws and hormone panels weekly. But Dr. Misty knows because she has been swimming with sharks since she was seven years old.
0:41:50 IATROGENIC DIRECTION
Topside we see the inflatable boat dragged – very slowly – by a shark. The "impact" from the blow-up boat rocks the station, hits a transformer and sends numerous 50 gallon barrels of fuel in the water
0:44:08 ADVERSE CEREBRAL ACTIVITY
In an examination pool a sedated shark is elevated so a throat culture can be taken. A worker named Josh nearly loses an arm when the shark revives — because this state of the art facility does not have a 5-foot-long rod to use.
0:47:03 LOCALE ANESTHESIA
The sharks begin ramming the hull of the facility, causing major leaks and flooding. Maybe placing your billion dollar facility completely underwater was a dicey proposition?
0:48:50 ARTIFICIAL NARRATIVE STIMULANT
While gathered in the research bay Dr. Misty notices the corridor outside is flooding, and then the shredded body of Craig floats by, only recognizable due to his necktie. They are able to track their five sharks all in the lagoon, so the mystery is, what happened to Craig? Dr. Misty figures it out: The shark gave birth, and the babies are described as worse than super-piranha.
0:49:47 TYMPANIC TRAUMA
We cut to a shot of the school of baby sharks. They come swirling at the camera, and we actually hear squeaking and snarling, underwater.
0:50:36 BLUNT-FORCE DIALOGUE
As everyone falls into various stages of panic the brain of the operation attempts to rein in the the two neuro scientists, claiming victory during the calamity.
LESLIE: Aren't you the one who said your security system was infallible?!
DURANT: Yea, it should have been. Obviously my work has been even MORE successful than it thought. than I thought.
0:51:21 ARTIFICIAL NARRATIVE STIMULANT
Aaron contributes to the hysteria by attributing surprising traits to the sharks. He declares they carry a grudge and wants them dead. Bringing in these elements of "Jaws: The Revenge" has to be considered a horrible idea.
0:52:38 VISUAL ADRENAL INFUSION
A plan is hatched for someone to swim topside and operate a sat-phone to get help. Trent and a previously anonymous Mike argue who will do this, but then Dr. Misty chimes in that she will go. Cut to her, standing there in a new wetsuit, brandishing her crisis-cleavage.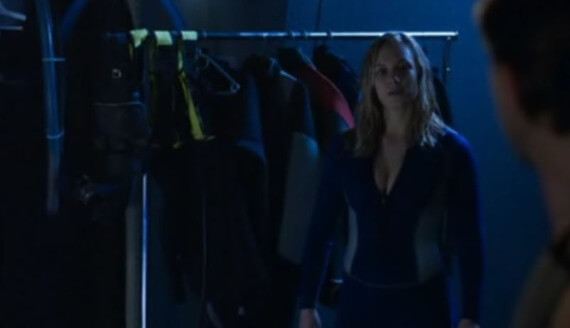 0:54:05 CHRONICLE SEIZURE
As Trent and Dr. Misty debate Mike is in the pool with his dive gear, and swims off. At the window they watch a shark hit Mike, and next Trent somehow reaches him in seconds to brings him back safely. (This, despite all attacks being instantly violent, was a time a shark had merely run into him.)
0:55:17 SCRIPT GRAFT
Dr. Misty manages to revive Mike, and he stands over the pool, taunting the sharks who didn't kill him. Then — in a direct nod to Samuel L. Jackson's famous death in the original film — a shark leaps out of the water and decapitates Mike.
0:57:22 RATIONED FILMCARE
There is a sudden loss of pressure and the research pool bursts forth with clouds of water. For some reason this flushes characters into "different" flooded tunnels. I used quotes there, because they were all shown in the same soundstage, but the emergency lights are a different color in "each tunnel."
1:05:31 PHYSICS DISORDER
Aaron and Josh tried closing a hatch in one corridor but then both panic, because they can hear the baby sharks approaching. (Also, to save money on CGI, we "see" the school due to bubbles traveling through the water.)
1:06:49 CONTINUITY FAILURE
As Aaron climbs up an elevated bed to avoid them Josh hides in a storage closet with a plexiglass door. The water level rises and the babies start flooding over the top and get Josh, but Aaron is mere feet away and the water has not risen over his bed sanctuary.
1:09:50 WEAKENED IMPULSE
Dr. Misty Cleavage go through a hatch to look for Aaron. Durant next disables the door, trapping her with the baby sharks. Trent is outraged.
DURANT: If we make it topside maybe you can get help in time to save her. Think of it as…incentive.
This incentivizes Trent to punch out Durant.
1:11:42 DEPLETED CHARACTER CONCENTRATION LEVELS
The couple, Leslie and Daniel, end up on opposite sides of a hatch. Daniel wails as he watches her get overtaken by the baby sharks (via bubbles). There is little in the way of emotional reaction by us, since this couple has contributed exactly nothing to this entire enterprise.
1:15:13 CAUTERIZED PLOT CAVITY
Trent and Durant climb a 100 foot ladder to get topside, and they call the Coast Guard to… —
Um…wait a sec. If this ladder existed, why did Mike try braving the shark waters? For that matter, why didn't EVERYONE go to this same ladder to escape?
1:19:06 CRANIAL ATROPHY
Aaron and Daniel reach Dr. Misty Cleavage, just as she cuts a hole in a hatch with a blow torch. As she ushers the guys through she stays back to fend off the sharks with the torch. They basically ignore her and swim past, after the guys.
1:21:06 RUPTURED OPTICS
Aaron and Daniel make it to the ladder, but for some reason the water is rising with them. As they reach topside Aaron gets out, but as Trent assists with Daniel his lower half is missing. With entrails dangling Trent unceremoniously tosses what remains back down the shaft.
1:22:34 CONTINUITY FAILURE
In the flooded lab Dr. Misty Cleavage gets scuba gear and swims to the examination pool and swims up topside. She surfaces 100 feet away from Trent and swims over as a shark begins to chase. He urges her and manages to just pluck her from the water in time — despite Trent wearing the unused shark controller around his neck.
1:26:15 VISUAL ADRENAL INFUSION
A Coast Guard drone arrives to investigate but a shark leaps up and snatches it out of the air. All four must now brave the shark water to reach the inflatable boat. The sharks stream by them all to reach Durant, who is dispatched in a showy airborne death.
1:27:18 COLLAPSED CLIMAX
As the shark leaps out of the water at the boat it is hit by two flares, and vanquished. Trent and Dr. Misty Cleavage strike a pose with their conquering weapons. Then Trent pulls a key hanging around his neck (next to his unused shark controller) and uses a box to detonate bombs destroying the facility. Dr. Misty Cleavage declares, "Wow – just like in the movies!" Well, not good ones…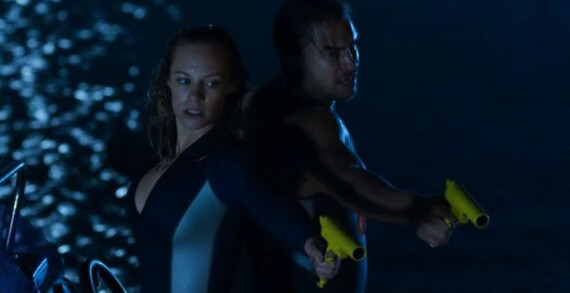 1: 30:48 GENETIC SEQUEL MUTATION
As a coda we are given a beach scene, and the camera dips below the water. Then we see a large shark, with a dozen babies swimming with it, as it attacks the camera.
POST MORTEM
There is little mystery why this avoided theaters and smashed into the direct-to-rental reef. When you're making a sequel few asked for, populate it with unknowns who play characters which have zero development, you are challenged. Now, 19 years later, conjure up a farcical plot and make it for 19 percent of the budget means that any expectation at landing a trophy catch is scuttled, and you end up just cutting bait.