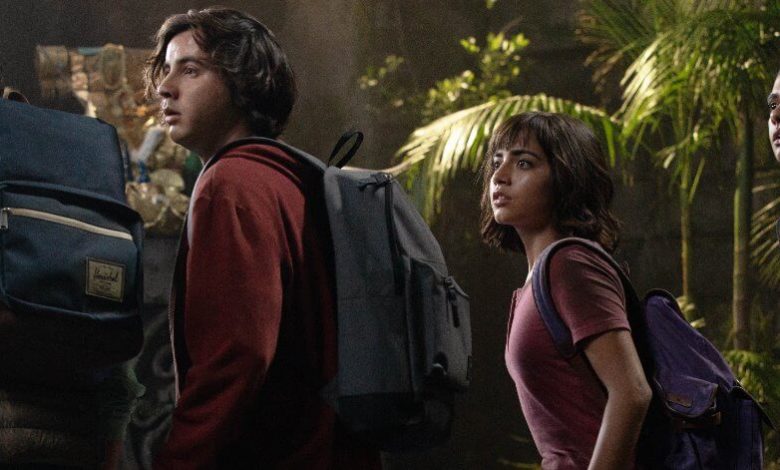 Turning animated shows into live-action movies is a terrible idea on paper.
Could any kid actor truly play Bart Simpson or Gene Belcher? Imagine the poor soul attempting to bring Homer Simpson to life.
Hollywood does it over and again, often with lackluster results. Remember the various "Flintstones" features? Or, better yet, don't.
"Dora and the Lost City of Gold" suffers from some of that ink to screen translation. And it's certainly odd how the film turns young Dora into a high schooler.
What stays intact? Our heroine's plucky spirit, free from today's dark and gritty cynicism. Phew.
Dora and the Lost City of Gold - Official Trailer - Paramount Pictures
The film's prologue feels like the pre-teen Dora we've watched on small screen for years. The story quickly shifts to the present, where the nearly adult Dora (Isabela Moner) learns she's leaving jungle life behind to attend her cousin Diego's SoCal high school.
Cue the "fish out of water" comedy beats!
Only the film cares more about the Indiana Jones-lite adventure afoot. Dora's parents (Eva Longoria, Michael Pena) have gone missing on the search for the titular city. Now, Dora, Diego (Jeff Wahlberg) and two new friends must risk life and limb to find them.
The new recruits aren't much help, though.
Take Social Justice Warrior school mate (Madeleine Madden), on hand to contrast with Dora's indominable spirit. Boilerplate nerd (Nicholas Coombe) exists for mild comic relief. And let's not forget Boots the monkey, her old TV pal.
Eugenio Derbez arrives mid-film to aid their quest, but given his comic chops he'll do more than that, of course.
Get to know the live-action Dora! Follow the link to learn about @isabelamone's journey to the Lost City of Gold: https://t.co/GAPRDqgaq8 https://t.co/Xyu2zkHpic pic.twitter.com/6nUzXfBjCY

— AMC Theatres (@AMCTheatres) August 8, 2019
It's all easily digested, especially with Moner front and center. The young actress captures Dora's confidence and charm, and she never makes it look like an effort. A lesser star might overplay Dora's positive streak or show a hint of embarrassment given our cynical times.
Moner finds the perfect middle ground.
It's still a drag at times for older viewers. We've seen this adventure template before, and the stakes here are understandably lower than average given the target audience.
The biggest mystery?
How a mainstream release could deliver such tepid CGI. Both Boots and Swiper make the leap from the small to the big screen, but each looks like digital characters from a '90s flick. Hope the money saved here went to a worthy cause.
Otherwise, kids will cheer Dora's quest, one placing plenty of focus on the family unit. That may be "problematic" to some, but most audiences will silently applaud.
HiT or Miss: "Dora and the Lost City of Gold" isn't an instant kiddie classic. It's still got a big, warm heart and a lead actress perfectly suited for the gig.