Interviews
Meet the Other Side of Movie Star Dennis Quaid
Dennis Quaid has brought a lovably roguish charm to the big and small screen for the past 40 years.
Think "The Right Stuff," "Innerspace" and "Great Balls of Fire" to name just a few.
He's gone from being a legendary Hollywood wildman throughout the '80s to sobriety in the '90s and beyond, rediscovering the importance his devout Christian faith held in his life along the way. The latter helped fuel his recent Christian-themed smash "I Can Only Imagine."
But aside from staying busy acting, Quaid has developed his passion for music into a second career, touring nationwide this summer with his rock band The Sharks. Blending classic-rock covers with electrifying originals, the group will be backing him at a July 21 stop at the Rose nightclub in Pasadena.
Quaid took time off from his hectic schedule to talk about his dual careers, his faith and his lead role in the upcoming biopic "Reagan."
HIT: How did you wind up starting the Sharks, and how long ago? What was the impetus?
QUAID: We started the band on Halloween night in 2000. Three months before, I'd gone to the Mint nightclub here in LA to see Harry Dean Stanton, an old friend of mine. Jamie James was playing with him, along with most of the rest of the band I have now. I did a couple songs with them and kept going with it. I got Harry Dean's blessing and went for it.
Dennis Quaid leads a birthday party for Harry Dean Stanton at The Burl and does his own thing in Lexington. https://t.co/ztGBEQxbqD

— LexGo.com (@LexGoKY) July 14, 2018
Over the last year, we've recorded 27 tracks with [Grammy-winning mega-producer] T-Bone Burnett. We're in the process now of negotiating record deals. We wanna do a vinyl, a real record, not just something just to have.
Six covers, and the rest originals. We'll probably put out 10 songs on vinyl, then we'll find what record company wants to do it
HIT: Had you played with a band to any real extent in the past? Was "Great Balls of Fire" a big part of your interest?
QUAID: I didn't play piano beyond chopsticks when I got the part, and had a year to work on it. Luckily I'm left-handed, and it's mostly about the left hand, so it helped. I've had such a lucky life with who I've had a musical education with. From Jerry Lee to Bob Seger to Cowboy Jack Clement, the original engineer at Sun Studios. I just had really great people, like a classic Cajun fiddle player, and Harry Dean Stanton, and the Neville Brothers with them too. I wrote the song "Closer to You" for 'The Big Easy.'
RELATED: HiT Movie Review: 'I Can Only Imagine'
Seger and I just used to hang out, found each other in the '80s, we used to just hang. Such a nice guy, we've lost touch for a while but that was back in the '80s and early \90s when the music scene was really going on in LA and had a real collegial feel to it and it doesn't any more. Now it's in Nashville.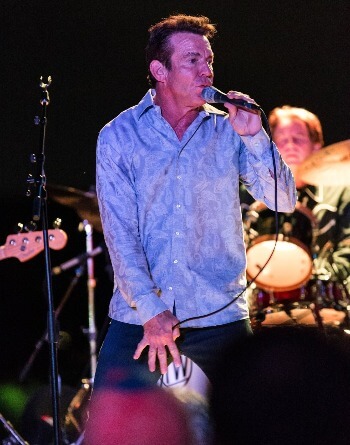 I had a band in the '80s called The Eclectics, which was Bonnie Raitt's band. The night we got our record deal, we broke up, just like that movie "The Commitments." Next day I was in drug rehab and the band just split up. I've been playing since I was 12 and started writing since I was 12. I'm not a lead, I'm a rhythm guitar player. It's all about getting the girls, ya know.
HIT: How much of your time do you devote to the band versus acting these days? A real set-aside time to tour? Any plans to record?
QUAID: We took about a four year hiatus before last year doing 35 dates. This year, we're going at it even more. Kinda making this my main thing.
I don't do the big leads in movies anymore that require you to be there 8-10 weeks so I can arrange my film and television schedule around the band, rather than the other way around. If we're ever gonna do it, now's the time. I got more fire in my belly now than I did in my 20s. We're gonna be the oldest band to make it in rock and roll.
HIT: How did music inspire you in your youth?
QUAID: I grew up in Texas, so first the things I remember listening to were Hank Williams, Elvis, Buddy Holly and the Beatles changed everything. High school was The Doors, I hated disco when it came along but now I really like it. And Queen. I love Queen.
HIT: So what's the show like with your band?
QUAID: We do about 25 percent covers and 75 percent originals. You won't know sometimes if it's an original or not but what we offer out is a good time. Everyone has a good time. The audiences paid their money, went to the trouble of buying a ticket. We do a very high powered show, we get people up and moving.
HIT: You're playing Reagan in an upcoming movie. What's the tone of the film – positive, negative, balanced?
QUAID: It's a movie, not a political movie. It's about him. He was a very interesting person. He did great things, he ended the Cold War. What he brought back, he made Americans feel good about the nation after Watergate. Yet he was also inscrutable, having a sunny disposition but hard to figure out. We're aiming for theaters.
I have more fire in my belly than I did in my 20s
Click To Tweet
HIT: You've done a couple of hit Christian-themed films in the last few years with "Soul Surfer" and "I Can Only Imagine." Does that reflect your own personal sense of faith, and how did you get into that part of the market?
QUAID: Yes. I treated them like any other script that comes to me, I was really taken by the story. That's my criteria for any film. Does it move me, make me laugh, or give me a unique experience?
BONUS: The HiT 'cast interview with director Jon Erwin
Listen to "HiT Episode 65 Jon Erwin" on Spreaker.
HIT: Were you surprised by the huge success of "Imagine?" Any thoughts on the making of that film?
QUAID: [The directors] Erwin brothers, they're incredible. They started under the radar with the marketing of that film before we even made it. We're out there in the middle of America with Christian groups, but they also made a movie that I think goes beyond the label of a Christian movie. It's a story of redemption, but I think people relate to it whether you're Christian or not. It had just gotten written off, the big papers didn't cover it or seen the traditional kind of advertising.
I Can Only Imagine Trailer #1 (2018) | Movieclips Indie
Hollywood ought to take a lesson from the Erwin brothers on grass roots campaigns. Kind of like what we did with "The Rookie," where we went city to city showing it to little league baseball teams from city to city. I have a very strong faith, grew up in faith. Everyone does, everyone's looking for something .
HIT: How do you tie everything together going forward?
QUAID: I'm just having fun, man. I get that every day. If I start making plans, I have more fire in my belly than I did in my 20s. Doing things I enjoy, that's really my plan. My mother's 91 and doesn't get around so well anymore. I try to be active and have fun at the same time.
No hassle in Hollywood. People let me do my thing. I really get bored hearing actors spout their political views, If actors wanna talk about their champagne problems. that's fine. I'm tolerant of everyone, especially these days.