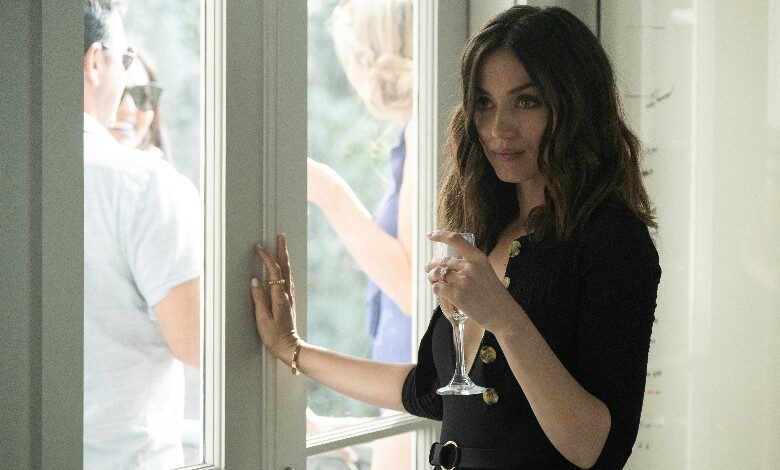 Filmmaker Adrian Lyne has returned, some 20 years since his last thriller, "Unfaithful" (2002), and the provocateur is back and in his element.
While premiering on Hulu, Lyne's "Deep Water" would actually make for a great date movie, the kind where you debate and pick it apart at length once it ends.
Deep Water | Official Trailer | Hulu
Ben Affleck stars as Vic Van Allen, a wealthy father whose marriage to Melinda (Ana de Armas) is deeply troubled. While she frequently runs off and has affairs, he stalks her and sulks in barely contained jealousy.
He also has the odd habit of inviting her lovers over for dinner, where he takes an opportunity to scare them off. Another troubling quality to Vic is that he likes to openly joke that he murdered one of his wife's long-vanished former lovers.
Is he kidding around?
Based on a novel by the great Patricia Highsmith, the author of "The Talented Mr. Ripley" and "Strangers on a Train," this isn't of that caliber, nor on the level with Lyne's career-highs of "Fatal Attraction" (1987) and "Jacob's Ladder" (1990).
Still, "Deep Water" is much better than "Unfaithful" and actually quite similar to "Gone Girl," which perhaps explains what drew Affleck to the material.
Gone Girl | Official Trailer [HD] | 20th Century FOX
Another cinematic cousin is, oddly enough, Terrence Malick's "To The Wonder" (2013), in which Affleck starred as another American husband who is unable to fully connect or even understand his European wife; that element needed further definition here, though Melinda's behavior goes beyond cultural difference and into acts of giddy defiance.
The role of Vic was clearly written for a much quirkier, more subdued actor, not a movie star known for playing both Batman and Jack Ryan. Rather than seem miscast, Affleck connects with the tortured inner psyche of the character, is both moving and intense (the former during all of his scenes with Gracie Jenkins, great playing his onscreen daughter) and made me root for him long after I should have.
The talented de Armas has a trickier assignment, as her character alternates between being admirably uninhibited and loathsome. Some may accuse this of misogyny, but Lyne, always happy to nudge the audience in the ribs and force them to take sides, has it both ways.
Melinda may have a petulant, self-destructive attitude towards her husband but, after all, she may be married to a man capable of horrible acts.
RELATED: We Owe Ben Affleck's 'Daredevil' an Apology (and a Second Look)
I often questioned who the more objectionable spouse was throughout "Deep Water" and found my loyalty to the characters frequently shifting. Lyne is dealing with sensationalistic potboiler material that, in lesser hands, would have been fodder for a Lifetime TV movie.
Instead, while this is more crowd pleasing than insightful overall, it's far better than the likes of "The Girl on the Train" or the recent "The Girl in the Window."
As expected from the director, "Deep Water" is beautiful, deeply involving, full of great character actors enhancing limited supporting roles and lingers in the mind afterwards, nagging us with unanswered questions. As with his prior thrillers, we're meant to question what we'd do if we were in the shoes of either leads.
Perhaps Lyne will never top "Fatal Attraction," not only in terms of the caliber of thriller it still is but also how it rattled its audience so profoundly; it became a conversation piece for the zeitgeist that never ended (in fact, a televised version is set to air later this year on Paramount+).
If Lyne is going back to the genre that he greatly impacted and elevated, at least it's with a work that is unafraid to take chances.
RELATED: 'Allied' Sizzles with Old-School Heroism, Romance
It's unfortunate that Dash Mihok of "Ray Donovan" fame and Lil' Rel Howery are only on hand to play the exposition spouting "best friend" parts, though these roles are rarely this sharply cast. Playwright and character actor Tracy Letts steals all of his scenes as a visitor who immediately dislikes and doesn't trust Vic.
View this post on Instagram
I wish the ending were stronger, as things wrap up in a satisfying manner, but the film doesn't really go anywhere or have an overall point to make. There are some baffling touches, like Vic's tending to hundreds of snails (arguably the most ridiculous aspect here) and some third act edits, intended to reveal a major plot point, fail to clarify whodunit.
What the film establishes at the beginning is also true at the end – the cyclical effect of neglecting one's marriage will lead to its ruin. However, it's not even that easy here, as we're forced to either sympathize with the wife who is bored and stifled by a disappointing marriage or the husband that adores his wife but is flaccid in his attempts to tame her wild side.
As Lyne erotic thrillers go, the ending is still better defined than the conclusion of either his "Unfaithful" or the rotten-to-the-core "Indecent Proposal," but doesn't leave an impact like the unforgettable, crass (and famously reshot) finale of "Fatal Attraction."
Make no mistake: whereas the audience will feel frustration with these characters, Lyne only finds delight in toying with us.
Welcome back, sir.
Three Stars