Industry News
Opinion
Amazon Taps Conspiracy Theorist Hillary Clinton to Mock Conspiracy Theorists
'Debunking Borat' hires Russiagate's most vocal backer to mock the Right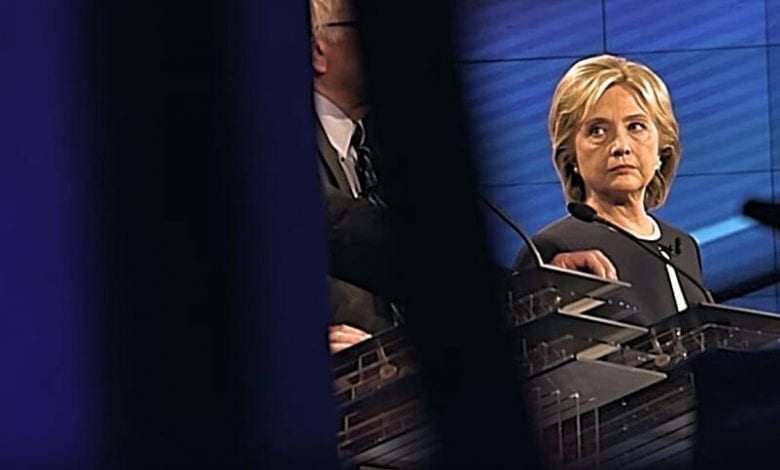 Conspiracy theorists exist on all sides of the political spectrum.
It's one cultural constant that connects us in these fractured times. Yet the left-leaning theorists rarely get the attention of the documentary community.
Consider the recent HBO six-part series, "Q: Into the Storm," looking at both Qanon and the Jan. 6 Capitol protests.
Q: Into the Storm (2021) | Official Trailer | HBO
Now, Amazon Prime is prepping a new docuseries examining two of the figures from the Oscar-nominated "Borat Subsequent Moviefilm" sequel. Comedian Sacha Baron Cohen's comedy spent serious screen time with two such conspiracy theorists.
Jim and Jerry believed COVID-19 was cooked up in a Chinese lab on purpose, for example.
The team behind the "Borat" sequel are behind "Debunking Borat," which reunites us with Jim and Jerry. This time, though, they meet "experts" who try to disown them of their conspiratorial ways.
That segment of "Subsequent Moviefilm" delivered few laughs, but there's something very funny about "Debunking Borat." The production hired a bona fide conspiracy theorist to help deprogram our befuddled heroes.
Hillary Clinton.
Yes, the star of the 2020 Hulu docuseries who lost to a political neophyte in 2016 and then spent four years screaming about a farcical Russiagate conspiracy will teach Jim and Jerry right from wrong.
It's unlikely the production team sees it that way, even though millions of clear-thinking Americans will spot the absurdity of the situation.
Debunking Borat from 'Borat Supplemental Reportings'
Here's TheWrap.com's description of the series, dropping May 25 on Amazon Prime:
"Debunking Borat" is a six-part documentary short special featuring Borat's two roommates, and each episode focuses on a different idea that they shared with Baron Cohen during the course of the film. Among the conspiracies they hope to debunk are whether the vaccine includes a microchip, whether mail-in ballots were a scam, whether the coronavirus was manufactured in China, whatever is going on with Bill Gates and George Soros, and most of all the Clintons.
Since "Borat Subsequent Moviefilm" wrapped, we've learned the China-COVID-19 connection is very possible, not the stuff of conspiracy mavens. Still, the mere presence of Clinton undermines the entire project.
How?
Clinton told anyone who would listen Russia stole the election on Trump's behalf. Proof? She had none, even while the media spent years propping up her theory.'
She even wrote a book about it.
Hillary Clinton Blames Russians, James Comey, Fake News For Her Defeat In 2016 | TODAY
As recently as September we learned Clinton herself may have created the conspiracy to help explain her devastating loss.
Ratcliffe's letter to Committee Chairman Lindsey Graham, R-S.C, asserts that in late July 2016, American intelligence agencies "obtained insight" into an analysis by Russian spies, which alleged that Democratic "U.S. Presidential candidate Hillary Clinton had approved a plan to stir up a scandal" against her Republican opponent, Donald Trump. The plan involved "tying [Trump] to Putin and the Russians' hacking of the Democratic National Committee."
Clinton kept pushing conspiracy theories as early as a few months ago, suggesting Russia and President Trump colluded to spark the Jan. 6 protests … without evidence.
She claimed that the president had 'other agendas' while in the White House, and said she hopes that one day it will become clear who Trump was 'beholden to' and who 'pulls his strings'.
Conspiracy theories can be maddening, especially to those unfairly targeted by them. The Pizzagate saga, for example, unfairly targeted Clinton as being part of a child predator ring.
Hiring Clinton to debunk other conspiracies, though, given her long history of spreading lies undermines "Debunking Borat."