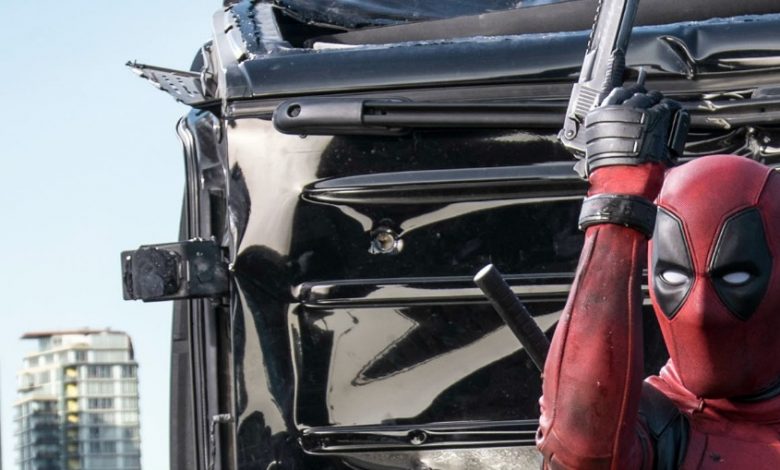 So why do we need social memes to remind us kids shouldn't be allowed near the "Deadpool" movie?
In "Deadpool Kills the Marvel Universe," the Merc with a Mouth lays waste to every beloved Marvel character in gruesome, but creative, ways. In "Dead Presidents," he hunts down and chops to bits the reincarnations of America's long-dead presidents. Everyone from Richard Nixon to George Washington feels his wrath.
Through psychotic behavior, nonstop quips and very adult adventures, Deadpool has become a cult phenomenon that extends from the comic pages through merchandise. It's all led up to "Deadpool," starring Ryan Reynolds as Marvel's most famous assassin.
Deadpool | 'Superhero Landing' | Official HD Clip 2016
While the film's creators are wearing the film's hard R-rating with pride, others pretend Deadpool is just another friendly Marvel character for their kids along with Captain America and Thor.
First came a petition on change.org where someone was seeking that the filmmakers create a PG-13 version of the movie that everyone can enjoy. Director Tim Miller said that would be next to impossible and moved on. It appears some people still pretend Deadpool is something other than the foul-mouthed, blood-soaked creation he is.
An image that very bluntly lays out the fact that the new movie is for adults and adults only has been going viral. The visual speaks directly to people questioning whether to introduce their young "Avengers"-loving children to the new film.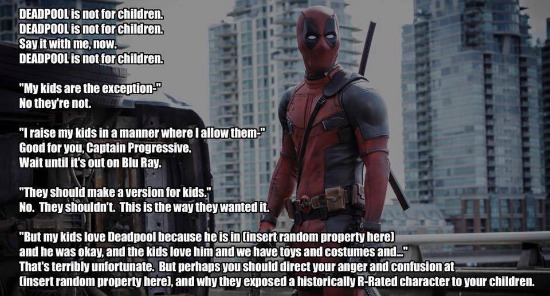 The image was even reposted on Facebook recently by the theater chain Smitty's Cinemas. The fact that the meme needed to be created in the first place, or that a theater chain shared it, speaks to a larger issue with audiences and content today.
We live in a time when studios are trying to market to absolutely everyone, including kids. Many franchises with R-rated beginnings have been turned into PG-13 reboots like "Terminator Genisys" and "The Expendables 3."
That PG-13 rating has been pushed by movies like "The Dark Knight" to contain a lot more than most think it should. There's now no clear line between the R-rated entertainment and everything else, unlike the '70s and '80s when studios knew how an R-rated movie should be handled.
The responsibility partly lies with both adults and the companies behind these characters. Parents are living in a wild west of content. They need to understand the place of a film like "Deadpool," the same way people understood where movies like "The Terminator" and "Alien" once fit in.
While it's possible for non-adults to enjoy an R-rated movie, it's still monitoring that businesses and social media should not be doing. This writer grew up on R-rated fare like "Die Hard" long before he "legally" should have, and he turned out fine (some would argue it's up for debate).
FAST FACT: China won't allow its theaters to show "Deadpool" due to its graphic content.
However, there's a difference between a teen watching "Deadpool" and enjoying the R-rated raunchiness, and a child adding a Deadpool action figure to his or her Avengers collection.
Studios have gone a little off the rails when it comes to marketing movies and various characters. They've forgotten the place of R-rated content and characters. Deadpool should never pop up in a kiddie cartoon, but he does anyway.
When studios market to one large audience it hurts the rest of us. It's why a movie like "Deadpool" had to fight so hard in the first place to exist in its full, R-rated glory.