Interviews
'Anchorman' Alum Koechner Puts Family First with Thriving Career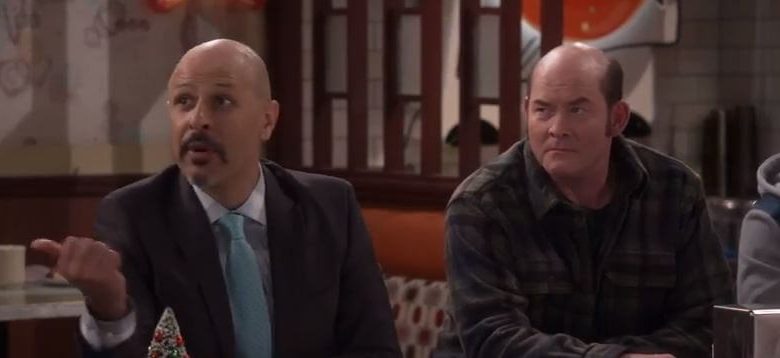 David Koechner has built a busy career playing oddball characters like Todd Packer on NBC's "The Office" and obnoxious sportscaster Champ Kind in the "Anchorman" movies.
He's now riding high as one of the stars of the hit CBS sitcom "Superior Donuts" amid a remarkable ensemble including Judd Hirsch, Katey Sagal and Maz Jobrani.
The Kansas City native and father of five has a particularly strong interest in children's charities, as the co-founder (with fellow comedy stars and Kansas City natives Jason Sudeikis, Paul Rudd, Rob Riggle and Eric Stonestreet) of the Big Slick weekend for Children's Mercy Hospital in his hometown.
Koechner recently appeared onstage doing standup in the "Jokes for Joy: Benefiting Once Upon a Room" show at the Ice House comedy club in Pasadena. The show helped the charity Once Upon A Room, which personalizes and decorates rooms for children facing long-term hospital stays.
He also works with the Los Angeles-based charity Children of the Night, which helps rescue girls ages 11 to 17 from lives in prostitution.
"All you have to do is Google human trafficking and you'll have tons of stories that will break your heart," Koechner says. "I was having a conversation the other day with a friend whose business is partly stopping opioid addiction, via an inhibitor.
"He's met with people all the way to top of Homeland Security, and he said what shocked him was how a head of Homeland Security said how bad human trafficking has gotten, people waiting in parking lots in vans for girls and then they're gone," he continues. "He's an ex-CIA guy who had his daughter taken, tracked the guys down in Mexico and killed them, then rescued her but she's never been the same. It's a huge problem and also men need to think twice what they do with their lives and their money that might possibly support human trafficking. It's as bad an epidemic as many things that go unnoticed."
Koechner moved to Chicago when he was 24, and started taking classes at the ImprovOlympic and Second City simultaneously. He was onstage within two months, and soon was performing four shows each weekend plus four classes each week.
Get Off the Shed: New Friends - SNL
He was hired onto "Saturday Night Live" in 1995 as the legendary show was regaining its footing after a disastrous season, Koechner got lost in the shuffle of new performers before getting dropped after one season. It was then that he moved to Los Angeles and quickly established himself as a go-to guy for playing misfits.
That "SNL" stint proved fruitful years later when he was cast in the "Anchorman" movies because he had befriended Will Ferrell and writer Adam McKay during his lone "SNL" season.

"I can't say if Champ was based on anyone specific, other than Will and Adam said Ron Burgundy was fashioned on a couple specific guys in the '70s TV news scene," says Koechner. "I got the character from the script. It wouldn't be a compliment to anybody to say Champ was based on them, because he was a complicated, conflicted guy. The funny was on the page and they gave us the freedom to run with it.
"I would say the door is always open [to a third "Anchorman" film}," he continues. "Not only myself but Will and Steve [Carell] and Adam and Paul [Rudd] all get asked," he continues. "When Adam was doing press for [his Oscar-winning movie] 'The Big Short,' at the end of that exhausting process he finally said 'Yes, but it's gonna be 11 more years, " because that was the stretch between first and second one."
Official Anchorman 2 Trailer
With more than 170 TV and film roles to his credit, Koechner has appeared – like almost any actor – in a mix of hits and misses. Yet he's unusually open about how actors wind up in the kind of odd roles that make fans wonder "How did that happen?"
"It comes down to reality. As we know in life, eventually everything comes down to economics," explains Koechner. "I have a wife and five kids. That weighs heavily and first in my decisions. I rarely turn down work and trust me I know there's some stinkers in there. There's some good ones too. 'Scout's Guide to the Zombie Apocalypse' is a fun one, plus I never played a zombie before. 'Snakes on a Plane' was fun, but others I won't name are regretful.
"As a kid you wondered why you saw your stars in some less-than movies and that's a paycheck. Everyone has a reason to do what they're doing. It's like politicians and why they vote for this or that measure? They're getting their pockets padded. Certainly now, it's never been more corrupt."
I have a wife and five kids. That weighs heavily and first in my decisions.
One role he's particularly proud of presently is "Superior Donuts," which follows the comedic misadventures of a group of diverse denizens at a donut shop in Chicago. Koechner was offered the role of Carl "Tush" Tushinski, a customer with a million get rich quick schemes, without even having to audition – a rare honor for actors.
"I was fortunate, I've been doing this a long time and I had a few people who had known my work over at CBS and I was fortunate enough to be given the role," says Koechner. "But I think it was my turn. I've been doing this long enough, that it's probably my turn to be given one. We are blessed with a truly remarkable cast, who are not only deeply talented and professional but good people and we enjoy each other's company. We're blessed to put on this fun little play every week."
"Superior Donuts" airs at 9 p.m. EST Monday nights on CBS.