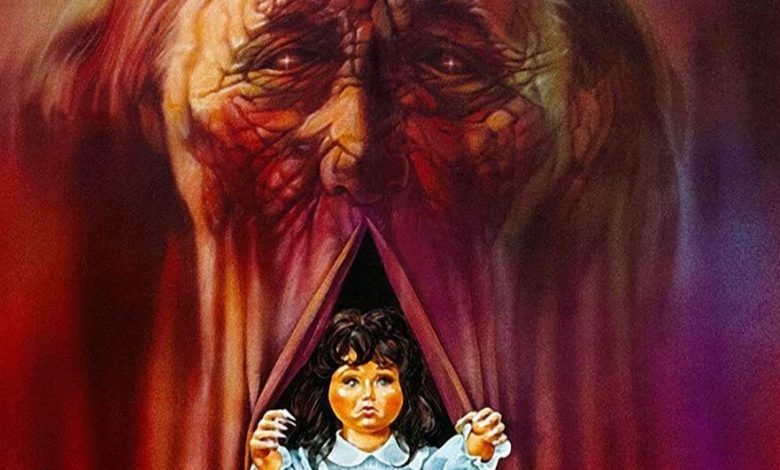 Every October, horror movie fans band together to declare the works they love and promote the ones that few remember.
This one is mine, as "Curtains" had a journey to maximum viewership as tortured as the women in the cast.
Most in the video store generation will remember the first time they encountered "Curtains," the under-appreciated horror cult gem from 1983. It was the eye-catching poster art that alerted curious genre buffs, as so many box art covers informed us of the lurid thrills that were initially bypassed in first-run movie theaters.
In so many cases, the promotional art was enough to reel us in (admittedly, many of these scary B-movies, like "Blood Beach" and "Horror Dog," couldn't live up to their promotional posters). In the case of "Curtains," it was the sight of an eerie looking little girl, looking at us through a wispy curtain…which is actually the hair of a frightening looking old woman.
"Hey Dad, can I rent this?"
Curtains (1983) Original Theatrical Trailer
Samantha Eggar (star of David Cronenberg's "The Brood") stars as Samantha Sherwood, an acclaimed actress who is a shoo-in for the title role in the next, hotly anticipated film from filmmaker Jonathan Stryker (played by imposing genre actor John Vernon).
Sherwood's commitment to landing the starring role in Stryker's "Audra" (never seen but clearly "Hedda Gabbler"-like actor bait) includes committing herself to an institution and studying mentally impaired women. This portion of the film is something of a prologue, as the full set-up comes into focus: a cluster of actresses have been invited to join Stryker at an isolated house, where they will audition, rehearse and basically prostitute themselves (literally, in some cases) to get the coveted role of "Audra."
Sherwood, post-institution, crashes the affair and fiercely opposes losing the role to younger, hungry actresses. Oh, and a masked killer (sporting the old woman visage from the poster art) shows up and kills them one by one.
FAST FACT: Samantha Eggar's first theater production, a performance of "A Midsummer Night's Dream," found her co-starring with Albert Finney, Lynn Redgrave and David Warner.
This far-above average Canadian shocker was originally filmed in 1980 on a $4 million budget, shelved and unfinished, only to have some pick-ups and re-shoots years later and dumped into theaters without leaving much of an impact. As a video store find and cable staple, word of mouth started to mount.
Most DVDs of "Curtains" are out of print (including one where a fuzzy lift from a VHS copy was shoehorned with five other horror titles). A recently released, cleaned up, Collector's Edition Blu-ray of the film from Synapse Films offers a definitive, better-late-than-never restoration (more on that later).
I just watched Curtains(1983) in HD on YT channel Horror Flix. Cool #80s #canadian #slasher Starring Genre Legend John Vernon,Samantha Eggar & Michael Wincott. Recommend by @billburr on his Podcast.That Ice Skating kill scene is 😂😂😂 but Brilliant also. #horror #cult #trash pic.twitter.com/0O8VSFqroI

— grendelvaldez (@grendelvaldez) October 7, 2019
"Curtains" fascinates with its portrait of women struggling to sell themselves (in every sense) for their male director, in order to inhabit a showcase role that will possibly propel their careers. The tremendous post-production difficulties that plagued the filmmaking do occasionally show up in editing inconsistencies: the doll of a little girl (the very one on the poster) makes random appearances that are never explained and a climactic tumble out a window is presented in an oddly anti-climactic way.
Yet, if viewed as a depiction of a frame of mind, particularly the anguish, insecurities and determination of the women present, the doll adds to the proceedings, which sometimes feels dreamlike and rife with symbolism. Perhaps the doll is a representation of lost innocence, as the women compromise themselves and play the role of compliant performer.
Despite its painful trip to theaters, "Curtains" is arresting and wild, fondly recalled for its bizarre skate n' slash sequence but offering so much more than just one signature set piece. As an actor's ensemble, its stronger than most in the genre, especially during this era.
Vernon and Eggar give commanding turns and Lynne Griffith ("Strange Brew"), in a key turn as a stand-up comic who joins the casting call, is terrific. If the horror scenes give the film its entertainment value, then it's the performances that anchor it.
RELATED: HiT Rewind: 'April Fool's Day'
The prologue, which begins with a surprise reveal and becomes jarringly dark, pulls us in immediately. Sherwood's dedication as a method actress is tested in full, as she lives among the mentally unstable (memories of "Shock Corridor" and "One Flew Over the Cuckoo's Nest" come to mind).
No one should have to sacrifice so much for a movie role.
In the end, the striking, tragic final scene (somewhat similar to the finale of "Happy Birthday to Me") unveils what this has been the whole time: a feminist slasher movie and an unlikely but potent depiction of female empowerment.
Taking place in a creative atmosphere in which a male figure is in control, the women competing against one another for the much sought after role gradually either give in or push against the psychological abuse they endure.
"Curtains" is unique in this regard – it's a stalk n' slash '80s horror movie but also a tense psychological mystery that comments on the notion of the "casting couch" and abuse within the system. It is probably too pulpy for some to be viewed as a profoundly female-driven horror movie, but that's exactly what it is.
Full of stunning, nightmarish bits (like the sequence with the doll in the road, as well as the memorable finale) and chilling moments, but it's most intriguing as a commentary on what many actresses endured in a pre-#metoo movement environment.
RELATED: How 'Terror in the Aisles' Nailed '80s Horror
The 2014 Synapse Blu-ray Collector's Edition release is a gift for the film's fans or anyone curious about how such as troubled production could survive multiple directors and lengthy tinkering. A great documentary, "The Ultimate Nightmare – The Making of Curtains" provides candid interviews with stars Griffith and Lesleh Donaldson, original director Richard Ciupka (who notes how the onscreen director credit is the name of Vernon's character!) and other production members who tell all.
Everything from the film's status as a Canadian tax shelter production (from the producer of "Prom Night"!) to its editing woes, in-limbo post-production status and the indignity of seeing it opening day in a sleazy run-down theater is covered.
It is probably too pulpy for some to be viewed as a profoundly female-driven horror movie, but that's exactly what it is.
The new 2K high-definition transfer looks great (the film has never looked so crisp and beautiful). There's also a lively, engaging commentary from Donaldson and Griffith, behind the scenes footage and the trailer. As a longtime fan with an ongoing curiosity as to how this film came to be, the Synapse release is not merely satisfying but definitive.
Outside of "Halloween" and "Black Christmas," most 20th century horror films used their female cast members to merely provide titillation and screams but not this one. "Curtains" knows that, in some cases, the only thing worse than a crazed killer on the loose is putting up with a sadistic chauvinistic film director.