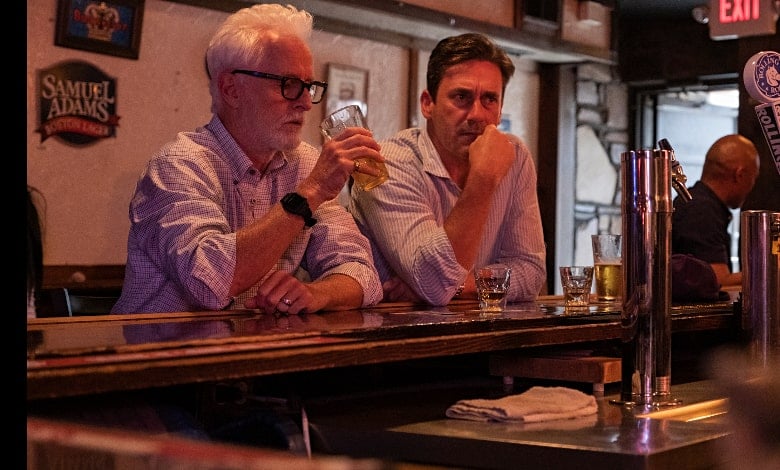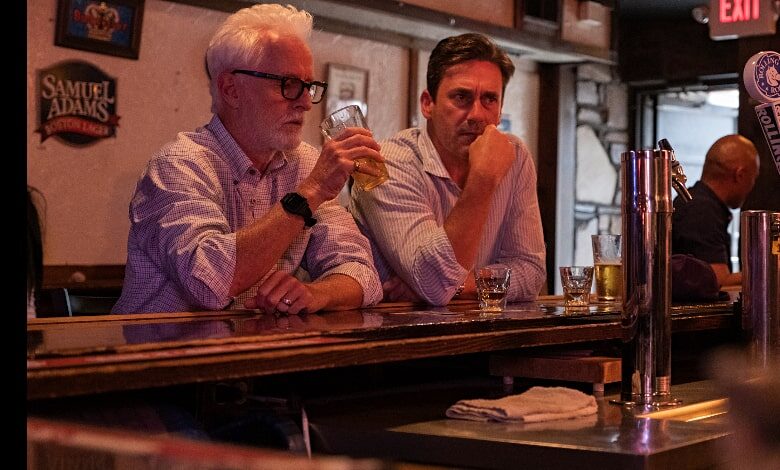 Jon Hamm is no Chevy Chase, nor does he need to be in "Confess, Fletch."
The Fletch reboot casts the "Mad Men" star in the role Chase immortalized in the 1985 comedy and its inferior 1989 sequel, "Fletch Lives."
Producers considered several stars to take over for Chase since the '80s. Think Ben Affleck. Jason Sudeikis and Jason Lee.
Except the latest team holding the rights to author Gregory Mcdonald's character wanted a grittier version of I.M. Fletcher. That, plus an absurd series of aborted projects, led us to Hamm.
And he's surprisingly solid despite being better known for his dramatic work.
Confess, Fletch (2022) Official Trailer | Jon Hamm
Hamm's Fletch isn't a newspaper scribe any more. He's retired, focusing on both freelance pieces and the occasional mystery. The latter entangles him in a tortured case of a missing millionaire and his expansive art collection.
Fletch falls for the man's comely daughter (Lorenza Izzo), but when a dead body appears in Fletch's temporary home he's got a new problem.
The local cops think he's the killer. Thus, "Confess, Fletch."
Hamm's Fletch will have to clear his name, figure out where the million-dollar paintings went and more before it's all done.
Screen Rant has an exclusive clip from #ConfessFletch, featuring Marcia Gay Harden as the delightfully kooky Countess Degrassi coming in to upend Jon Hamm's attempts at an investigation: https://t.co/PXfzfePxMY pic.twitter.com/oFKyNClctw

— Screen Rant (@screenrant) September 12, 2022
The film isn't an instant classic, and there's a curious anger at Fletch's very existence, but it's still a witty take on the character.
Hamm's Fletch isn't a fighter, although Mcdonald previously described him as a former Marine. He's quippy but qualified, a sleuth who uses his reportorial chops to get things done. And, yes, he assumes several identities, but you won't see him wearing false teeth or any other over-the-top guise a la Chase.
This Fletch has no interest in any steak sandwiches, either. He still makes us smile, and Hamm's droll delivery deserves plenty of credit.
"Are you hungry, Fletch?"
"No, I ate yesterday."
Sure, it's a throwaway line, but Hamm crushes it.
The first half hour is full of those quips, and for a while it powers the production. At some point, though, we need to feel invested in the crime caper as well as the assorted characters.
It never happens.
Like too many comedies, the laughs dry up in the third act but stage a late recovery. Some secondary characters sizzle (Marcia Gay Harden's thickly accented matriarch calls our hero "Flesh" and it'll make you smile every time). Yet Eugene Mirman of "Bob's Burgers" fame appears twice without registering a single snicker.
Gene Belcher deserves a second chance.
Far better are the cops who think Fletch is the prime suspect. Roy Wood, Jr. and Ayden Mayeri give Fletch fits, and vice versa. Mayeri's clumsy crime-sleuthing is a delight, an anti-Mary Sue strain that's more than welcome.
So why does "Confess, Fletch" feel compelled to torch its own hero? He's attacked for his so-called White Privilege and called an imbecile in the third act.
We're even treated to an out-of-the-blue slam against police officers, as if the producing team forgot the obligatory woke nods Hollywood demands.
Fans waited 30-odd years to see Irwin M. Fletcher again. The least "Confess, Fletch" can do is respect those patient souls.
HiT or Miss: "Confess, Fletch" proves we still need a wise-cracking character like Irwin M. Fletcher, but he deserves a richer mystery to solve next time 'round.