Industry News
Opinion
'Truth to Power' Colbert Fawns Over Biden, Karine Jean-Pierre
Far-left host makes embarrassing display of affection for flailing leader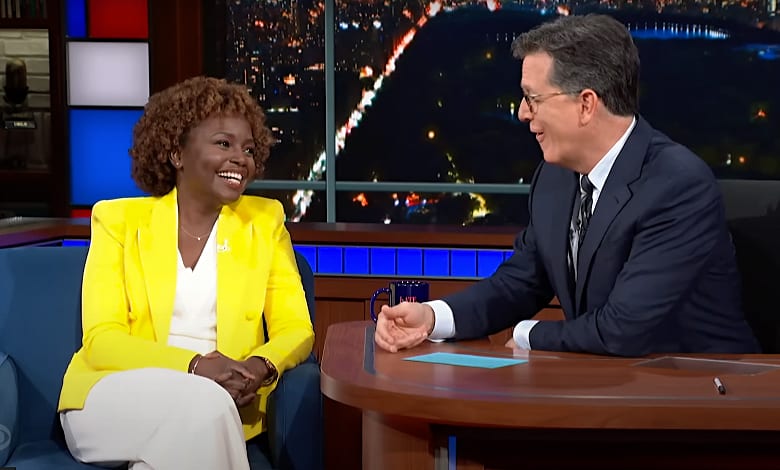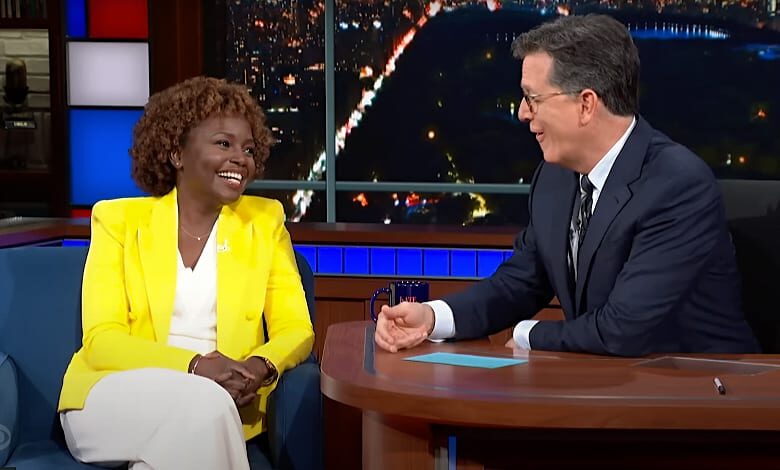 That didn't last long.
Just days ago "The Late Show's" Stephen Colbert joined his late-night competitor Jimmy Fallon in mocking President Joe Biden. The comic tide had turned, or so it appeared. All those lousy poll numbers and gargantuan gaffes finally forced late-night comics to train some jokes at Team Biden's direction.
Now, he's all but making goo-goo eyes at a leader many are begging to forego a second term.
What changed?
The Democrats finally passed some sizable legislation. The Inflation Reduction Act, initially celebrated by our corrupt press, now suggests it may do the opposite of its titular goals.
Perhaps it was still enough to coax Colbert to stop poking fun at Biden.
Either way, the so-called comedian fawned over press secretary Karine-Jean-Pierre last week, a flack whose cringe-worthy appearances are nothing less than embarrassing.
Karine Jean Pierre please take a communication 101 class. You look down more than 50 percent of the time often reading notes. Bleary eye contact and come better prepared. Jen was 1000 times better.

— Tom in NY (@TominLA3) August 14, 2022
If there are no notes to read, the @PressSec is unable to function.

— Lee Shook (@HangOnHelpComin) August 9, 2022
Karine Jean-Pierre is no Jen Psaki. She's literally reading notes from the podium. Her performance has been consistently unimpressive. The biggest problem for this White House is its inability to communicate, and I do not think she is up to the task.

— Liberal Paul (@RealLiberalPaul) August 9, 2022
Has a press secretary ever rifled through her prepared notes quite like Jean-Pierre? Seems like a tic late-night comics might feast upon, but apparently not.
How Karine Jean-Pierre Feels When Her Boss Joe Biden Gets Dragged On Late Night TV
Colbert threw softball after softball during his Jean-Pierre chat, but the Q&A found its low point with the following exchange:
Colbert gently asked if Biden disliked him for occasionally poking him from his late night perch.
"Absolutely not and the president gets that. The president absolutely gets that" Jean-Pierre replied.
Colbert then begged her to make Biden be a "Late Show" guest, apparently forgetting the president's pathetic appearance on "Jimmy Kimmel Live."
"Is he going to come on? Is he going to come on?" "Is he going to come on? Because he's been on Kimmel, and he's been on Fallon, but he hasn't been on my show."
It got worse.
"Well [Biden] loves you," Jean-Pierre added.
"What? And I love him," Colbert responded.
Of course Biden loves Colbert.
The CBS host is a walking, talking in-kind contributor to the DNC. He's looked the other way as Biden stumbled, bumbled and blathered his way through nearly half of his presidential term.
He also spent more than a year doubling down on the fake Russian collusion scandal.
The White House should send "The Late Show" a monthly cookie bouquet for services rendered.
Why is a press secretary from either party being feted on a late-night show in the first place?
RELATED: LATE NIGHT TV HOWLS AS BIG TECH CENSORS TRUMP
This late-night embarrassment is hardly new.
Jimmy Fallon repeatedly uses his platform to unabashedly promote Democrats. He "slow jammed" the news to aid President Barack Obama, for example.
Fallon also let failed presidential candidate Michael Bloomberg leverage the iconic "Tonight Show" stage to prop up his reeling campaign.
Perhaps the bit that aged the worst, though, is Fallon's obsequious chat with Gov. Andrew Cuomo. The New York Democrat eventually fell from grace following a potpourri of scandals, including sexual abuse allegations and his disastrous handling of the COVID-19 pandemic.