Industry News
Man Crashes Chrissie Mayr Performance, Punches Audience Member
Free-thinking comic fears she'll need protection for future stand-up gigs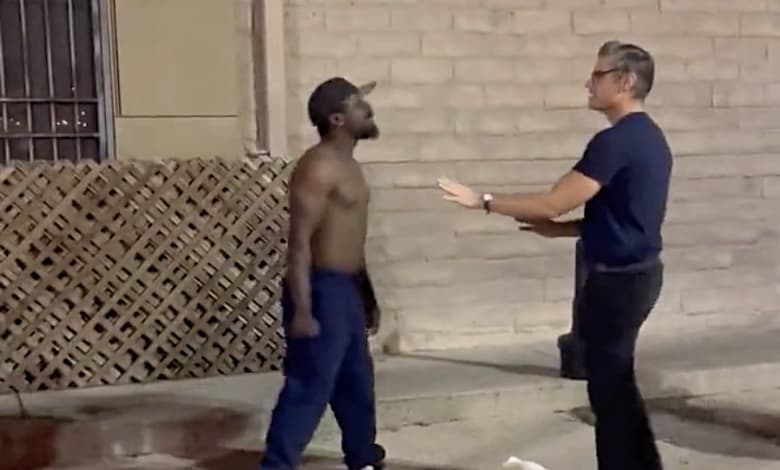 Chrissie Mayr is both brutally funny and self-aware.
The New York-based comic knows her rebellious routines cast her outside Hollywood, Inc. She's anti-vax mandates and pro-free speech, and she playfully dubbed her recent comedy album, "LIVE from January 6th."
That means her career will never be as big as a Chappelle, Gaffigan or Colbert. And she's made her peace with that.
What she's struggling to wrap her mind around is the sudden need to protect herself on the job.
In May, a group of women heckled Mayr mid-gig for telling a trans joke. Except the women did more than bark their complaints. They kept the incendiary comments going and, later, trashed her merchandise display after the show.
Guests leave show after comedian Chrissie Mayr jokes about trans ideology https://t.co/RKZYFp8Hkq #FoxNews

— BigBayas (@LiberalLies7) May 14, 2023
What happened last Friday was much worse.
Mayr was performing outdoors at the Pineapple Hill Saloon & Grill in Sherman Oaks, Calif. when a black man approached the property's wooden fence. The intruder began interrupting the show five minutes into the set, according to Mayr.
The comic, who was able to record much of the fracas, tried to turn the awkward moment into just another crowd work segment.
"I'm making jokes from the stage … maybe he's a fellow insurrectionist?" she cracked, playing on her MAGA-friendly brand. "There was nothing I could say from the stage to calm him down."
Drunk Heckler KNOCKS OUT Fan at Chrissie Mayr Stand Up Comedy Show in Los Angeles, California
Meanwhile, the man wanted to enter the club and recite his poetry, as if it were an open mic night. A few patrons tried to calm the intruder down with little success.
Another patron approached the now shirtless man in hopes of settling him down. The intruder threw a quick, vicious punch at the patron's head and he collapsed.
"He loses consciousness in the air. He didn't break his fall. He folded up like a beach chair and fell onto the concrete. It was horrible to watch," she said, adding no one from the club stepped up to protect her or escort the man from the property.
"What's to stop the guy from coming at me?" she asked, looking back at the incident.
RELATED: COMEDIANS UNDER ATTACK: THE NEW NORMAL
The man fled when police approached the club, and Mayr said he was later arrested.
"It's L.A. He'll be back for the Saturday night show," Mayr quipped.
Looking back, Mayr said the incident gave her pause about future club appearances.
"I've had hecklers, but I've never had someone charge the stage … this kind of behavior is either more common or permissible. Maybe it's a sign to me to hire my own private security," she said. "You worry a little bit more as a woman. I'm not big or strong enough to fight anyone off."
The fracas isn't an isolated incident.
Comedian Dave Chappelle was attacked on stage last year by a man who had a knife on him. Will Smith famously slapped Oscar presenter Chris Rock after hearing a joke about his wife he didn't appreciate.
Leslie Jones Says Will Smith Oscars Slap 'Really Affected' Chris Rock: It Was 'Humiliating' (Exclusive) https://t.co/HjCPpEPxmL

— People (@people) September 14, 2023
Chappelle's fans were physically attacked by trans activists last year at Minneapolis's Varsity Theater after another club bowed to the woke mob and canceled the comedian's show.
Comedians Josh Denny and Anthony Cumia keep their stand-up appearances a secret until closer to show time to keep Antifa from shutting the gigs down.
The New York Post reported last year that comedy clubs are increasingly worried about angry fans rushing the stage.
Curtis Shaw Flagg, 37, president of The Laugh Factory in Chicago, told The Post he's seen an alarming uptick in incidents over the past year, as people feel increasingly emboldened to lash out if a comic displeases them.
"Not long ago, we had a patron stand up in the middle of a performance and say, 'I will be outside waiting for you, I'm going to kill you,'" Flagg said. "After the show, we did a sweep of the outside and there was no sign of the guy, and the comic left unharmed. But nobody felt safer."
Mayr's May incident directly tied into her irreverent nature. The more recent fracas had more to do with mental illness or substance abuse than political differences, but it still left her wondering about future performances.
"Most comedy clubs do have security and bouncers, especially the chain clubs," she said. "I'm not a mainstream comic due to my politics. Maybe I do make myself a little more vulnerable."
Happy Birthday to the iconic @MsBlaireWhite!!! pic.twitter.com/d6ogludnYC

— Chrissie Mayr🇺🇸 (@ChrissieMayr) September 14, 2023