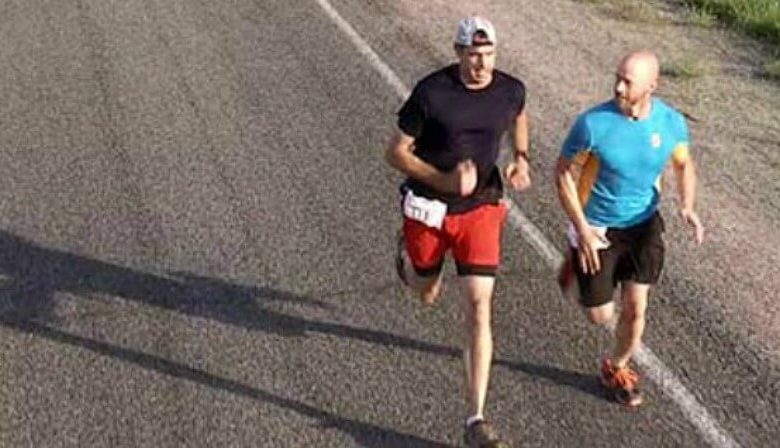 You'd expect Liberty University students to be thrilled working with veteran actor Chris Ashworth on "Extraordinary."
If so, Ashworth says the feeling was mutual.
"I got goose bumps," "The Wire" actor says about his time making "Extraordinary," what Liberty University calls the first student-driven film to snare a nationwide release.
"I was humbled just to be able to work with those kids," Ashworth says. "We all start at zero [in Hollywood] unless you're Tori Spelling or Nicolas Cage. Even then, you still have to do the work."
The work behind "Extraordinary" helped bring an inspirational tale to the big screen. More than 600 screens, to be exact, for one night only.
Extraordinary: Official Movie Trailer
The film follow Liberty University exercise science professor and ultra-running legend David Horton. The runner's exploits inspired countless students, but he struggled to balance his athletic dreams and his marriage.
Ashworth isn't the only recognizable name in this "student" film. His co-stars include Kirk Cameron, Christian comedian Leland Klassen, Shari Rigby ("October Baby") and Karen Abercrombie ("War Room").
Scotty Curlee, assistant professor of cinematic arts with Liberty University, serves as the director and co-writer with Cheryl McKay. Sixty Liberty University students helped assemble the film, learning the craft all the while.
"The
Click To Tweet
as a curse word"]
For Ashworth, the project reunited him with Curlee, an old friend, and his Virginia roots. And many student films can't match what "Extraordinary" delivers.
"Even though it doesn't have the studio backing Liberty has so much of the top gear … stuff that I'd see on 'Terminator: Salvation,'" he says, one of Ashworth's many credits. "It comes out to be a top-tier production."
We're all given talents, abilities, and dreams. If we're not using them for #God's glory, we're misusing them. His glory is why we're here.

— Chris Ashworth (@TheRealAshworth) October 15, 2014
"Extraordinary" gave Ashworth a chance to act on a film with something Hollywood often ignores: an uplifting message.
"So many projects I work on now, mainstream [projects], can be intense or gritty. It seems often that less projects are inspiring or encourage us. We need more of that," he says.
Ashworth is unabashedly Christian and proud to be supporting Liberty University. He's also glad to star in a film where the Lord's name is used properly.
"The only time I see God incorporated in scripts is when they use [His name] as a curse word," he says. "That saddens me."
FAST FACT: A casting director convinced a skeptical Ashworth to tell "The Wire" producers he was from the Ukraine to land a role on the series. He did as told and snared the iconic role.
The actor's conservative principles make him the exception on your standard film or TV set. His fellow GOP voters are often the ones staying silent between takes, he says.
"It's almost a given if you work in Hollywood you're liberal," he says. "I'm not gonna go to Trump for my spiritual advice, but I voted for him."
Ashworth is keeping busy beyond his "Extraordinary" work. He's working on a Navy SEALS passion project and reveals he'll be part of "Sneaky Pete's" second season on Amazon.
No matter where his career goes next, Ashworth stays laser focused on one unchanging fact.
"I serve an audience of one, and that's God," he says.
---
"Extraordinary" plays for one-night-only Sept 7 via Fathom Events.