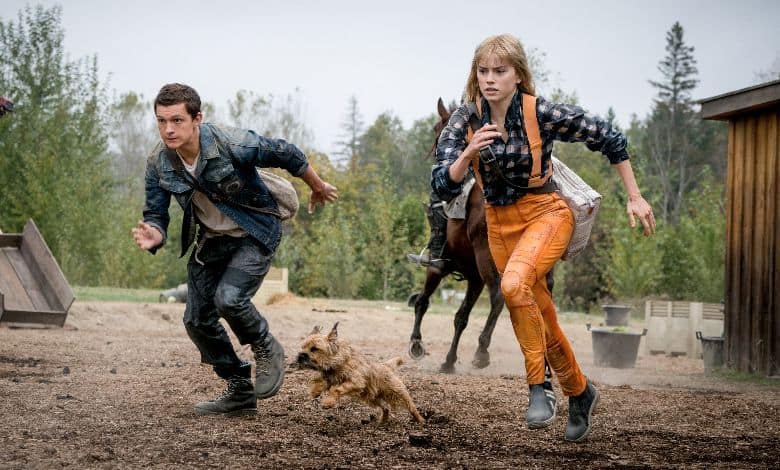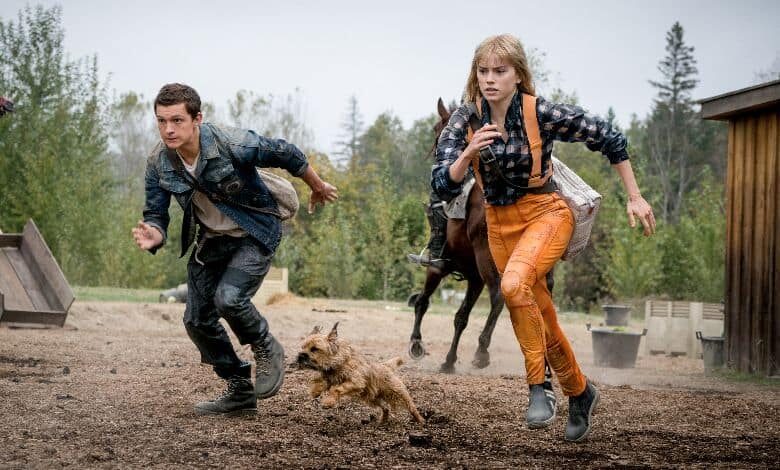 Doug Liman's "Chaos Walking" has been covered heavily in the press, stating it underwent extensive re-shoots and is a "troubled" film.
The end credits even list "Additional Editing" and "Additional Scoring."
It sure sounds like a disaster-in-waiting, but the end result isn't a botched or even a bad movie. In fact, it's an enjoyable sci-fi/western and an exciting feature-length chase film.
Chaos Walking (2021 Movie) Official Trailer – Daisy Ridley, Tom Holland, Nick Jonas
Tom Holland stars as Todd Hewitt (same initials!), one of the hundreds of men living in a desolate community where every male is afflicted with "noise," a condition where all your thoughts are audible and sometimes even visible.
In this distant future, the woman are dead, the men can hear each other's grumbling thoughts while they work the land and a hardened mayor (Mads Mikkelsen) oversees the law. When a spaceship crash lands and Viola (Daisy Ridley) is the only survivor, Todd decides to protect her by taking her deep into the woods, on a quest for a safe haven away from all the "noise."
It's based on Patrick Ness' 2008 novel, "The Knife of Never Letting Go," the first of the "Chaos Walking Trilogy." Why is it called that? Because of this opening title card: "Noise is a man unfiltered, and, without a filter, a man is just chaos walking."
Fun fact: Chaos Walking was my nickname in high school. Just kidding, I wish! My high school nickname during freshman year was Berry's the Worst.
Kids can be mean.
The early word on "Chaos Walking" pegged it as a disaster, this year's "Jupiter Ascending" or another "Jumper" for Liman. The latter is the Hayden Christensen-led sci-fi actioner that was also based on a YA novel and positioned to be the start of a franchise that never took off.
I suspect we'll never see another of "The Chaos Walking Trilogy," if only because of all the trouble that went into making this one, but I would welcome another sequel if it belatedly come to be.
Chaos Walking (2021) Official Clip "Do You Know Where You're Going" – Tom Holland, Daisy Ridley
It's refreshing to see Holland play an unlikable character (a nice contrast to his eager-to-please turns in the recent "Spider-Man" vehicles). Ridley's unconvincing blonde hair is the only distraction to her performance, as she's solid here and carries the film. Her character is introverted, unlike Holland's "noise"-powered chatterbox, who's always yapping.
David Oyelowo is too good to be playing one of the key villains. He's scary as a bullying religious nut with especially violent "noise" but a lesser character actor (and not the man who once played Dr. Martin Luther King Jr.) should be playing this role.
Cynthia Erivo is excellent as the mayor of an off-the-grid town, while Nick Jonas wanders around in a few scenes, lacking a proper character or direction (Note to Mr. Jonas: instead of randomly appearing in ensemble pieces, please wait for a proper film vehicle).
Liman's debut film, "Swingers" (1996), was no indication of the sought-after action movie director he would later become. His best films, "The Bourne Identity" (2002), "Mr. and Mrs. Smith" (2005), "Edge of Tomorrow" (2014) and "American Made" (2017), were all plagued with production problems ("The Bourne Identity," in particular, was pegged as a disaster before opening), putting "Chaos Walking" in good company.
The Bourne Identity Official Trailer #1 - Brian Cox Movie (2002) HD
Only in the final patch did I detect the reshoots that took place, as Holland and Ridley's hair looks different, and a main villain has a rushed and poorly staged CGI death scene. Otherwise, it's been expertly packaged together.
The visual effects are beautiful, the percussive score adds to the fleet footed pursuit sequences and there's enough chemistry (mild as it is) between the two leads, though the relationship of their characters doesn't progress as one would expect.
Had "Chaos Walking" ended on a high note, it could have resulted in a minor classic. As is, the ending isn't as spectacular or emotionally satisfying as I'd hoped, but its also not the washout I feared.
There's a potent depiction on hand of how the cult of personality can harness the masses and the way our thoughts can be weaponized.
The gimmicky but arresting concept of the "noise" is skillfully conveyed and must have been a nightmare to execute. There are extensive special effects in every single scene as a result. Thankfully, there's also enough touches of humor to give the comedy-ready concept (a planet of men with cumbersome, audible thoughts) some levity.
"Chaos Walking" is imperfect and not "Logan's Run" but still better than many YA novel franchise non-starters (I'm thinking of "Eragon," "The Host," "The Mortal Instruments: City of Bones" and too many others to list).
I suspect "Chaos Walking" will find an audience belatedly who, like myself, will be surprised that is surpasses all the awful things written about it and is actually an engaging film with an original premise.
Three Stars