Lists
11 Times Celebs Wished [or Imagined] Trump Dead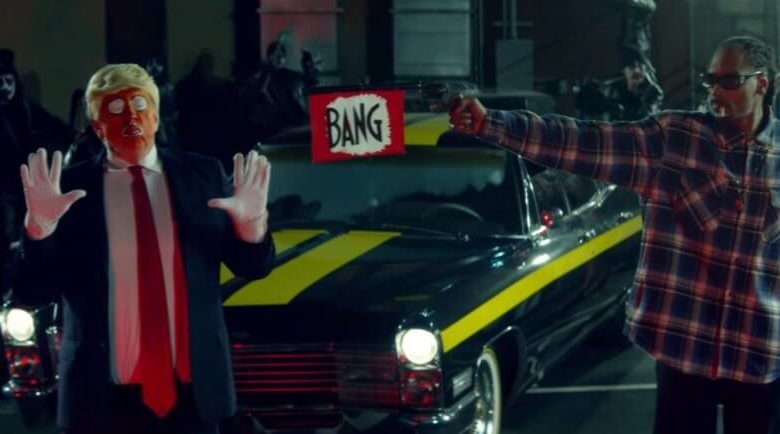 The 2006 docudrama "Death of a President" shocked pop culture observers.
The film hit theaters as fury over President George W. Bush had hit its zenith. The movie featured a grim depiction of Bush's death by an assassin mourning the death of his son during the Iraq War.
Death of a President - Trailer
The film packed plenty of political commentary about Bush's policies, fear of an authoritarian state and Vice President Dick Cheney's allegedly dark impulses.
Two theater chains opted against showing "Death" in their movie houses. Both CNN and NPR decided against running ads for the film, which earned a top prize at the Toronto Film Festival.
Say what you will about the film's presentation or its moral implications. The filmmakers had something to say and they framed their message in a docudrama format.
That was then.
Today, some celebrities simply can't stop wishing for President Donald Trump's death. There doesn't necessarily have to be a message attached to said wishes, though. And while "Death of a President" didn't wallow in Bush's final moments, that isn't the case with the celebrities listed below.
Kathy Griffin
Griffin permanently altered her career by posing with a bloody Trump head held high in true ISIS fashion. This self-admitted D-lister went from a plucky pop culture observer to a far-left comic throwing friend and foe alike under the bus.
Griffin initially apologized for the photograph in question. Then she un-apologized. These days, she's making the most of her status as one of comedy's most risible anti-Trump voices.
Larry Wilmore
The host of the failed Comedy Central program "The Nightly Show" was joking – or was he? – about one way to eliminate Trump from the political scene circa 2016.
"I don't want to give him any more oxygen. That's not a euphemism, by the way. I mean it literally. Somebody get me the pillow they used to kill [Supreme Court Justice Antonin] Scalia and I'll do it — I'll do it!" he said, then demonstrated. "I could get in trouble for that, actually!" Wilmore added, sheepishly, as the audience laughed.
He didn't get in trouble for that. His show did, however, get the ax for lousy ratings.
Big Sean
The rapper's freestyle rap on Hot 97 radio in New York included this verse:
And I might just kill ISIS with the same ice pick, That I murder Donald Trump in the same night with.
Rick Ross
The rapper's 2017 video for "Free Enterprise" include the verse, "assassinate Trump like I'm Zimmerman." The line references Trayvon Martin's death at the hands of George Zimmerman, a highly disputed case that cause rancor and protests nationwide for months.
Charlie Sheen
Sheen and controversy go hand in hand. He's bragged about winning above all else, touted the power  of "tiger blood" and inspired more TMZ headlines than the cast of "Saved by the Bell." Yet the actor's cry for Trump's death drew precious little attention.
Dear God;

Trump next, please!
Trump next, please!
Trump next, please!
Trump next, please!
Trump next, please!
Trump next, please!

🖕🏾

©

— Charlie Sheen (@charliesheen) December 29, 2016
The message came after singer George Michael's passing at the age of 53.
Joss Whedon
The "Avengers" director is one of Hollywood's most unhinged political commentators. Yet this Tweet went beyond the pale even by his standards.
Here's the text from his April Tweet regarding the president:
"Donald Trump is killing this country. Some of it quickly, some slowly, but he spoils and destroys everything he touches. He emboldens monsters, wielding guns, governmental power, or just smug doublespeak. Or Russia. My hate and sadness are exhausting. Die, Don, Just quietly die."
Madonna
The Material Girl is no more. Now, she's an aging shocker desperate to stay relevant in the age of Lady Gaga and Miley Cyrus. Perhaps that's why she shared this confession at the first Women's March in 2017.
"Yes I'm angry, yes I'm outraged, yes I have thought an awful lot about blowing up the White House," said the foul-mouthed pop singer, "but I know that this won't change anything."
Pearl Jam
The grunge band's lead singer, Eddie Vedder, has been a vocal Trump critic. Pearl Jam's bassist Jeff Ament took that criticism one step further. Ament whipped up a concert poster for his band in August. The swirling visuals included the body of President Trump being pecked by an eagle near a burning White House.
Snoop Dogg
The ganja loving rapper's recent music video, "Lavender," played up President Trump as a clown like figure. Literally. The music video didn't stop there. The clip shows Dogg shooting a toy weapon at Trump. The screen goes abruptly blank.
SNOOP DOGG - BADBADNOTGOOD - Lavender (Nightfall Remix)
Ellen Barkin
The actress roared back courtesy of TNT's "Animal Kingdom." The show casts her as a villain, a performance that .
She took that villainy to the real world this week courtesy of this tweet:
this man should be removed…and not just from office https://t.co/CRa5z4huG9

— Ellen Barkin (@EllenBarkin) October 1, 2018
The Tweet, in case she deletes it, references Trump: this man should be removed…and not just from office"
Here's some important context:
An obscure rodeo clown who mocked President Barack Obama lost his job, endured death threats and received a lifetime ban from the Missouri State Fair.