Industry News
Opinion
Celebs Tell Resting Biden Not to Rest During Hostage Crisis
A-listers praises president's 'moral conviction' while admin sends $$$ to Hamas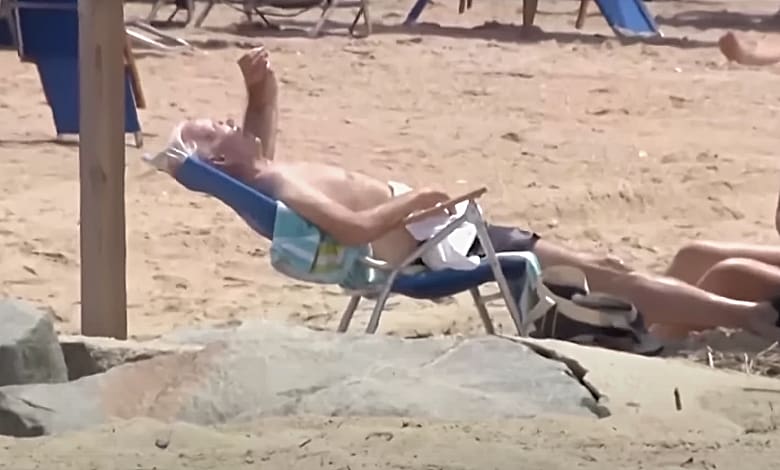 Celebrities are in a tough spot these days.
Some are staying silent rather than calling out the barbarism behind the Oct. 7 Hamas attack on Israeli citizens. That's most notable courtesy of the Writers Guild of America's inability to condemn terrorism.
A few said all the right things from the jump, including Jerry Seinfeld.
Many more are demanding a ceasefire in the Middle East, essentially telling Israel to let the slaughter of 1,400 innocents and roughly 200 hostages to go mostly unchallenged.
Now, the biggest stars in the Hollywood galaxy are rising up, and they're armed with a mighty hashtag.
The letter is co-signed by Bradley Cooper, Chris Rock, Courteney Cox, Adam Sandler, Sharon Stone, Jason Segel, Bob Odenkirk, Constance Wu, Katy Perry, Sting, Aubrey Plaza, Zack Snyder and Josh Brolin among many recognizable names.
The message praises President Joe Biden during the current crisis.
Thank you for your unshakable moral conviction, leadership, and support for the Jewish people, who have been terrorized by Hamas since the group's founding over 35 years ago, and for the Palestinians, who have also been terrorized, oppressed, and victimized by Hamas for the last 17 years that the group has been governing Gaza…. We urge everyone to not rest until all hostages are released.
To its credit, the campaign calls out Hamas' terrorism and doesn't attempt any "both sides" blather.
What's missing?
The letter doesn't mention how White House Press Secretary Karine Jean-Pierre has spoken more about the possible rise of Islamophobia than the relentless anti-semitism flooding streets across the country.
To be clear: it did not seem that you or the president are very concerned at all about the rise in Jew hatred. Say it from the podium, don't take to your twitter account. https://t.co/C7uUB2sRe5

— Karol Markowicz (@karol) October 24, 2023
Nor does it note how the Biden administration just sent $100 million in aid to Hamas with the pinky promise not to use the resources for evil.
Also left out? The Palestinians voted Hamas into power in 2006 and there's little overt attempt to rescind that decision ever since.
Sadly, President Biden spent the weekend resting at Rehoboth Beach, one of many vacations he's taken in his first term of office.
The rapper, whose real name is Curtis Jackson, is calling out President Joe Biden for being on vacation — again — while the world burns.

Jackson posted a photo to his Instagram Sunday of Joe and First Lady Jill Biden lounging on Rehoboth Beach, Del.

"hey Joe get the fvck up, we… pic.twitter.com/4icNKFm8ww

— OutKick (@Outkick) October 23, 2023
Also missing from the A-list's list of demands?
Any excoriation of the news media for treating the hostage crisis with all the gravitas of a school board meeting. It's sad that it takes a celebrity jamboree to prod the press into covering the hostage situation with the seriousness it demands.