Paul Rudd sure has range, and that has nothing to do with him shrinking to the size of an ant.
The comic actor sheds his wisecracking ways (mostly) for "The Catcher Was a Spy," a fact-based story with evergreen implications. Would you kill someone if it meant saving the lives of thousands, maybe even millions?
The "Ant Man" star builds a compelling character study here before the film's plot kicks into high gear. This isn't a classic World War II saga, yet its modest size is actually a blessing.
The Catcher Was a Spy - Official Trailer | HD | IFC Films
Morris "Moe" Berg is a journeyman catcher in his final days with the Boston Red Sox. He's better at speaking a half dozen languages than smacking a curve ball. That gets the attention of the U.S. military, where he reemerges after hanging up his cleats.
His gig at the OSS (a precursor to the CIA) gets more interesting when he's tasked with taking down Werner Heisenberg (a bewigged Mark Strong). The German scientist may be savvy enough to create his nation's first atomic bomb.
Or so the Allied forces fear.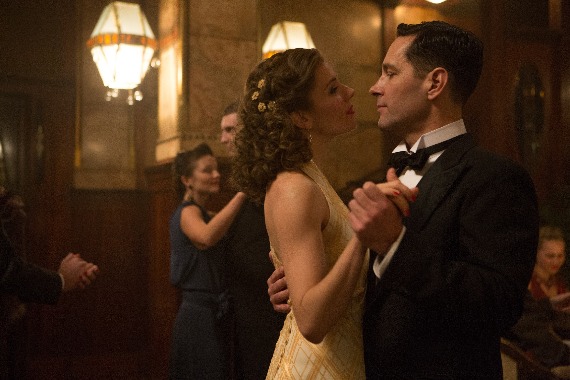 Moe gets some help courtesy of fellow scientists, including Paul Giamatti, but the mission is fraught with danger all the same. He'll have to face live fire, dubious contacts and his own inner doubt before facing off with Heisenberg.
"Catcher" delivers a few lump in throat moments, particularly when Moe and co. end up running for their lives on an Italian battlefield. Still, the focus is on the personal side of this spy, and it's there where the story stumbles.
Mo's relationship with Estella (Sienna Miller) is both hot and cold, literally. One moment, they're engaging in passionate, spontaneous sex he initiates. The next? The movie clearly shows Moe as bisexual, one expert at keeping that part of his life secret.
Get it? He's a natural spy. Only the evidence of his bisexual nature appears flimsy at best. The real Moe Berg may not have been attracted to men, though, a potential falsehood that should be ignored to fully enjoy the film.
To paraphrase a certain "Seinfeld" episode, "not that there's anything wrong with that," but Moe's hidden sexuality looms large in the film.
FAST FACT: Managerial legend Casey Stengel once dubbed Moe Berg "the strangest man ever to play baseball."
Rudd's performance is rock solid, even if he lights up during Moe's more comic asides. He's getting the knack of this action hero thing courtesy of the "Ant Man" saga. He also excels at exuding a raw, instinctive intelligence.
That's precisely what our hero needs here. You wish his eclectic personality played out more in the film's third act, when the chase consumes the narrative. Still, we're watching a wildly different kind of spy than we're used to seeing.
He's not James Bond. He's more like Bull Durham with a knack for conflicted heroism.
HiT or Miss: "The Catcher Was a Spy" takes liberties large and small with the source material. What emerges is a satisfying, original World War II tale all the same.