Industry News
Now, It's Time to 'Cancel' Problematic 'Three's Company'
Collider dissects beloved '70s sitcom in a pitch-perfect woke parody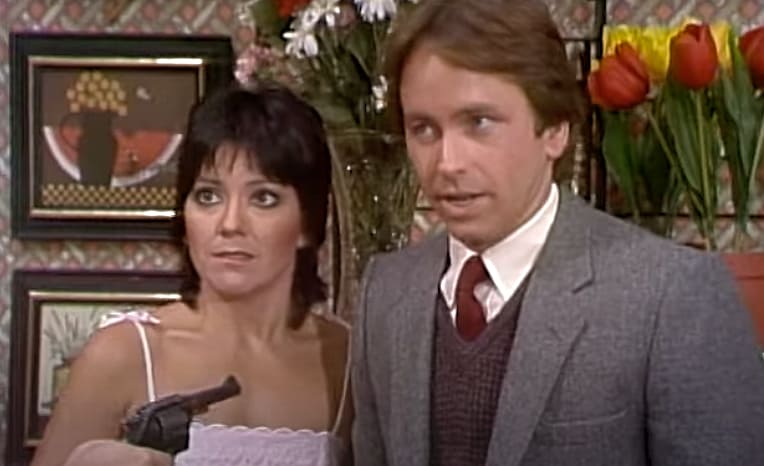 Any art made before May 21, 2023 can be considered problematic to the woke Left.
Even movies made a mere four years ago aren't immune from the Woke Police.
It's exhausting, of course, but it yields a never-ending stream of "think pieces" telling us why we shouldn't enjoy films and TV shows that gave us pleasure for years, even decades.
Some of the woke Left's favorite targets include "Friends," "Seinfeld" and "The Office." Even the show's own stars won't always defend their handiwork. How long will it be until problematic scenes are snipped to appease modern audiences?
Some could argue that's already happened.
Now, it's "Three's Company" turn to be revealed as "problematic" and "cringe"-worthy.
Three's Company 40th Anniversary Cast Reunion for Antenna TV
The sitcom, which aired from 1977-1984, spun from the popular British show "Man About the House." "Three's Company" starred John Ritter as a straight, single chef living with two beautiful women (Suzanne Somers, Joyce DeWitt) to make ends meet.
To appease the landlords, Ritter's Jack Tripper character pretends to be gay. Wacky high jinks ensue, often fueled by misunderstandings and misheard comments.
The show made stars of both Ritter and Somers, spawned the unsuccessful spinoff "The Ropers" and brought sexually-charged comedy to viewers each week.
The sitcom wouldn't make sense today for many reasons, including a loosening of sexual mores, and some of the gags represented the repressive culture of the time regarding homosexuality.
It wasn't mean spirited, just typical of the era.
Enter Collider.
LIKE HOLLYWOOD IN TOTO? YOU'LL LOVE THE HOLLYWOOD IN TOTO PODCAST
The woke site describes the series as both beloved and genuinely funny … but there's a catch. The show, as seen through a modern woke prism, is problematic to the core.
Some of the cultural observations are obvious, although unnecessary. The various landlords panicking over Jack's "gay" persona wouldn't fly today, or even make sense.
It's similar to a 21st reaction to the 1983 comedy "Mr. Mom." The Michael Keaton-Teri Garr film's premise wouldn't make work today given the rise of stay-at-home dads, but it doesn't mean the film isn't still warm and winning.
Collider bullies past those obvious differences, attacking the show for utilizing the "male gaze," tired gay tropes and more.
We're treated to a cultural X-ray of two episodes, including "… And Justice for Jack" with this observation.
The dialogue not only goes through the hetero-centric humor typical of Jack and Larry, but it also applies the homophobic landlord slurs that are natural to the show's ebb and flow at this point.
Is hetero-centric humor not allowed in 2023? We missed that memo, apparently.
Even the show's marketing material in which Ritter's chef character fed his female roommates in a potentially suggestive fashion triggered the critic.
…there's an equally unfunny and uncomfortable feeling that's present within the picture, and it must be acknowledged. [emphasis added]
Really? Why? Is there a law of some kind demanding that?
Farcical.
The column ends by allowing fans to still enjoy the series while mocking them for doing so.
None of this is to say that Three's Company doesn't have its place within television history, nor is it to discredit its fandom. Everyone is entitled to the things they like and there is certainly still an audience for the series … [the show] is incredibly flawed and problematic in retrospect and as an audience, we've grown past it.
Who's "we?" Must we grow past all the content from our youth, the stories that gave us joy and memories that linger to this day?
These insufferable think pieces won't stop, of course, and since the article lacks a comments section we won't see Collider's readers knocking on its door in collective mockery.